In honor of Mother's Day, we have decided to shine the spotlight on some amazing Super-Moms! Here at SignUpGenius, we are constantly talking with busy moms who are conquering their chaotic schedules --- one sign up at a time! Read about what real Super-Moms have to say about how they use SignUpGenius to help them organize their many responsibilities.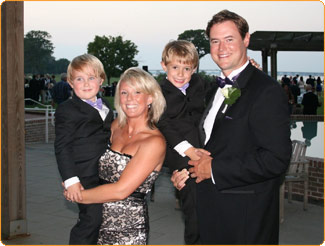 Name: Michelle Bowman
Location: Maryland
Family: Married to Bryan; two boys, 7 & 9
"Super-Mom" Roles: PTO President, Team Mom (Flag Football, Basketball and Lacrosse), Snack Scheduling Genius
What is your favorite family activity? Spending time together in our pool or at a water park.

Describe the perfect Mother's Day: My dream for Mother's Day came true two weeks ago when I found out my Mom's Stage III cancer is in remission! A perfect Mother's Day includes brunch with my Mother in Law/my husband's family, dinner with my Mom/my family and homemade cards from my sons.
What activities/events do you use SignUpGenius for? I use the site to plan snack schedules for various sports. As a PTO, we use the site to plan volunteers for book fairs & other events, organizing volunteers to operate games at our annual carnival, plan who will contribute what items to class baskets, plan who will bring specific items to parties, and teachers use it to coordinate guest readers.

How did you coordinate volunteers before you found the site? I would send out an email & have the group email me back at least two possible dates. This was tough when parents selected the same dates. Also, for other events the reply all email would go around and it would be hard to decipher what items were still needed for events; this would also cause some friction if someone offered to bring the same item & emailed around the same time as another parent.
How has utilizing the site affected your life as an organizer and the groups with which you work? I am grateful for SignUpGenius. I truly appreciate you sharing this software. I joked with my husband that it reminded me of the movie, The Saint, where the main character shares cold fusion with the world. Okay, this is not cold fusion but you have created a program that saves precious time & makes scheduling and programming so much easier. My strength as a leader is relating to people, not technology; yet, I am easily able to navigate your site & set up schedules.

Which features of the site have been most useful to you? I have had many parents comment on how much they appreciate the reminder email 48 hours before they are supposed to bring snacks or volunteer. As an administrator, I appreciate being able to see what dates are covered & by whom. The bonus feature of being able to change your date is great too.

What would you like to tell others who are thinking about using SignUpGenius.com? I would tell them to try it & I am sure they will never go back to reply all emails again!
Thank you, Michelle, for sharing with us! We look forward to continue to help you tackle your busy schedule and stay focused on relating to people, without letting technology get in the way.
So, tell us... Are YOU a Super-Mom? Or, do you know one? Feel free to share your story with us below or on our Facebook page and who knows, you might just be featured as a SignUpGenius Super-Mom!