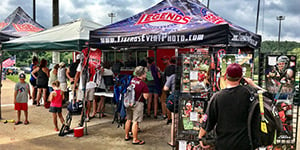 Corralling young athletes on picture day can take an entire team of skilled team coaches and parents.
Legends Event Photo is on a mission to make the process easier for little sluggers and their biggest fans by simplifying the scheduling process with SignUpGenius.
"SignUpGenius has allowed us to offer customers an easy, mobile way to sign up for specific photo services at some of our largest events," says owner Kevin Cook. "In the past, we would typically have to wait until we got on site at an event before we could begin accepting sign ups for some of our photo services. Now, I create the SignUpGenius link and distribute it in a multitude of ways and by the time we arrive on site, I already have a list of customers ready to go!"
Legends Event Photo is based in Clinton, Tennessee, and provides photography services across the state, along with north Alabama and parts of Kentucky. Its primary focus is youth sports photography, but the company also works with schools and other organizations.
"As an organizer, SignUpGenius has made it much easier for me when I schedule a large picture day event for a sports league," Cook says. "In the past, the league would give us a game schedule and we would create a picture day schedule off that. The problem was that coaches would constantly complain about the time assigned to them or even worse, not show up at all. Now, I create an online schedule and email the link to the coaches in that particular league. With the freedom to select their own photo time, we are seeing better participation rates and they are generally more informed about picture day details since they selected the time themselves."
Features that Cook says have been most helpful include automatic reminders, which have helped increase participation rates, and SignUpGenius' mobile web app. Legends Event Photo also uses SignUpGenius to collect money for advance deposits so that customers can secure photography services.
"This feature allows us to increase our on-site revenue and also keep a detailed list on those customers who have paid and signed up," Cook says.
Cook says he saw an increase in business after the organization began using SignUpGenius to organize photo shoots about a year ago.
"SignUpGenius has been a huge boost for our organization," Cook says. "It allows us to be organized and efficient when scheduling our customers. It also gives us to the opportunity to include our customers in the scheduling process, leading to much better participation. We've heard nothing but positives from our customers about SignUpGenius' easy calendar view and sign up features."