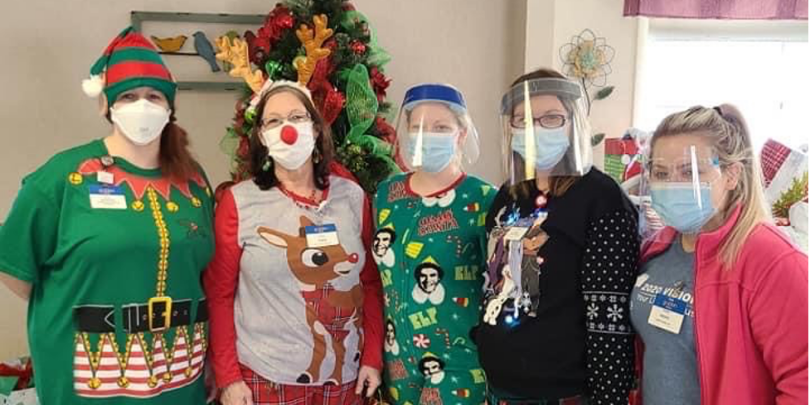 Lena Goffinet, a mental health therapist, wanted to bring joy to a special group of people in her Indiana community during the holidays. She created a virtual Angel Tree to benefit residents at a local nursing home facility, requesting gift donations with SignUpGenius.
Lena chose a Gold premium plan to access advanced features, and she found the site easy to use as an organizer and for participants. A few volunteers needed help with the Internet, so she signed them up for gift donations herself. Lena tracked sponsors on the sign up, and the email feature helped planning and communication go seamlessly.
"I just wanted to say thank you because the software and tools made organizing and arranging the entire gift drive manageable and it went off without a hitch," Lena shared. "You all helped make Christmas extra special, holly jolly, magical for a bunch of elderly residents who had been very isolated due to COVID."
With generous public support, there were gifts under the tree for all 65 residents in the nursing home. Dressed in pajamas, the staff joined residents to celebrate as they opened their gifts. The group included National Guardsman (also dressed in pajamas!) activated in the State of Indiana and assigned to the nursing homes to assist during with staff shortages.
Lena shared that some of the nursing home patients said, "I never have gotten this much for Christmas." and "This is the best Christmas ever."
Lena sent an online survey for feedback on what went well and what could be better, and there were no suggested changes or complaints. She recommends utilizing SignUpGenius to coordinate Angel Trees and to benefit nursing homes in the future.
These neighbors embraced the Christmas spirit to uplift senior citizens face isolation during the pandemic. It's a gift to see how people are using SignUpGenius to support each other when it's safer to stay apart.