SignUpGenius Launches New Group Management Platform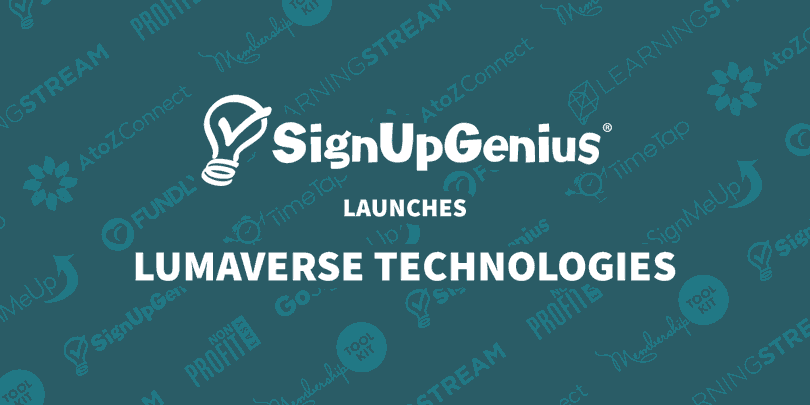 We're excited to announce that SignUpGenius is now a part of Lumaverse Technologies. 
What is Lumaverse Technologies?
Lumaverse Technologies is a platform joining companies that solve group management challenges for nonprofits and K-12 schools. We teamed up with best-in-class technology companies to bring you even more powerful solutions to grow your organization. The Lumaverse family includes:  
SignUpGenius - Online sign ups to coordinate events and volunteers
NonProfitEasy - Member, volunteer, donor and fundraising management with an intuitive, enterprise, all-in-one CRM
Membership Toolkit - PTA & PTO member management, an all-in-one solution that includes website management, accounting, fundraising, and communications
Fundly - Crowdfunding which requires no minimum fundraising fees to get started
TimeTap - Online appointment scheduling with enterprise scalability
Learning Stream - Registration management for education and training
GoSignMeUp - Enterprise-level donor, event and fundraising management solutions
AtoZConnect - PTA & PTO member directory services with mobile and print options
What does this mean for me?
Don't worry, nothing will change about your SignUpGenius experience. You can create, participate in and share sign ups as usual. You continue to inspire us during this challenging time, supporting your communities through the COVID-19 pandemic and nationwide protests. Our customer support team is just a few clicks away if you need help managing your sign up, and we'll continue to share resources with ideas to plan successful events.
Why did SignUpGenius join Lumaverse Technologies?
Rather than try to build every feature you need to engage your community, we've joined a group of technology leaders to provide solutions that make sense for our customers. Each Lumaverse company will continue to operate as a stand-alone brand, and we'll be sharing more details about upcoming integrations to simplify group organizing even more.
We welcome you to visit www.lumaverse.com or read our press release to learn more. We're excited about this new chapter of growth, and hope you'll explore the Lumaverse with us!