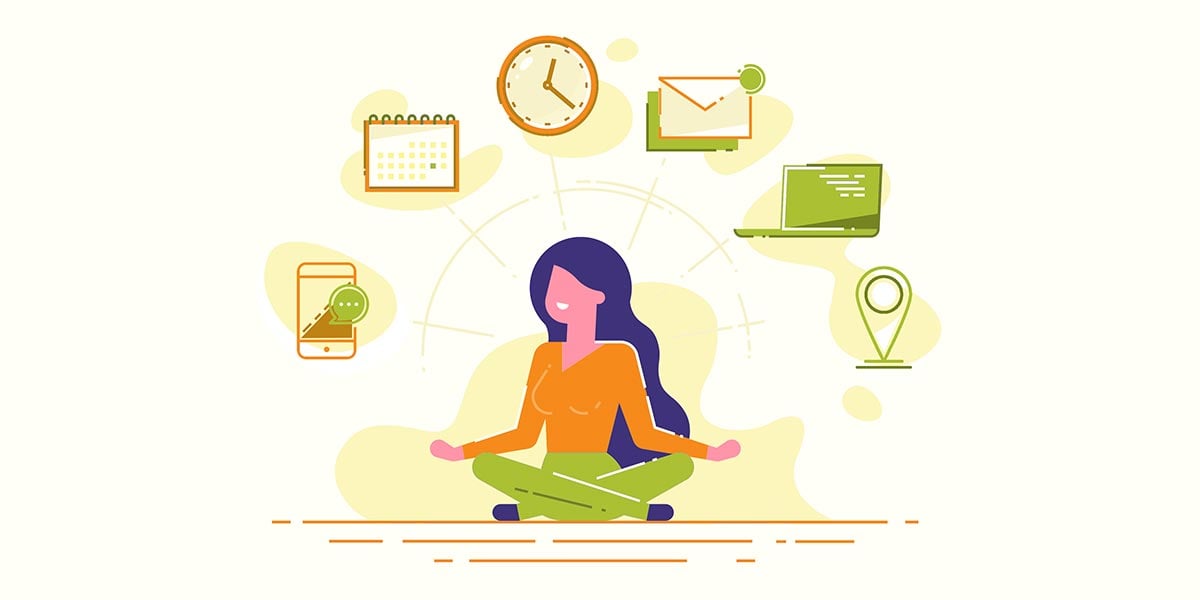 Events are a fun way to bring people together for unforgettable experiences. Yet, there is a lot of planning that goes into pulling off the perfect event. Many coordinators find themselves stressed and overworked while trying to ensure the event goes smoothly.
Fortunately, our sign up tool helps event coordinators like you work smarter and not harder. That said, we'd like to share some tips to help ensure the planning for your next event goes smoothly.
Market Your Event
The key to any successful event is good marketing. You've got to
get the word out
about your event to get the most participants. With SignUpGenius, a unique link is created for every sign up. This allows you to share the sign up anywhere that you can post the link. For example, you can post the link to social media, an online newsletter or on a website. This way, potential participants can easily locate the sign up.
Genius Tip: With our Back to Website button, you can direct sign up participants back to your website after they sign up. This allows you to make the sign up an extension of your own website, and group members will love the seamless sign up experience.
Attach a Map to the Sign Up
The last thing you need is participants struggling to find the location of your event or emailing you at the last minute for directions. With our
mapping feature
, you can attach a Google Maps location to your sign up slots. This way, the linked location is listed on the sign up and in confirmation and reminder emails. If participants add the sign up to their personal calendar, the location link will also be available.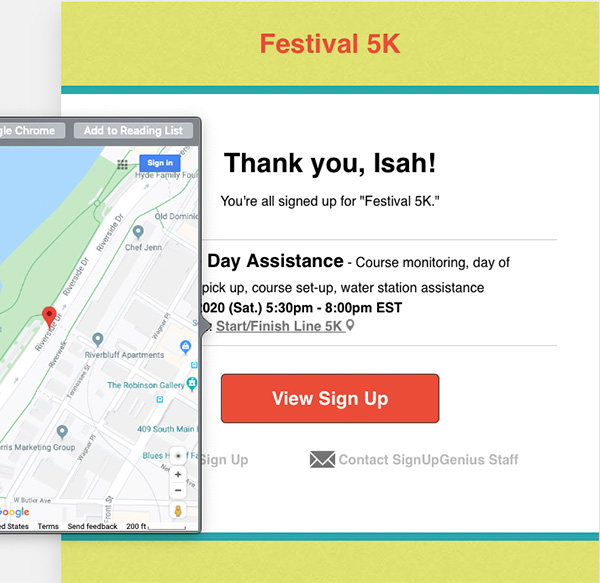 Set Up Automatic Reminders
People are busy and have lots of activities that fill their calendars. When you create a sign up, be sure to select the option to
send automatic reminders
to participants. You can select to have them sent 1-14 days in advance. To be effective, it's probably best to send them 2-3 days in advance as a friendly reminder.
Need to communicate additional details in your reminder email? With our Custom Confirmation and Reminder feature, you can insert additional details or attach documents in those sign up confirmation or reminder emails to ensure sign up participants have the necessary information you wish to communicate to them.
Genius Tip: Add our Locking feature to prevent any last-minute sign ups or deletions.
Create Tabbed Sign Ups for Multiple Activities
Some events have multiple activities such as organizing registrations, volunteers and vendors. In those cases, it's best to create distinct sign ups and then link them together as selectable tabs with our
tabbing feature
. This way, you can post one link to all of your
event-related sign ups
. Volunteers or participants can view the various sign up related activities or opportunities related to your event.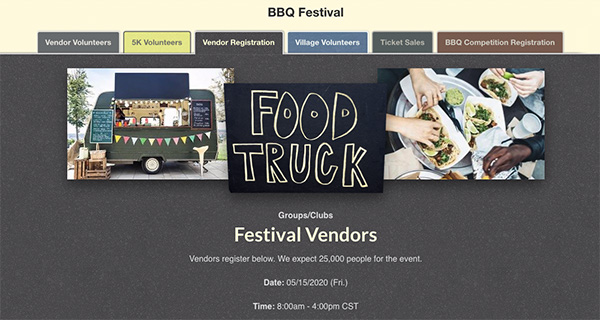 Gather Necessary Information from Event Volunteers or Participants
When it comes to events, the more you know about your volunteers or the needs of participants, the better prepared you will be for your event. It's easy to
create custom questions
on sign ups to gather additional information.
You can always request standard participant information such as name, email, phone number and address. Custom questions make it possible to customize fields for gathering additional information on the sign up. For example, if you need to know a vendor's business license number or the t-shirt size for volunteers, you can collect this information and run a report to aggregate for your needs.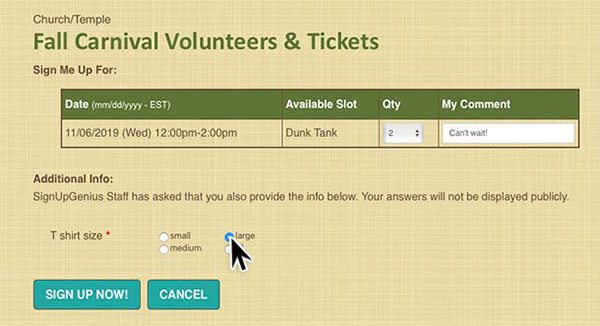 Once you've created sign ups and set up the necessary features, you'll be ready to rock at your next event! Participants can locate your sign up and get the necessary information about the event and you can focus on making sure everything else runs smoothly.