Organize Your Year Like a Pro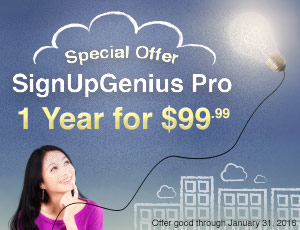 Your January calendar is probably already filling up with commitments, and you're wondering how you'll keep that resolution to be more organized this year. Don't stress! SignUpGenius has the tools to help you plan your schedule and events.
Through January 31, you can upgrade to SignUpGenius Pro for as little as $99.99 for your first year. With Pro you can:
With Pro help, you'll be one step closer to reaching your No. 1 goal in 2016. Plus, you'll look like a true organizing genius!