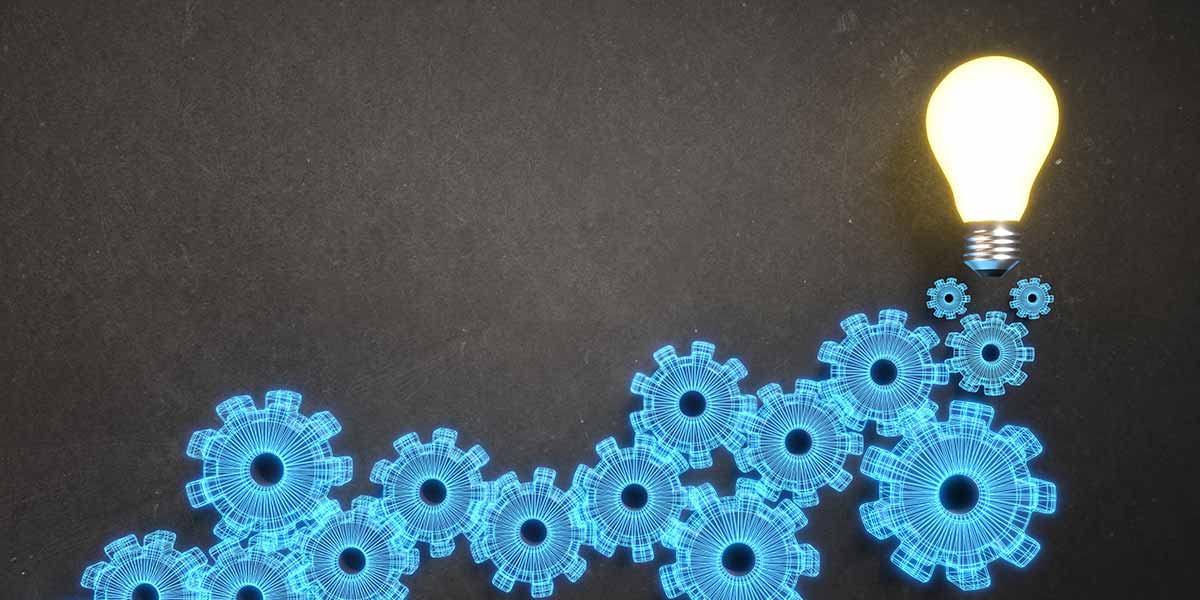 We all love getting the best bang for our buck. That's why we packed the Basic free version of our sign up tool with lots of features. Our premium plans include even more organizing power, but you might not know about all the great basic features to help your group accomplish more. To keep you in the know, we're listing our top favorite Basic features to maximize your event planning. Ready? Here we go!
Duplicate a Sign Up
This feature is a handy way to create a copy of a past sign up. The duplicate copy is a simple clone of your sign up but without the names of participants that signed up on the original sign up. From there, edit your sign up to update the dates and any other new information and publish it. Log in to your account to
duplicate your sign up
.
Genius Tip: If you are creating monthly sign ups, create one sign up and use the duplication feature to easily replicate a sign up for each month. Use the Premium Tabbing feature to combine the sign ups into selectable tabs to make it easy for your group to find all the sign ups in one spot.
Transfer a Sign Up
Did you create a sign up and want to share it with someone else? No problem. With our handy
transfer function
, you can transfer your sign up or a copy of the sign up you have created. You can even transfer an active sign up if you'd like to hand the responsibilities over to someone else. The person who receives the transferred sign up will immediately become the owner and can manage it from their own account.
Create a Report
You can gather participant or volunteer information on sign ups and even ask a custom question. All participant info is collected and can be viewed by
running a report
. Once you create a report, you can view all of the data you have collected on one or more sign ups. For example, if you need a list of email addresses for participants, a report will provide you with this information. If you created a custom question, the responses can also be viewed on the report. Reports can be exported to Excel to format further or saved for your records.
Genius Tip: With our Premium plans, we offer the more comprehensive Volunteer Hours report that will automatically total volunteer service hours across one or more sign ups.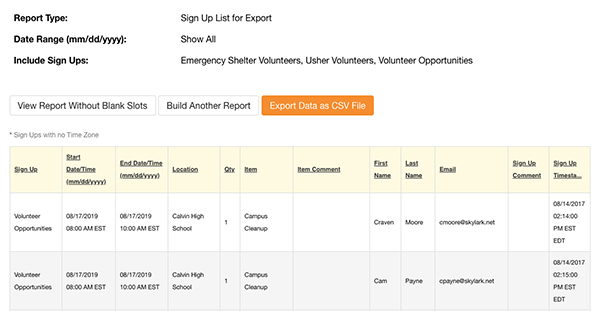 Link to Index Page
The index page lists all of your active sign ups on one page. You can copy the index page link and share it with your audience. We also offer a web button feature for creating a clickable button to place on your website that will direct people to your index page. The feature is handy if you need to direct your audience to a page that displays all active sign ups.
Genius Tip: Create a seamless sign up experience by placing the link to your index page on your website and including our Back to Website Button (available with premium plans) to direct people back to your site after they sign up.
Ask a Custom Question
Custom questions
are a great way to get additional information from participants as part of the sign up process. You can design the question to be a selection or an empty text box for providing a variety of responses. For example, if you need participants to select a t-shirt size, you can create a custom question along with sizes for people to select. If you are building a registration or need additional custom questions, we offer multiple custom questions on sign ups with our Premium plans.

Add an Access Code
Want to limit who can view your sign up? An access code is a way of adding more privacy to your sign up. Only people with the code can view your sign up. Anyone who visits your sign up will first be prompted to enter the code before they can access the sign up page. In addition to
hiding names on a sign up
, this is one more way to boost the privacy of your event details.

Limit Sign Ups to a Specific List of Email Addresses
Need to ensure that only specific people can sign up? In addition to other
security settings
, this feature limits sign ups to a specific set of email addresses so that only people on the group list can complete the sign up. Simply input a list of email addresses on your sign up group and assign that group to the sign up. Once you select this feature in the settings, only people with an email address listed in the group will be permitted to sign up. Any other email addresses will be rejected from signing up.
One note, if people attempt to sign up with a different email address other than the ones listed in your group, their sign up will be rejected. It's best to send the invites to the email addresses listed in your sign up group and then instruct those people to sign up with that same email address.
Add a Custom Image
Sometimes a sign up needs a little customization. With our custom image upload, you can add your own image to the existing sign up. This allows you to put a personal touch on the sign up. If you feel like boosting the personal touch, we offer a
custom theme builder
on some of our Premium plans. With this feature, you can upload up to three images and arrange them on the sign up layout. Also, choose the colors for buttons, text and background to boost the customization.

Automatically Add Email Addresses to Group List
Want to collect email addresses from sign up participants? You can select the option to automatically add email addresses for those who sign up to your email group list. This is helpful if you need to build a subscription list or have a list of participants to contact or potentially invite to future events. You can use this feature to grow a volunteer base or simply send a thank you email to participants once the event is over.
Genius Tip: Need to sync emails to another application? You can with our integration tools.
Sign Up Confirmation and Reminder Emails
Sign up confirmation emails are a great way to add a personal touch to a sign up. Immediately after a participant signs up, they receive an email thanking them and confirming the slot they have signed up for. Additionally, the sign up creator can select a day for reminder emails to be automatically sent to participants before the event. You can create your sign up and know that participants are in good hands with automatically generated email notifications.
If you need to customize your sign up confirmation or reminders, we offer a Premium feature along with the ability to attach documents in those emails.
Sign Up Admin Tools
As a sign up creator, you have the power! If you didn't know, the sign up creator has full control of their sign up. Need to
add
,
remove
or simply
edit someone's sign up
? As the creator, you can access the admin toolbar on your sign up and select the option to make these changes. This is super helpful if you wish to sign some people up in advance before inviting the remainder of your audience or if someone has contacted you to cancel their sign up. With a few clicks, you can make the changes you need.
Whew! Who knew that there were so many options with a free SignUpGenius account? With all this power, you can truly build some fantastic sign ups to help you with your organizing needs. And, if you need to take advantage of a few more features, our Premium plans are a great way to boost your organizing power.