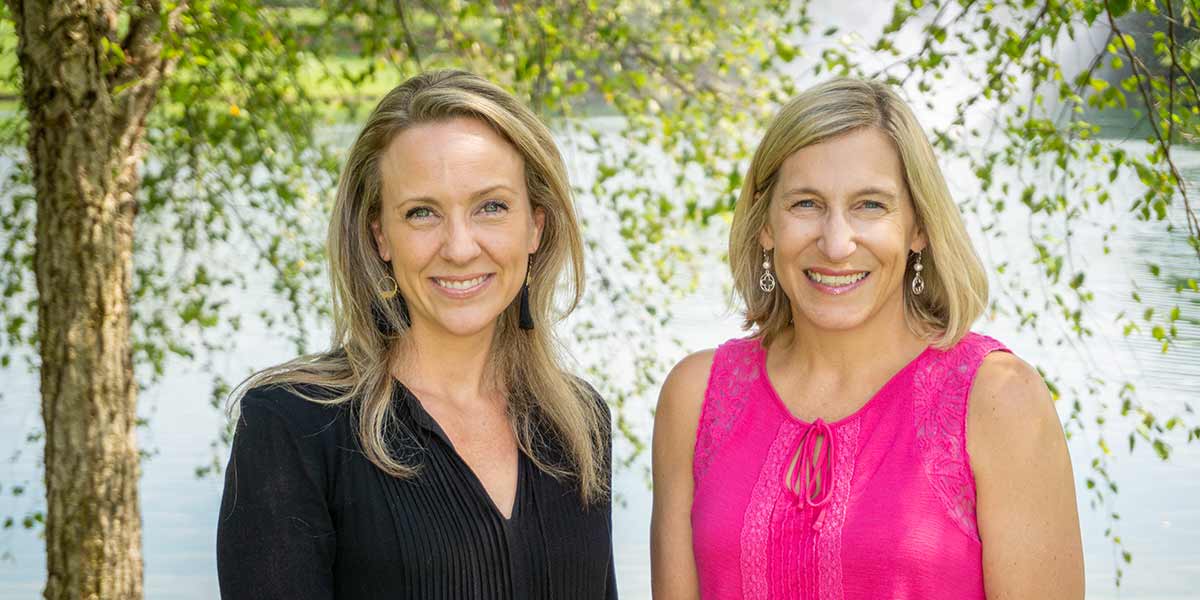 Amy Tidwell and Kate White joined SignUpGenius in the company's first Charlotte office, where a small group of team members grew the online sign up site in its formative years. This original team envisioned the culture code in 2013, meeting to identify what made the company unique and the values that would shape its growth in the future. SignUpGenius continues to embrace its startup roots, such as treating people better than they expect to be treated and advancing the missions of others with our success.
Kate and Amy's roles grew along with the company, starting as part-time team members and now leading their respective departments.
Enjoy a sneak peek into the company culture as we chat with Kate and Amy about their careers in tech, balancing work and family, and advice for success in the field.
Q: Both of you started out with part-time roles at SignUpGenius. How has the company culture helped you balance your career and personal commitments such as caring for family?
Amy: When I started, I was part-time, about 20 hours a week. I had three young kids at home, so I was only in the office about ten hours a week and working an additional ten hours a week from home in the evenings. As my children grew more independent, the company grew, and my opportunities grew. I had the option to take on more responsibility and more hours. It was a gradual transition, and that worked well for me.
Kate: It's a unique thing to have options for how many hours you work and still have leadership opportunities. When I originally found the listing for the first marketing role at SignUpGenius, it was listed as a 30- to 40-hour a week position. I found it intriguing that the company offered part-time, three-quarter and full-time options. I was given an opportunity to innovate, create and lead, but also to find work-life balance that fit my family's needs at the time. At SignUpGenius we value doing excellent work in the areas that matter most. For me, that meant spending time on the highest-value areas and focusing on what was important.
Amy: The success of a role at SignUpGenius is measured by a person's productivity. Even if it is fewer hours a week than a full-time position, it is still hard work and extremely valuable.
Q: What has surprised you about your career growth at SignUpGenius?
Amy: For me, it has been everything! When I was asked to work part-time, it was solely to answer email questions from our users. We kept track of the features users wanted in an Excel spreadsheet, and I remember thinking, "Wow, we'll never get to all of this." It blows my mind to think about the functionality we have added over the years and that we have more than 18 million visitors a month. I remember when we hit 75,000 site visitors total! I never expected the site to become what it is today, and I am grateful to be a part of it.
Kate: When I started with SignUpGenius in 2012, it felt like a risk to take a job at a small startup, but I thought, "What do I have to lose if I want to learn something new?" From the beginning, I was amazed by the impact that I could have in my work. We were small and nimble, yet through technology, we were reaching millions of people across the globe. I realized right away that in tech and the startup environment, things can change quickly. That was somewhat difficult for me at first, and I remember Angel Rutledge [SignUpGenius board member and former COO/CMO] saying, "Changes are normal; we are always going to be changing." The marketing plan would evolve with each new learning. My role would change and my projects would change. That became my normal. It surprised me how my career could grow by simply being observant and available to adapt to what happened next.
Amy: As far as career growth for me, it was the same. I started off doing so many things. In addition to customer service, I was writing tweets and articles for marketing, stocking the kitchen and testing bug fixes. In the beginning, you did it all.
Kate: It was intimidating for me at first to work in tech because I felt it was historically a male-driven field. However, because SignUpGenius offers diverse role opportunities, we get an incredible mix of people with a wide variety of backgrounds and experiences, from teachers to lawyers to engineers to stay-at-home moms. Moms with school-age kids were the core adopters of SignUpGenius when it first launched, and we were able to employ women who matched our core users while gaining valuable perspective at the same time we were building the technology. We also have employed individuals who are continuing on in graduate or seminary programs. I've grown and learned alongside the best of the best talent.
Q: What do you remember from creating the culture code that became the foundation for how the company operates? Is there a value or two that resonates with you from that experience?
Amy: For me, writing the culture code in 2013 was the most significant thing I've done at SignUpGenius. It was so cool to get input from the employees about what our company should be like. The two values that stand out to me are that we "enjoy what we do" and "treat others better than they expect to be treated." Framing every day with that is a recipe for success. Personally, I strive to recognize the preciousness of every person I encounter, so these core values resonate with me.
Kate: Creating the corporate culture code was an incredible experience! I went into the meeting not quite grasping the full vision of what we were doing. I found it so inspiring as we were finally putting words around what we had been doing and setting the tone for how we work, how we hire, what we are looking for, how we develop functionality and how we support our users. One of the values I always go back to is that we "advance the missions of others with our success." Being part of a technology company that helps individuals organize their groups more efficiently is one thing. But when I really thought about the fact that we were helping others change their little part of the world, it was so powerful to me. The actual technology we were developing was doing something powerful out there in the world to help others. The culture code gave us a way to describe that. And it went beyond our users too, advancing the missions of the people within our company. The culture code informs our goal setting, training and team development.
Amy: It has been the framework for everything, and it has stayed that way. When you grow at an exponential rate and can maintain that integrity, it is amazing. 
Kate: There's a purpose behind our progress so that when we succeed, others do too.
Q: At SignUpGenius we work hard while having fun and building relationships. What else is unique about SignUpGenius?
Amy: Everyone here recognizes that we all have lives outside of our jobs and that things are happening in our personal lives. Because we catch up with each other daily, we have a foundation of friendship. When we do team building events, we are comfortable with each other, so we have fun. We have a lot of fun.
Kate: We encourage open lines of communication. We say we're sorry when we make a mistake — it is in our culture code. We fail fast. It helps you grow if you recognize when to let something go and change direction. And that's coming from a person that has a huge fear of failure! We are going to fail sometimes, but we don't focus on who made a mistake, we focus on learning together. I really appreciate the people I work with because they are real and honest — they aren't putting up a front.
Q: What advice would you give to people who are interested in working in tech?
Amy: In my time at SignUpGenius, I've been able to interview people for all different types of roles. I've seen a lot of resumes. The qualities in candidates that I've seen lead to success are the ability to problem-solve, work independently, collaborate, and communicate well. I would tell people not to be afraid to go for something they may feel under-qualified to do. If they are teachable, they can learn the technical pieces.  
Kate: The people that are willing to learn new things thrive in the field of tech. Technology is always going to be changing. So if you have a willingness to learn, adapt and problem-solve you will do well. Stay open and flexible and take some risks. Speak your mind and share your ideas. You just never know where they'll take the group next!