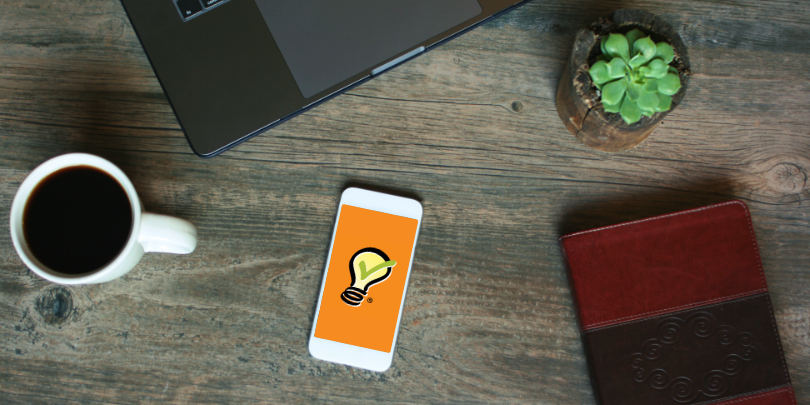 SignUpGenius has become a trusted tool that many churches use for organizing worship service volunteers, community outreach events, or meal support for a family in need. Custom online sign ups allow churches to easily communicate, recruit and mobilize their volunteer base for a variety of needs.
But did you know that we offer a host of features that help churches consolidate all their related sign ups into a single account? This can help congregations coordinate a number of church members who may be creating sign ups for church activities. Here are the most helpful features that every church can use to simplify their event and volunteer organizing.
Assign Additional Administrators
Are various people creating sign ups and planning activities for the church? With the
multiple admin feature
, you can establish a single account and add administrators who will assist in creating or managing sign ups. The main owner of the account can add or remove admins from the account and customize the access permissions of each administrator. The number of admins you can add depends on your subscription plan, from one on a
Silver plan
 to unlimited admins on our
Enterprise plans
.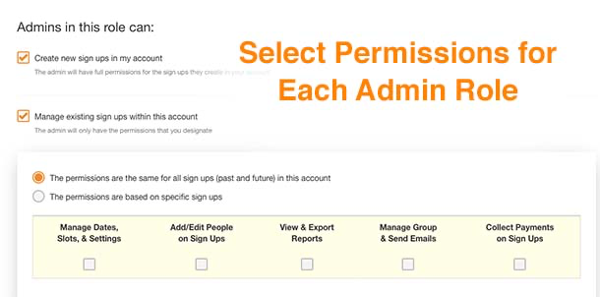 Hide Past or Future Dates
When you are creating a sign up that recurs weekly, you can
automatically generate dates and times
without having to manually enter each week. The
hide dates feature
will automatically hide past dates and reveal new dates as time rolls forward, keeping the most timely information at the top of your sign up. Simply enter the parameters for hiding past and displaying future dates and the sign up will automatically only display dates within the designated time frame. This is a helpful way to condense a sign up and avoid endless scrolling.
Have a slot with a large number of spots for signing up? Our handy hide names feature makes names only visible to the sign up administrator. This allows for privacy on your sign up and leaves the slot condensed instead of showing the names of all the people who have signed up for the slot.


Remove SignUpGenius Branding
With our SignUpGenius branding removal feature, not only can you remove ads from sign ups but also all SignUpGenius branding. This will give the sign up a standardized, professional look. The sign up can be designed to match the look of your own website. Simply
customize the sign up theme
to match the coloring and design for your church or parish. You can even add multiple custom images — including your church logo.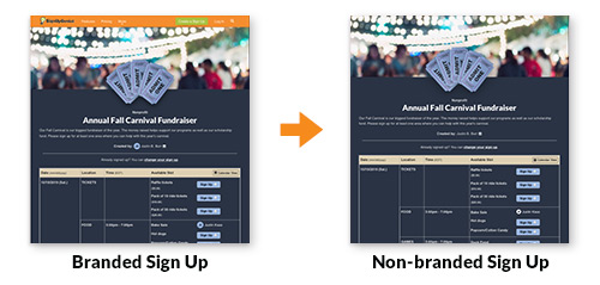 Open or Close a Sign Up
If you've got overeager volunteers and want to make sure everyone has an equal opportunity to sign up, the
start-stop dates
feature is the answer! Select a date and time for your sign up to open and the sign up will prevent anyone from signing up before the start date. Once the start date and time is reached, the sign up will automatically open and allow sign ups.
You can also send out the sign up link beforehand, noting for group members when it will become available. If you enter a stop date as well, the sign up will automatically close and prevent further sign ups once the date and time you selected is reached.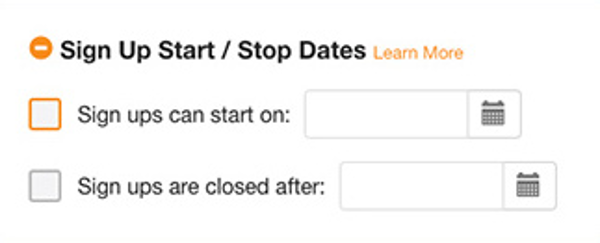 Need to prevent people from removing themselves from the sign up slot at the last minute without letting you know? We hear you — with sign up locking you can determine when you want slots to lock and no longer allow people to remove themselves from the sign up. Additionally, you can also lock a slot to prevent people from signing up at the last minute.
Create a Custom Landing Page
Need a landing page for all your small group sign ups or to coordinate childcare volunteers? With our
portal page feature
, you can design a custom landing page to display all your sign up opportunities.
You can also create multiple landing pages to keep your ministry sign up opportunities distinct. This way your all your children's ministry sign ups are on a different page than your small group registrations.
Customize the colors and upload your church logo to give it the look and feel of your own website. If you'd rather have the portal page on your website, you can also use our embed feature to embed the page on your church website similar to a white-label solution.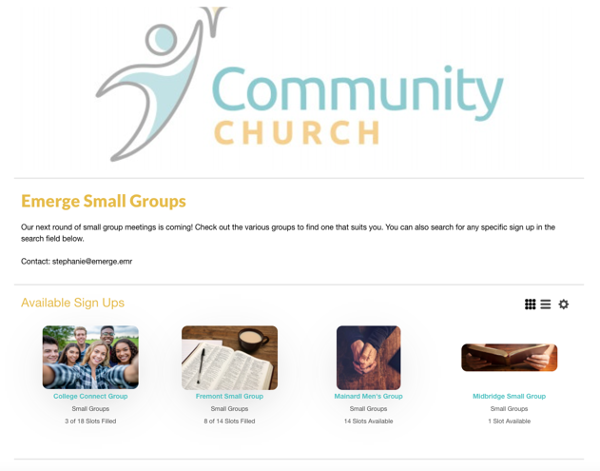 There are so many great sign up features to help you organize people and events for your church. These features make it easy to customize, brand and organize all your sign ups to give them the look and feel of your own church website. The sign up experience creates a seamless transition between your church website, the custom landing page and even the branded sign ups.
It's so easy and you'll save so much time — leaving you more time to focus on ministry. Contact our team or find the plan that suits your organization best!