Organize a Christmas Potluck
Eliminate dinner planning stress for the family with a sign up!
Preview This Sign Up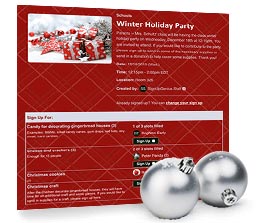 Plan a School Winter Party
Teachers, room moms and dads ‑ recruit help for holiday parties!
Preview This Sign Up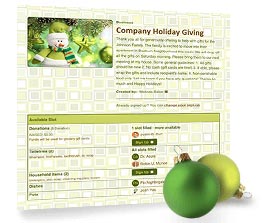 Coordinate Holiday Service Projects
Serve others this season by organizing your volunteers online!
Preview This Sign Up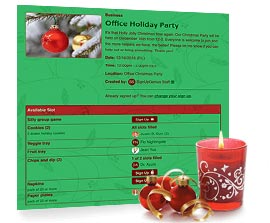 Plan Holiday Office Gatherings
Coordinate Christmas party details with co‑workers in a snap!
Preview This Sign Up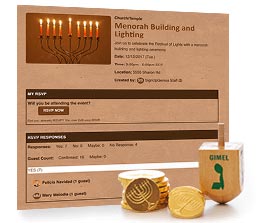 Organize Hanukkah Events
Collect RSVP's for church or temple activities!
Preview This Sign Up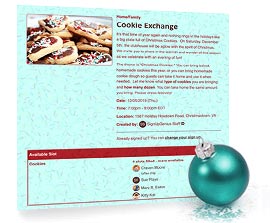 Schedule a Cookie Exchange
Stress less with fun baking help during the holidays!
Preview This Sign Up
Best tool ever! I am sharing with all my friends. It's our 'easy button' for the holidays! Love it!

Devan Allen, Tennessee
I used SignUpGenius for our Holiday Season Community Service volunteer project. I received nothing but great feedback from our club members complimenting me on how efficient and easy to use the site is! It has made my task much easier.
Rob Dick, Newport News, Virginia
What a GENIUS idea! I used the website for the first time today to organize a class party and have already received so many sign ups. This tool is time saving, easy-to-use and very effective!
Sangita Khatri, Orlando, Florida
I just used SignUpGenius to schedule and coordinate our staff Thanksgiving Potluck and the anxiety of it all has disappeared with the use of this service. It is very simple to follow and user friendly. I will be using this for many years to come. Thank you SignUpGenius!
Francine Nelson, Lorton, Virginia
This is the best free tool of its kind that I've come across on the Internet. It is highly versatile and much more robust than any of the other tools that I have used. I manage groups and projects and this offers the ease of use for non-technical types, thus making it a viable substitute for manual spreadsheets loaded from a zillion email responses. A huge timesaver!
Angela Newton, Peachtree City, Georgia
--
Why Use SignUpGenius?
It's Easy
Intuitive wizards make it simple to set up
and simple to sign up.
It's Convenient
Friends and family can see all needs
at once and sign up 24-7.
It's Efficient
Bulk email invites, automated reminders
and data export save time.
It's Flexible
Easy to swap dates and make edits
for schedule changes.
It's Powerful
Organize people, collect payments
and coordinate events all in one spot.
So packed with features, it's... well... genius.
---

With dozens of gorgeous holiday themes, powerful bulk email tools and simple administration ability, organizing your holiday gathering has never been easier. Create the perfect page where guests can quickly sign up for potluck items to bring and RSVP for how many are coming. And if that wasn't enough, your guests will get automatic reminders - so no one forgets!






We've got your Christmas planning tips too: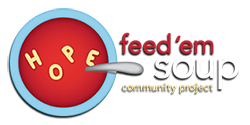 "My family as well as 45 other volunteers get together and cook for Thanksgiving and Christmas and feed a few hundred others. gives us an easy, quick way to let the community know our staffing needs and allows them an easy, quick way to sign up. There is no messy volunteer list, time-consuming phone calls, etc. It has allowed us to help us serve our community better."
Derek Gibbs, Executive Director of Feed'em Soup Community Project