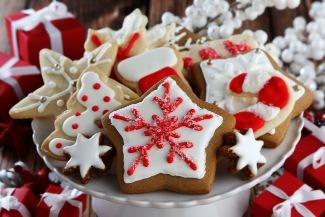 Home/Family
Annual Cookie Exchange Party
It's that time of year again and nothing rings in the holidays like a big plate full of Christmas cookies. On Saturday, December 5th, the clubhouse will be aglow with the spirit of Christmas.
You can bring baked, homemade cookies this year, or you can bring homemade cookie dough so guests can take it home and use it when needed. Let me know what type of cookies and how many dozen. You can take home the same amount you bring. Please dress festively!
Date:
12/07/2019 (Sat.)
Time:
7:00pm - 9:00pm EDT
Location:
1567 Holiday Hoedown Road, Christmastown, VA
| | | | |
| --- | --- | --- | --- |
| Created by: | | SignUpGenius Staff | |
MY RSVP
Will you be attending the event?
Did you already RSVP? You can Edit your RSVP.

AVAILABLE SLOT

Cookies




6 slots filled - more available




Chris P. Bacon




3 dozen Seven layer bars

Cat Nuss




4 doz. Nut balls

Cherri Pitts




about 3 dozen Jam thumbprints

Kitty Kat




2 dozen Chocolate macaroons, 2 dozen chinese noodle cookies

Mike Ake




2 dozen Grasshopper brownie bites

Sue Flaye




3 dozen gingerbread men

Cookie dough




2 slots filled - more available




Craven Moore




Cranberry/white chocolate chip oatmeal

Mary B. Eaton




Pecan orange icebox cookies (4 one dozen logs)

RSVP RESPONSES
Responses: Yes: 8 No: 0 Maybe: 0 No Response: 1

Guest Count: Confirmed: 9 Maybe: 0