What a great tool! I am the co-founder of a dog shelter and learning center and this makes life so much easier! I will tell everyone I know about it.
Renee Harlor - Brownsburg, IN
See what others say
TAKE THE TOUR!
View Screenshots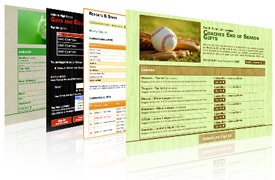 Hundreds of Uses
View Sample Sign Ups by Category:
SignUpGenius Features
At SignUpGenius, we're dedicated to providing our users with the most fully-featured volunteer management system on the planet. With a constantly expanding set of features, we offer a system robust enough to coordinate massive international events, but simple enough to organize a small potluck party. Try us out and see why thousands of users agree... it's genius.
Simple Wizard for Building Sign Ups
Choose from hundreds of professionally designed themes
Upload your own image/logo to your sign up page
Use a WYSIWYG interface to create rich-text descriptions
Enter hundreds of dates in an instant using our recurring wizard
Watch video tutorials to easily create a sign up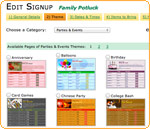 Flexible Sign Up Page Formats
Non-date specific sign ups for donation lists or ongoing sign ups
RSVP format sign ups for parties and banquets
Traditional Date/Slot sign ups for massive volunteer sign ups
Sign ups with limited quantities or unlimited quantities
Comment field for custom responses on each sign up
FREE advertising-based sign ups or fee-based no-ads sign ups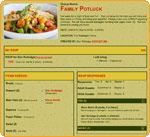 Admin-Controlled Security and Privacy Settings
Customizable options for what users have to enter to sign up
No account required option for your participants
Optional password-protected sign up pages
Optional group-only sign ups that restrict sign ups to group members
Non-indexed URLs so admin determines who is invited
Emails are NEVER sold or distributed. Period.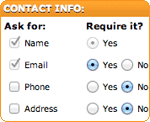 Powerful Administration Tools
Bulk email utility for invitations, updates or thank yous
Compiled email delivery report for bounced emails
Saved address books for easy creation of multiple sign ups
Export sign up data to Excel for offline use
Printable version of sign up for taking to an event
Admin ability to add/edit/move/delete people on the sign up
Viewing statistics for sign up pages
Sign up duplication wizard for creating multiple sign ups
Sign up transfer wizard for transferring management to another user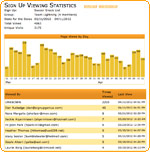 Helpful Member Features
Integration with Facebook, Twitter, Pinterest for sharing
Calendar integration with Outlook, iCal, Google calendar
Automated email reminders
TEXT reminders
Personal account calendar showing all sign up items
EDIT and SWAP tools for users with schedule changes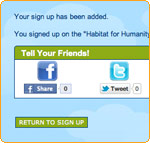 Optional Advanced Features Learn More
Multiple administrators for sign ups
Custom questions for advanced data collection
Multiple email notifications for sign ups
Payment or donation collection for your sign up items
Hidden fields for administrator tracking
No-advertising sign ups