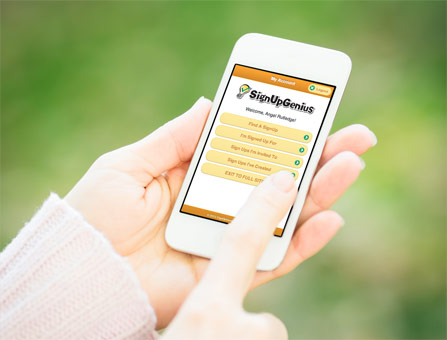 SignUpGenius Mobile
Because organization has no boundaries.
We know your life is on the move. So we've made signing up and managing your volunteer responsibilities from a smartphone easier than ever. With SignUpGenius Mobile, you can access the same sign ups from our main website in a phone-optimized version that makes it easy to get organized on the go.
COMPATIBLE WITH:

Windows Phones

iPad

Android Tablets

iPhone

Android Phones

Blackberry
Easy Install for Android
Open m.SignUpGenius.com in your phone's browser
Tap the menu button and select "Add Bookmark"
Hold on the new bookmark and select "Add Shortcut"
You can now launch the web app from the home screen
Easy Install for iPhone
Open Safari on your iPhone
Type in m.SignUpGenius.com in the Safari address bar to open the mobile site
Tap on the bottom center button and click "Add to Home Screen"
Now you can launch the web app from your home screen
For Access via Other Mobile Devices
Point your web browser at m.SignUpGenius.com to access the mobile version from any tablet or mobile device.



Mobile Features
---
Easy access to sign ups you've been invited to or created


Quickly sign up with standard, payment, or RSVP sign ups


Edit/update items you've signed up for


Share your sign up activity on Facebook or Twitter


Email yourself an ICS file to add the event to your phone's calendar
Frequently Asked Questions
Is the SignUpGenius Mobile app free?
Yes, absolutely! There's nothing to buy or download from any app store. Simply open SignUpGenius.com on your phone to automatically access the mobile-optimized site. To install an icon to your screen, follow the simple directions provided above.

Can my participants pay via SignUpGenius Mobile?
Yes, SignUpGenius Mobile handles sign ups with payments, custom questions, RSVPS, and all the other features of the normal sign up web pages.

Will my sign ups look different on the mobile app?
Mobile sign ups are optimized for clean and easy viewing on small screens and therefore will not not have the same themed colors as your website sign ups. However, the images from your sign up theme will be shown within the standard mobile layout.

Will my participants see advertisements on the mobile app?
Yes, SignUpGenius Mobile has advertisements on the sign ups just like the main website. If you would like to remove advertisements from your sign ups on both web and mobile, consider upgrading to SignUpGenius Pro.