Blog
/ Extrafood.org Gives with Abundance to Feed California Community
The Genius Blog
Extrafood.org Gives with Abundance to Feed California Community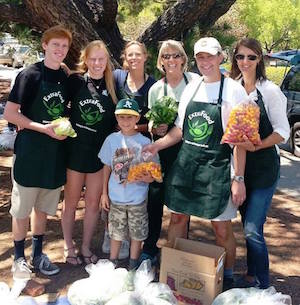 Marin County, California, is known for its affluence. Located just outside San Francisco, the area is home to George Lucas' Skywalker Ranch and numerous high-tech companies.  
That abundance helped Extrafood.org's leaders see opportunity — saving nearly 400,000 pounds of food from becoming waste and redirecting it to vulnerable populations in the community since its founding about two years ago.  
"Over 40,000 people in Marin County don't have a secure food supply," says Operations Manager Kathy Carver. "As much as 40 percent of U.S. food goes to waste. In Marin County, we're right up there." 
Extrafood.org delivers to nonprofits such as local soup kitchens, as well as senior housing centers or low-income apartment buildings. Reaching the area's three food deserts is a priority. Volunteers pick up extra food from large hospitals, grocery stores and farmer's markets. 
SignUpGenius powers the group's delivery coordination. Carver sends out a weekly email every Friday afternoon with 60 to 90 weekly trips that require volunteers. "SignUpGenius comes in so handy. It's really simple," she says. "The only food trips I have to deal with are the ones that come up unexpected." 
With a group of volunteers who are constantly traveling, Extrafood.org depends on a robust mobile version of SignUpGenius. "Most of our people are pretty techie. They're not copying down all the information they need. They can just open up the mobile version and all the info is right there," Carver says. "That's really helpful for people on the go." 
Volunteers also have flexibility, signing up for regular shifts or jumping in when they have availability. "People develop relationships with donors and recipients. They feel like they are making a difference. They are taking that food and putting it in the hands of people who really need it. The food is a language that we care." 
SignUpGenius salutes Extrafood.org for making a difference in its community. That's genius! If you're looking for a way to organize your volunteer efforts, start here with resources for nonprofits and other groups. 
Posted by Angie Frandsen on Wednesday, February 17, 2016 10:09 PM EDT
Sorry I didn't and still don't know how to do this. And my headliner some how got on here this site
Posted by Betsy Lytle on Friday, February 19, 2016 10:34 AM EDT
Hi Angie,

The sign up creator should provide you a direct link that will let you view the sign up page. This link may have been sent to you in the form of an invite received via email or through a posting on a website. Click on the link to the sign up you have received to view and sign up.

We offer a quick tutorial that will walk you through the steps needed to sign up. Please go to the link below to access this video:
http://www.signupgenius.com/videos/signing-up.cfm