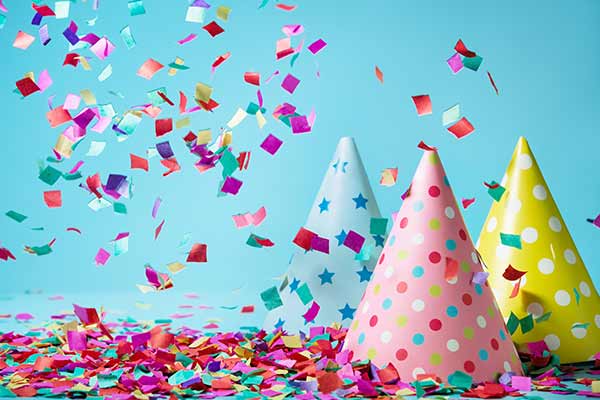 Getting ready to host a summer cookout, fall harvest party or family gathering? No need to stress — by starting early and getting organized, you can create and host a memorable event without breaking a sweat! Just follow these seven simple steps and hosting any party will be a breeze.
Step 1: Create Master Lists
Begin the planning process by outlining the basics and ensuring you don't forget important details.
A guest list can keep contact information, dietary restrictions and RSVPs all in one place. Genius Tip: Create a sign up to organize a potluck-style party and use custom questions on your sign up to collect dietary information.
A master to-do list is a great way to keep all aspects of your party — menu, décor, music and party favors — in one place.
A shopping list will let you keep track of the budget and all items you need to purchase.
---
Keep track of your guest list with an online sign up. SAMPLE
---
Step 2: Draft a Party Planning Timeline
Planning will help you avoid unwanted stress and anxiety. Here are some guidelines to help you stay on track.
One month out:
Create a budget
Set the date, time and location of the party
Decide on a theme
Send invitations
Three weeks out
:
Order decorations and party favors
Plan the menu
Order food/desserts that require a caterer or bakery
Take stock of supplies such as plates, platters, tables and chairs
Create a master shopping list
Two weeks out
:
Purchase nonperishable items
Plan any party games and activities
Determine where your stations — food, games, presents, etc. — will be.
Make/buy props for a photo wall
One week out
:         
Follow up with guests who haven't sent RSVPs
Prepare any menu items that can be frozen
Create the party playlist
Two days before
:
Buy fresh groceries such as fruit/veggies
Gather serving pieces, flatware, plates and glassware
Clean the common areas of your home
Make sure parking plans are clearly communicated
Day before
:
Confirm any food/service orders
Prep and chop fruits/vegetables
Prepare any sauces and desserts
Set the table
Designate an area for jackets/shoes
Set up decorations
Day of
:
Finish meal prep an hour before party begins
Set up food/drink stations
Do a final once over with a vacuum
Touch up the guest bathroom
Get dressed and greet guests!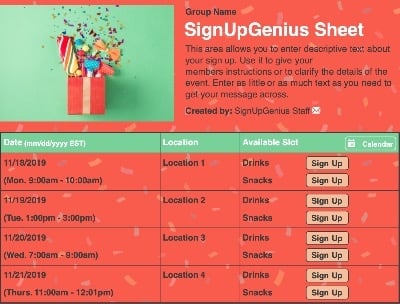 Step 3: Choose a Theme
Make your party special with lively entertainment, attractive décor and fabulous food. Creating a unique theme will make your event a memorable one. Try some of these fun ideas:
Dress as Your Favorite Decade
Hawaiian Luau
Great Gatsby — Formal Attire
Southern BBQ
Taco Fiesta
Pancakes and Pajamas
Hollywood Movie Night
Fall Festival
Under the Sea
Murder Mystery Party
Board Game Night
Field Day
Super Hero Supper
Wine and Cheese Dinner Party
Backyard Campout
Step 4: Decide the Food Menu (keep it simple)
A party is usually not the time to try a new or complicated recipe. Try a less formal approach to the menu and include some
classic party foods
. Keep these ideas in mind:
Break Out the Crockpots - Keep things super simple by borrowing several crockpots and letting guests load up on comfort food.
Make a Build-Your-Own Bar - Tacos, ice cream, pancakes and more — let people customize their food with a toppings station.
Set out Finger Foods - Easy-to-handle finger foods give your guests a chance to sample lots of different flavors. Plus, many can be made ahead.
Remember Dietary Limits - Think about common dietary needs, including vegetarian, gluten-free and dairy-free options.
Label Everything - Just in case someone has allergies, make little cardboard labels that clearly identify your foods.
Think About Kids - If your party also includes a younger crowd, make sure your food options include simple items such as cheese, crackers, pigs in a blanket, carrot sticks and macaroni.
Make it a Potluck - Take the planning down a notch by creating a theme and making it a potluck. The vibe may be casual, but the food is sure to be delicious. Genius Tip: Try one of these 50 creative potluck themes.   
---
If your guests are bringing food, keep everyone organized with an online sign up. SAMPLE
---
Step 5: Set Up Stations
To avoid traffic jams, don't put all the food and drinks in one area. Spread everything out into a few stations throughout your entertaining space:
Drinks - Set out cups, 2-liters and any drink pitchers near the fridge. If some beverages are in the fridge, make a small sign so they don't get overlooked.
Appetizers - Got a buffet or server in the dining room? This is the perfect place for a cheese plate or rollups.
Lunch/dinner - Put the main course in your kitchen. Get a crockpot if it needs to remain warm (like meatballs). The island is an ideal place for these items.
Desserts - Set up a designated section of your kitchen counter for these sweet treats. Include extra plates and napkins nearby for guests who have already thrown out the ones from dinner.
Kids - Set up a kids' table so they have their own spot to have fun. Make it child-friendly with a disposable table cloth (set out crayons!) and extra napkins.
Photo Wall - Help people remember your party by setting up some colorful paper on an empty wall and laying out photo props — like a fake mustache, top hat, feather boa, etc. — and include a hashtag for social media. #partygoals
Favors - Put any party favors on your entry table near the door — and make sure people grab them on the way out.
Step 6: Decorate
Ambience is important. The right music and lighting set the tone for any gathering.
Create a Playlist - Carefully craft a playlist that goes with the theme of the party. Portable speakers make it easy to broadcast outside as well. Determine when you want music playing — throughout the entire party or just as guests arrive.
Think About Lighting - Good lighting makes a big difference. If you're going for a classy feel, make sure it isn't too bright — make use of those light switch dimmers! Use LED candles to keep children safe.
Decorate Outdoors - Make your outdoor affair twinkle with some string lights, tiki torches or fire pit. Bring a table cloth outside for your picnic table. Being outdoors doesn't mean you can't add a touch of class.
Plastic vs. Glass - Think about the type of glassware you want to use or if you'd rather use plastic cups and cutlery. A good compromise can be melamine — you'll worry a lot less about things breaking.
---
Collect party donations with an online sign up. SAMPLE
---
Step 7: Keep the Party Running Smoothly
There's nothing worse than feeling rushed as the party begins. Use these final tips to make sure you get to enjoy all your hard work.
Pretend the Party Starts 30 Minutes Early - By doing this, you give yourself some cushion if a task takes longer than expected. If you are right on your schedule, you have a chance to catch your breath.
Keep Extras on Hand - Know where the extra chips and dip are and set a timer on your phone every 30 minutes or so to check if items need to be replenished.
Take Out the Trash - Make sure this is emptied just before the party starts (and after your meal prep) and then check on it halfway through the event.
Go with the Flow - Drinks may spill or food may run out, but the most important job as host is to make people feel comfortable and welcomed. Keeping calm will help you start everyone's night off right.
Party planning is fun when you are prepared and organized. Use this tried and true game plan to keep the party moving. With the right preparation, you will find entertaining enjoyable — and your next party will be one to remember for all the right reasons.
Sara Kendall is a freelance writer and mom of two daughters.