60 Party Food Ideas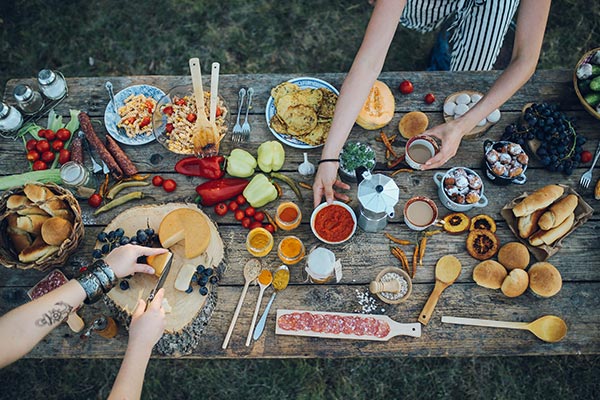 There's always an excuse to throw a party! Whether you're planning a small bridal shower or a big holiday party, use this list to help you prepare delicious party food. And remember the benefits of a potluck — you can get creative and still enjoy the party!
Finger Foods
Cheesy Bread with Ham - You can use a store-bought sourdough loaf of bread — just slice the bread into cubes, leaving the bottom of the loaf intact, then mix the cheese of your choice and ham together and dump into the bread. Bake for 20 minutes. Enjoy the cheesy goodness!
Bacon Wrapped Tater Tots - These are not the tater tots you ate as a kid in the cafeteria. Wrap them in bacon and a little brown sugar glaze for the perfect sophisticated mix of sweet and salty.
Cucumber Sandwiches - Kick it up a notch by adding a savory mix on both sides of the cucumber. Mix some Italian salad dressing and mayonnaise and you've got a new twist on a classic.
Asparagus Rollup - Tuck two spears of asparagus inside a crescent roll (leaving some room for a spread) then mix cream cheese, chives and bacon to make the spread. Stuff it inside the crescent roll as well.
Potato Skins - Load 'em up with all the good stuff! Melt cheese and bacon together, and offer other toppings as options such as sour cream, chives, jalapenos and even small chicken chunks.
Cheese Platter - This is one you can really have fun with! Instead of just a tray, use an entire table as your "platter." Lay out multiple cheeses, meats, fruits and crackers and arrange them artfully.
Shrimp Cocktail - Make it a true cocktail by serving it in a champagne glass. Dangle two to three shrimp on the side of a champagne flute with a spoonful of cocktail sauce inside the glass. Pretty, tasty and still a finger food.
Baked Brie - Bake the brie wrapped inside dough with a generous scoop of your favorite preserve and a few walnuts. It's as simple as buying pre-made dough — get pie crust near the crescent rolls at the grocery store.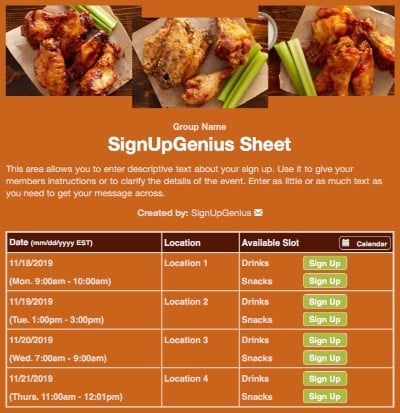 Chicken Fingers - Kid-friendly and mother approved, make an adult version of chicken fingers by baking tenders (instead of frying!) and adding a great sauce. Try combining whole-grain mustard, tarragon, lemon juice, garlic and paprika for a delicious and pretty sauce.
Bite-size Chicken Platters - Just about the easiest thing you can do is pre-order a tray of chicken "nuggets." Grocery stores with prepared foods usually have options, or you can make your own. Make sure to include a variety of dipping sauces.
Veggie Tray - It's always nice to offer a healthy option during the holidays, and a veggie tray fits the bill. Make sure everyone is satisfied by offering different kinds of dipping sauces, including ranch, honey mustard, hummus and onion dip.
Chicken Skewers - This makes an excellent finger food that you can throw on the grill. Alternate vegetables and chicken on the skewer to add both color and flavor.
Pigs in a Blanket - This classic appetizer never goes out of style and always disappears — fast. Buy a pack of mini sausage links and roll them inside crescent rolls. Make sure to provide mustard for dipping.
Chicken Sliders - We're used to seeing burger sliders, but make this healthier option and get creative with your toppings by using relishes (spicy or traditional), salsa or even guacamole.
Homemade Pizza Rolls - These. Are. So Good. Pretty much a mini pepperoni pizza, you can make them with biscuits or crescent rolls. Just stack a chunk of cheese between two slices of pepperoni and wrap inside the dough. Then sprinkle garlic powder and parmesan cheese on top and bake!
Mini Quiches - Use a refrigerated pie crust to cut down on prep time. Right after cooking, make sure to "flash freeze" the quiches for 30 minutes on a baking sheet before transferring them to containers for freezing. Then heat right before serving!
Hamburger Sliders - Make a mini-cheeseburger for a filling appetizer. The hardest part is finding the mini-buns. Your best bet is a pack of sweet dinner rolls.
---
Coordinate snacks for an ugly holiday sweater party with a sign up. SAMPLE
---
Dips
Spinach Dip in Pumpernickel Bread - Instead of putting everyone's favorite dip in a bowl with chips, scoop the dip into pumpernickel bread. It will look fun and add a new flavor for most people. If the party happens to have a football theme, you can even shape the bread to look like a football.
7-Layer Mexican Dip - Instead of using a deep dish, build the dip on a round plate, layering in a bullseye fashion. It will be the prettiest thing on your table!
Whipped Goat Cheese and Herbs Dip - Another low maintenance dip, this one will look like it took some time. Whip the goat cheese in the food processor with a little milk and some herbs and you've got a delicious dip. Sprinkle with parsley to dress it up before serving.
Hummus - Set up a festive hummus display with unique flavors and multiple options for dipping like carrots, pita bread, chips and other veggies.
Pimento Cheese Dip - This southern staple is best when made ahead of time and requires mixing together the three ingredients: cheese, mayo and peppers. Oh, and don't forget the crackers!
French Onion Dip - This is literally the easiest dip you will ever make and guests will scoop it up. Mix a packet of French onion soup with an 8-ounce container of sour cream and serve. That's it!
Salads
Pumpkin and Goat Cheese Salad - For that time of year when everything from lattes to pies is pumpkin flavored, but you don't often see it in a salad! Simply slice pumpkin into chunks and bake using olive oil. Pair with goat cheese for a new twist on a salad.
Black Bean and Corn Salad - This will add a healthy option and some color to your table. Add two cups each of corn and black beans, throw in some onions and a light dressing and you're good to go.
Avocado Chicken Salad - We know, we know, everybody loves avocado! So why not try adding avocado to your favorite chicken salad recipe?
Caprese Salad - This salad is so easy and looks beautiful. Use medium size tomatoes and big chunks of mozzarella cheese. Mix them with basil and a vinaigrette dressing for the perfect light accompaniment for dinner.
---
Coordinate RSVPs and snacks for a gift-wrapping party with a sign up. SAMPLE
---
Side Dishes
Sweet Potato Treats - Perfect for the holidays, roll mashed sweet potatoes into a small ball then mix them with mashed up corn flake crumbs. Add mini marshmallows on top and bake.
Blanched Vegetables - While roasting a sheet pan of veggies might be more traditional, consider blanching them to make them more colorful — and add texture. Boil the vegetables then immediately run them under ice cold water to master the technique.
Potato Pancakes - This traditional Hanukkah dish is essentially a prettier, bigger hash brown. Fry them up for a salty treat. Provide sour cream, applesauce and ketchup as dipping options.
Pasta Salad - The best thing about this dish is that you literally throw everything you want into a bowl and stir. Veggies, chicken, fish — the combinations are endless.
Baked Beans - Grab the usual can of pork and beans but add chopped bacon and some red wine to the mix of ketchup, brown sugar and other usual goodness for the sauce.
Three Ingredient Sweet and Spicy Meatballs - Throw frozen Italian-style meatballs in your slow cooker and add 12 ounces of chili sauce and a cup of raspberry preserve for the sweetest meatballs around.
Adult Mac and Cheese - This is not your kids' mac and cheese. And you won't find this in the school cafeteria. Make yours with grown-up cheeses like gouda or gruyere and add fun toppings like bacon, chopped green onions or bread crumbs.
Zucchini Chips - Use a mandoline slicer to slice into perfectly thin rounds. Dip in olive oil, coat with a mixture of parmesan cheese and breadcrumbs, then bake.
Bacon and Cheddar Mashed Potatoes - Mashed potatoes never really look good on the table, but when you add the yellow of the cheese, the bacon bits and some scallions, you get a pretty dish that's also delish!
Green Bean Casserole - No dinner party or holiday potluck is complete without this classic. Dress up this typical dish by adding bright red cherry tomatoes on top. Pretty and tasty.
Main Dishes
Crockpot Mexican Chicken Stew - Combine chicken, peppers, onions, beans and some chili powder and you get a slightly spicier chicken stew that cooks by itself. Just slice, chop and throw it all together in your slow cooker.
Hawaiian Chicken - Always a favorite, have fun with the way you serve this grilled chicken dish by adding little umbrellas in each piece. Make sure you get different colors to make for a fun serving platter.
Baked Chicken with Avocado Salsa - There are a million (boring) ways to serve baked chicken, but using a cayenne rub adds tons of flavor and pairing it with an avocado salsa makes it pretty. Dice up red onions and you have a red and green festively topped chicken.
Make Your Own Tacos - This is both easy on you and can make for a colorful presentation. From tomatoes to peppers, shredded cheese and more, your table will be sporting red, yellow and green.
Chicken and Fettuccini Pasta - Make the creamy sauce and the chicken ahead of time and wait until just before your guests arrive to throw the pasta on the stove.
Seafood Gumbo - Spice things up at your party with this hearty and flavorful dish. Make sure to add creole seasoning so that it really has a kick. Use a combination of shrimp, crab meat and lobster to make sure your guests get a full main course.
Pineapple Glazed Ham - Instead of a traditional ham, make this glazed one. It's so pretty in presentation, and the sweet and salty mix is always a hit. Make sure to use plenty of pineapple so you get the bright yellow color.
Turkey - A turkey feeds a village and is always a crowd-pleaser — not just on Thanksgiving! The challenge is the time it takes and making sure you get the temperature just right. You could do the traditional roasted turkey (spread butter on it when it's halfway done to make sure it's a deep brown) or you could have some fun and try a fried version.
Brisket - The best thing about this kind of meat is that you can make it and freeze it — some recipes actually suggest making it several days ahead of time. If you plan to freeze brisket, experts suggest switching the brisket from the foil you cooked it in to a ceramic or glass dish to preserve the taste.
Spaghetti and (Eggplant) Meatballs - Vegetarians love it, but meat lovers will enjoy this healthier option, too. The trick here is cooking the eggplant then scooping out the flesh to substitute for meat in your meatball mixture.
Spanakopita - You're probably used to seeing this traditional Greek spinach and cheese pie as an appetizer, but if you make it in a Bundt pan, it's easier to do, becomes more of a main dish — and it looks pretty on the table!
Chicken and Waffle Casserole - An easy and fun way to take advantage of the popular chicken and waffle combo, just combine waffle and chicken in a large casserole dish, pour egg mixture on top and bake.
Bagel Casserole - This fun twist on the casserole concept just requires breaking up bagels into pieces, spreading them out and mixing with cheddar cheese, tomato and onions before baking.
Healthy Pizza - These days restaurants offer lots of creative toppings (think pineapple or BBQ chicken) and healthy home cooks have come up with some creative alternative crusts (think cauliflower). Combine the two concepts and you have a fun, healthy pizza for your guests.
---
Organize New Year's Eve party food with a sign up. SAMPLE
---
Desserts
Non-basic Chocolate Cake - Most everyone has a delicious cake recipe but serving it can look pretty boring. An easy way to add a little flair is to add a "swirl" on the plate with each slice. Fill a squeeze bottle with anything from raspberry or chocolate syrup to whipped cream and then have fun with the presentation!
Fruit Platter - Make this the simplest thing you serve. Buy pre-cut fruits at the grocery store then arrange artfully on your favorite tray. Done and done!
Chocolate Covered Pretzel Rods - This is a fun treat that will bring your table to life. Dip pretzel rods in melted chocolate, then roll them in colored sprinkles.
DIY Cupcakes - You can never go wrong with artfully decorated cupcakes. Enlist the kids to help ice and add sprinkles, Reese's Pieces, M&M's and more. Find a tiered platter to display them. You can even make this a DIY portion of your party to truly customize options.
Ice Cream Sundaes - These are so much fun because you get to add as many toppings as you like — so make sure you offer plenty of options like chocolate chips, Oreos, gummy bears, fruit, nuts and more. And don't forget the whipped cream.
Chocolate Chip Cookies - There are a million different ways to make these classic favorites, but by simply sprinkling sea salt on the top, you turn them into a mouthwatering delicacy. The mix of salt and sweet is downright delicious.
Pies, Pies and More Pies! - Make sure to have something for everyone. Apple, pecan, lemon meringue, chocolate silk pie … the more the merrier. Genius Tip: This is the perfect thing to ask guests to sign up to bring.
Chocolate Mousse - For a healthy twist on a dessert that you can make easily — and ahead — throw together a chocolate mousse. Just mix chocolate pudding from the box, milk and Cool Whip. Make it the night before to get just the right texture.
Ice Cream Sandwiches - Offer guests different cookies for the outside and different flavored ice creams for the inside. If you really want to impress people, bake sugar, chocolate chip and chocolate-chocolate chip cookies ahead of time.
Yum! With these party recipes by your side, you're equipped for every occasion. Bon appetit!
Michelle Boudin is a reporter at NBC Charlotte and a freelance writer.