25 Fun Spring Break Ideas for Families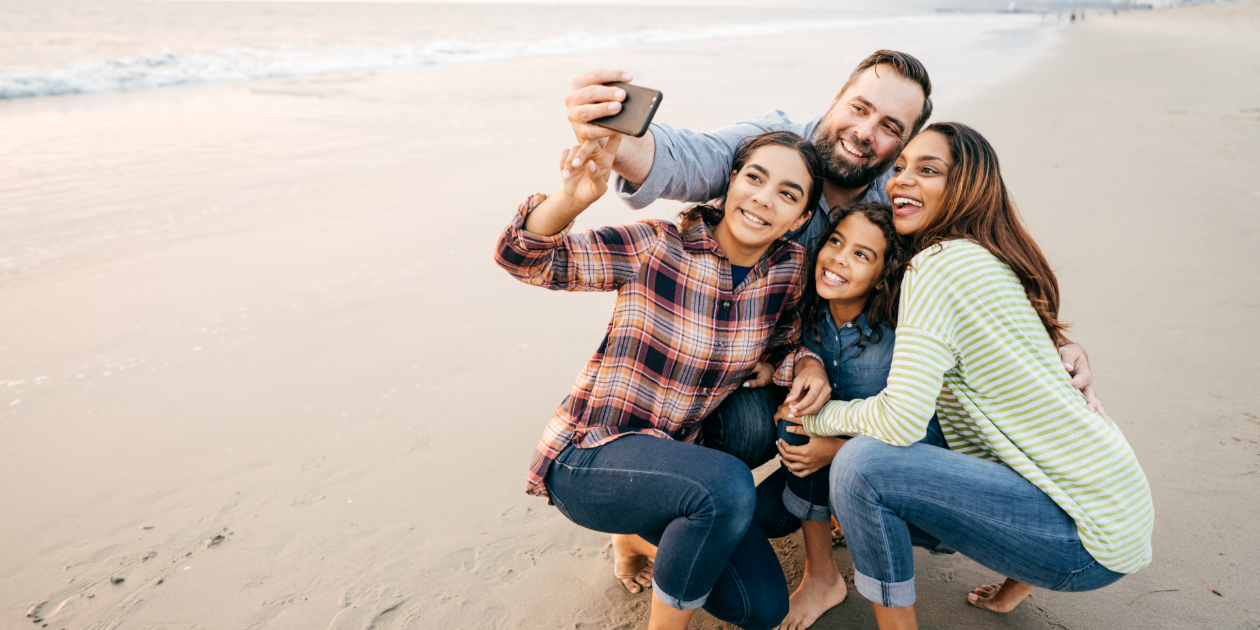 Spring break is a great time to share new adventures and make memories with your family. While it's exciting to go on a big vacation, spring break can still be a hit if you're planning a shorter trip or a relaxing week at home.   
We've got you covered with some fun destination ideas, day trips, as well as at-home adventures. Even when you're on the go, try to set aside a little time to focus on your family and take in every moment. Read on for some fun spring break inspiration! 
Fun Trip Ideas 
You don't need an extravagant vacation to make the most of your spring break. If you're up for a road trip, you'll have plenty of new places to explore with these fun day trip and weekend getaway ideas. 
Ski Trip – If you live in a colder climate, hitting the slopes with your children can be a great way to introduce them to a new sport. You can typically rent skis or snowboarding equipment for the day, and many resorts offer ski-school for youngsters. Plus, you can also try out other alpine activities like snow tubing and cross-country skiing.
Beach Trip - A beach trip is always a hit, even if it's just a quick visit to dip your toes in the water and build sandcastles. If you live within a few hours of the coast, pack up a picnic and grab some inexpensive beach toys for a dose of vitamin sea.
Family Time - While it might not seem like the most exciting adventure, visiting family can be a great way to spend your spring break - especially if your children don't get to spend a lot of time with their grandparents or extended family. To keep stress levels at a minimum, consider staying a few nights in a hotel rather than with your family the entire time.
Historical Site – Exploring the history of your area is a great way to get kids excited about learning and see familiar places in new ways. Look into historical sites where you can take a tour or do some research ahead of time so you can play tour guide. Plan a kid-friendly meal or treat after the tour and chat about what you discovered.
National Parks – Check out the National Park web site and discover National Parks near you, you may be surprised to find many natural wonders within an easy drive. Kids can become a Junior Ranger to make the most of their visit to the park and experience national parks across the country from home.
Camping – If the weather is warm enough, hit the road to spend the night under the stars at a scenic camping (or glamping) site. If you would rather stay close to home, try a backyard campout with these ideas!
Theme Park - Head out to a theme park nearby for a fun day of adventure that your children will love. Most theme parks have rides or play areas for children of all ages, so whether your kids are preschoolers or teens, they will be entertained and engaged.
Hike - Even if you don't live near a national park, there are likely beautiful places nearby that you and your children can explore on a hike. Listen to nature sounds, gather interesting leaves, and be on the lookout for animals.
Ride a Train - Riding on a train can be such a fun excursion for kids, especially young ones. See if there are any nearby destinations you could ride to and back for an easy day trip. Make sure to pack some activities for the ride like books and coloring books. No matter where you go, your children will probably enjoy the ride.
Bed and Breakfast - Bed and breakfasts are perfect for a cute and low-key getaway or staycation. Often, B&B's are located in charming towns within walking distance of restaurants and shops. B&B's often offer games and activities and can share info about short hikes or scenic areas to explore.
Spring Training Spring means baseball is back! Major League Baseball teams get ready for the season in Florida and Arizona, and game tickets are sold for a fraction of the price of regular season games. If your favorite team is training within driving distance, hit the road and spend a few days being fans!
Small Town Charm You can find some of the best restaurants around in small towns. Pick a town to visit within a short drive and plan to have lunch at a local restaurant. Check out the shops or a park nearby and snap some photos to capture the memories. Next year, make it a tradition and pick another small town to visit!
Sample Sign Up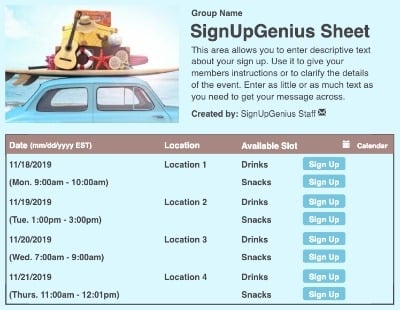 Fun at Home
If money or time constraints don't allow you to get out of town, there are still plenty of ways to make spring break a week to remember for your children at home. You don't need a big budget to enjoy some quality family time together, just stay in the moment with your kids.
Explore Your City - Pretend to be a tourist in your own city one day. Check out museums and sites and explore some local restaurants with your family. You might even consider taking a tour to learn something you never knew about your own hometown.
Picnic in the Park - Pack a lunch and head to the park for a picnic with your children. Include a few special items on the menu like fresh fruit, lemonade or homemade dessert. Lay on a big blanket, look at cloud shapes, and enjoy spending some quality time together outdoors.
Try Out a New Playground Each Day - You might consider creating a little contest by trying out a new playground each day of spring break. Let your children rank them and decide which are their new favorites. You'll get to explore parts of your city that you might not be familiar with, plus your children can make new friends.
Restaurant Week – Like the playground tour idea, consider trying a new restaurant for a few days or the week. Plan to try out new spots or do a tour of your favorite eateries, or a mix of both. Even just a pit stop for ice cream can be exciting for little ones.
Airport Overlook - Many cities with airports have a designated overlook area where families can watch planes taking off and landing. Consider packing a lunch for a little picnic time together.
Theme Week - You can spice up spring break by picking a new theme for each day. Consider letting your children help pick the theme and dress-up, make crafts, or plan meals that go along with your theme. For example, Paris vacation, circus, superhero, or world travel.
Spring Camp - Even though it might still be cold, it doesn't mean you can't use your imagination to have a fun summery adventure. Make camp t-shirts, plan crafts, cook s'mores, and do fun camp activities from the comfort of your own home.
Find a Zoo - Children love animals, so taking a day trip to the zoo can be just the ticket for a great spring break adventure. Even if you don't have a zoo nearby, you and your children can "make" a zoo right at home. Have them create tickets, information signs and displays for their favorite stuffed animals.
Dress Up Days - Making each day a different dress up theme can be a fun way to make spring break more than just any other week at home. Consider themes like princess, pirate, super hero, wacky hair day, inside-out day, or other fun things your children will find funny.
Indoor Picnic - Even if the weather isn't allowing a lot of outdoor activities, you can still create a picnic right at home. Lay out a big blanket in your living room and let your children have a picnic while watching a movie.
Movie Week - Movie week can make things fun for children this spring break. Pick a new movie to watch each night as a family and plan your day with on-theme activities. For example, if you're planning to watch Jurassic Park, eat dinosaur-shaped chicken nuggets, create dinosaur crafts, or dress-up like your favorite character.
Scavenger Hunt – Plan a scavenger hunt to find treasure in your neighborhood or a local park. Invite friends to join in the fun and reward adventurers with a treat at the end. Use these scavenger hunt tips and ideas for inspiration. Don't forget to take a group photo!
Sleepover Party Let kids invite a friend or a few over for the ultimate slumber party! Plan a kid-friendly dinner like make-your-own pizzas and serve up an ice cream sundae bar. Try some of these sleepover tips and ideas to plan a night they'll never forget!
Spring break can be a great time to reconnect with your family and spend some quality time together. You don't have to have a massive budget to make the week enjoyable and memorable for your children. Enjoy the break from school, get silly, and put away your phone so you can have some distraction-free time together to make memories.  
Kelsey Caldwell is a realtor and freelance writer from Charlotte, NC. She and her husband are parents to two amazing kids, a puppy, and a rabbit.