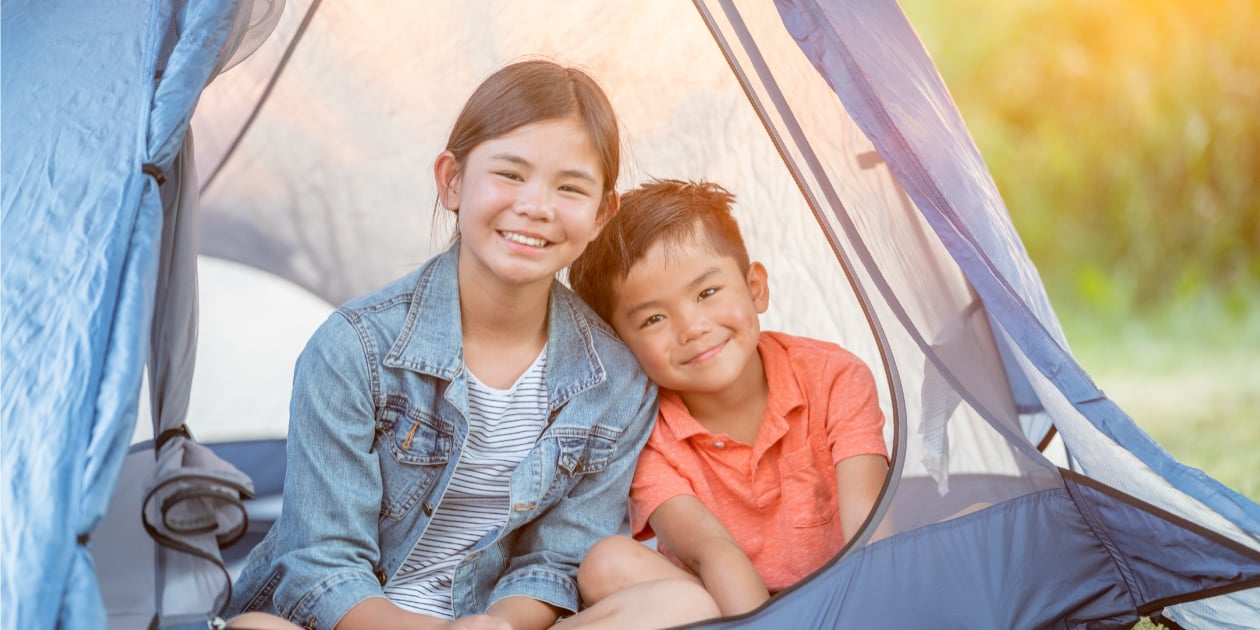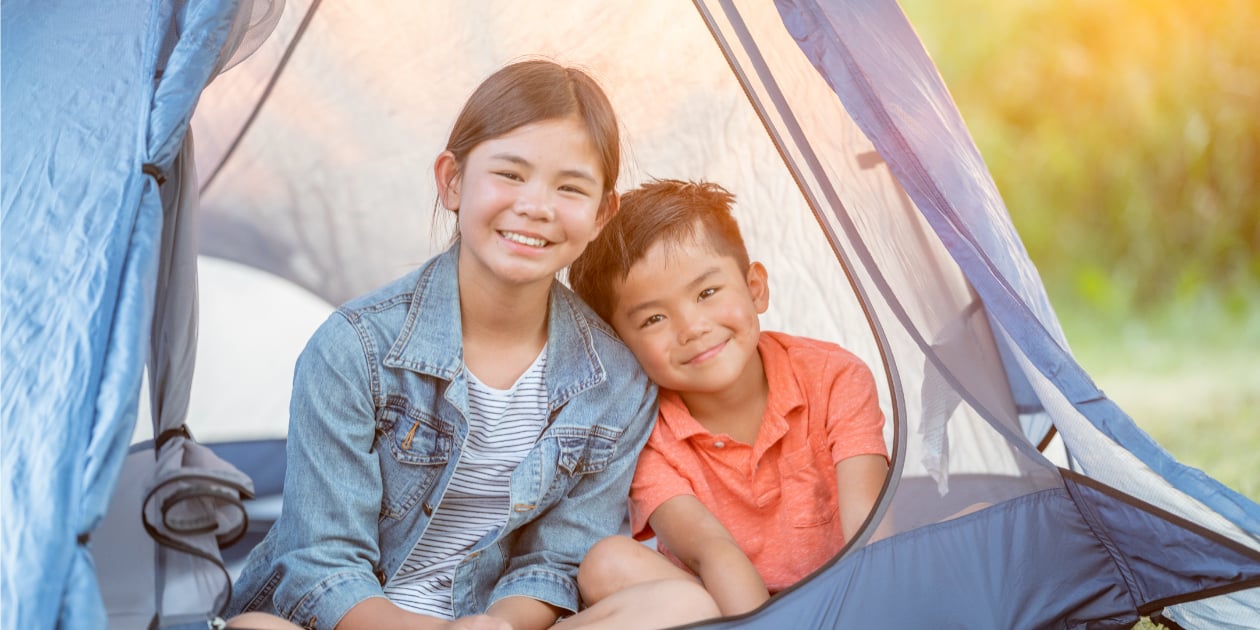 There's nothing quite like sleeping out under the stars. That's why thousands of people flock to campgrounds across the country when the weather gets warm. But you don't need lots of fancy gear and a picturesque location to go camping — just open the door and head into the backyard. 
Camping in the backyard has lots of pros: you don't need too much advance planning (or money), so it can be a spur-of-the-moment weekend adventure. And if you've got small kids, this super-close "campsite" will eliminate that long, boredom-inducing car ride. Here are a few of our favorite tips and ideas for your next backyard camping adventure.
Get Prepared
Be Weather-Aware - Don't let Mother Nature rain on your parade — make sure you're staying up to date on weather conditions and preparing appropriately with umbrellas, sunblock and the right clothing. And if a surprise storm pops up, no worries. Just move your camping adventure indoors.
Set Expectations - Take the time to tell kids exactly what to expect for the evening. Will they be sleeping outdoors? On an air mattress or on the ground? And what's for dinner? Setting realistic expectations will help make the day run smoothly.
Camping Care Package - Give each child a campsite care package containing things like bug spray, sunscreen, a campfire skewer and a bandana that can be used as a napkin, headwear, etc.
Pitch a Tent
Whether you're camping out in nature or in the backyard, pitching a tent is
Camping 101
. There are so many options for your temporary outdoor sleeping quarters, from
store-bought dome tents
to DIY. If you don't want to build or buy a tent, consider borrowing a tent from a friend. Dome tents are the easiest to set up and can be done in a matter of minutes.
Clothesline DIY Tent - All you need is some clothesline and a large piece of fabric to create a DIY tent. Simply string your clothesline between two trees (or poles or other tall, sturdy objects) and toss the fabric over the top. Secure the ends of the fabric to the ground with rocks or other items with some weight. Voila! An instant Insta-worthy open-air tent the kids will love.
Embroidery Hoop Teepee DIY - Another great no-sew DIY tent option involves an embroidery hoop and a huge swath of fabric like a duvet cover or king-sized sheet. Clip the hoop together over the fabric near one corner and pinch the fabric in the center of the circle, pulling some of the fabric through. After tightening the hoop, string your tent up to a tree branch using a strong piece of rope for an instant teepee-style tent.
Make the Tent Feel Like Home - Cozy up the inside of your tent with cute yet practical items like pillows, blankets, books and the kids' favorite stuffed animals.
Let There Be Light - String up battery-powered hanging lights either inside your tent or somewhere near your campsite to add a fun, sparkling ambiance.
Catch Some ZZZ's - There are lots of ways to sleep in the great outdoors — go old school with a sleeping bag or do some "glamping" with an air mattress (or actual mattress!) outfitted with sheets you don't mind getting a little dirty.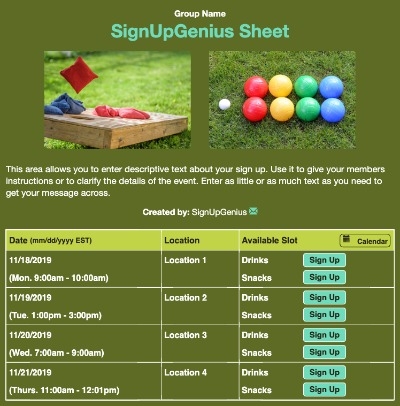 Light A Fire
Campfires are a staple for any campsite, but depending on where you live, you might not be able to just light up a fire in your backyard. Consider these tips before lighting up.
Check the Rules - Consult your city or town's website for their rules on bonfires/burning within their borders. Some areas even have rules about small, portable fire pits you can purchase at the hardware store.
Fire Safety - Depending on your burning method of choice, you'll need to do a little research to make sure you're doing it safely. For example, if your fire pit is only for burning wood, don't burn anything else inside. And always avoiding burning painted or treated wood. Check out these campfire safety tips for kids.
Have a Fire Extinguisher Ready - If your backyard campsite will include a fire, keep a fire extinguisher or bucket of water nearby just in case. And when you're done for the evening, be sure you've completely extinguished your fire before bedtime.
Consider a Permanent Fire Pit - Live the campfire lifestyle all the time with a permanent fire pit. The internet is full of DIY tutorials for fire pits, but if you're not into a major project then consider hiring a professional. Be sure to get any plans approved through your Homeowners' Association if you have one.
Invite friends to a backyard campout with an online sign up. View an Example
Dinner and Snack Time Treats
Campfire Cooking Gear - Cooking over a fire? You'll need to make sure you have the right gear. Look for skewers with wooden handles that won't burn your hands as you roast your marshmallow or hotdog. Hoping to make an old-fashioned campfire stew? You may want a cast iron pot and tripod cooking stand, or just cook it inside and eat around the fire. We won't tell anyone!
Upgrade Your S'mores - There's nothing like the classic chocolate bar + graham cracker + fluffy roasted marshmallow combination. But if you're ready to try something new, buy different varieties of chocolate and switch it up with flavored marshmallows. You could also swap out graham crackers for cookies or another sweet treat. The only limit is your imagination!
Classic Weenie Roast - Since most store-bought hotdogs are pre-cooked, you can warm them up over your campfire without worrying too much about their internal temperature. Just stick them on a skewer, roast them in the flames and pop them in a bun with your favorite campsite condiments.
Pop Campfire Popcorn - Beware: This simple method for cooking popcorn is so fun, your kids may never accept the microwaved stuff again. Simply mix popcorn kernels with a little vegetable oil inside a pie tin and then cover the tin with aluminum foil, making the top into a dome to leave enough room for the kernels to pop. Then hold your homemade popcorn popper over the fire with tongs and gently shake it until it heats up enough to pop. Once the popping stops and your popcorn is done, season it with salt and a hint of garlic powder and you've got yourself a batch of delicious "campfire 'corn."
Fire Up the Grill - If cooking over an open fire isn't your thing, no worries. Since you're outside anyway, it's the perfect time to flex your grill skills. Whether you're grilling up hamburgers, steaks or veggies, the smell of a delicious grilled dinner will add the perfect ambiance to your campsite.
(Trail) Mix It Up - Easy to snack on and fun to make, trail mix is a camping classic for a reason. Buy the store-bought kind or have kids create their own with a trail mix station. Include healthy options like raisins alongside fun treats like tiny chocolates.
Hot Cocoa - Warm up on a cooler night with hot chocolate and marshmallows — bonus points if it's served in a metal mug.
Invite friends for s'mores and backyard fun with an online sign up. View an Example
Game On
Corn Hole/Bag Toss - Outdoor games like corn hole (also called beanbag toss) are perfect for hanging out at your backyard campsite. Dust off your horseshoe set or break out the bocce balls … any kind of fresh air fun is welcome.
Catch Fireflies - Round up some Mason jars and punch holes in the lids for this classic camping activity. Teach kids how to gently guide the fireflies into their jars and enjoy the glow. But be sure to set them free when you're done!
Nature Scavenger Hunt - Give kids a list of items they might find in the backyard like leaves, flowers and bugs. Have them collect their specimens in a paper bag and use them to create cute art at the end of the hunt.
Campfire Telephone - While you're sitting around the fire, have someone whisper a phrase to the person next to them. Then have that person whisper it to the next person and so on, until the last person says the phrase out loud. You'll have a good laugh at the difference between the original phrase and what comes out at the end of the telephone.
Ghost Stories - Is there anything more classic than a good ghost story? If it's not too spooky for your little ones, have family members tell the spookiest tale they can dream up. Be sure to provide extra flashlights for a creepy vibe!
Sing-alongs - Tap into your old-fashioned family fun book with a classic sing-along. Pick out some campfire tunes or have mom and dad embarrass the kids by belting out some hits that were popular when they were younger! Extra points if you forego the Bluetooth speaker in favor of an actual guitar.
Movie Night - Buy an inexpensive projector and display a family favorite movie on a white sheet or even the side of the house and watch under the stars while curled up on picnic blankets or sitting in camp chairs.
Don't Forget
Sunscreen - If your camping adventure begins while the sun is still up, remember to use SPF.
Bug Spray - Don't let pests interfere with your good time. Whether you go the natural route or reach for the aerosol can, have your preferred method of bug spray ready to go.
Citronella Candles - Avoid the spray (or supplement its protection) with citronella candles to ward off unwelcome guests at your campsite. Choose a giant bucket candle next to where you'll be hanging out, small tea lights placed strategically around, or even a fragrant tiki torch for added ambiance. Make sure to have a plan to safely extinguish the candles before bedtime.
Hydrate Wisely - Your kids will be having so much fun at your backyard camp-out, they may forget to hydrate. Provide everyone with a water bottle and plenty of H20, especially once the temperatures start to climb.
With a little planning and a lot of imagination, your backyard camp out will feel just like the real thing. And whatever touches you decide to add to your at-home campsite, the main idea is to have fun as a family. 
Sarah Pryor is a journalist, wife, mom and Auburn football fan living in Charlotte, NC.