Kid Sleepover Tips and Ideas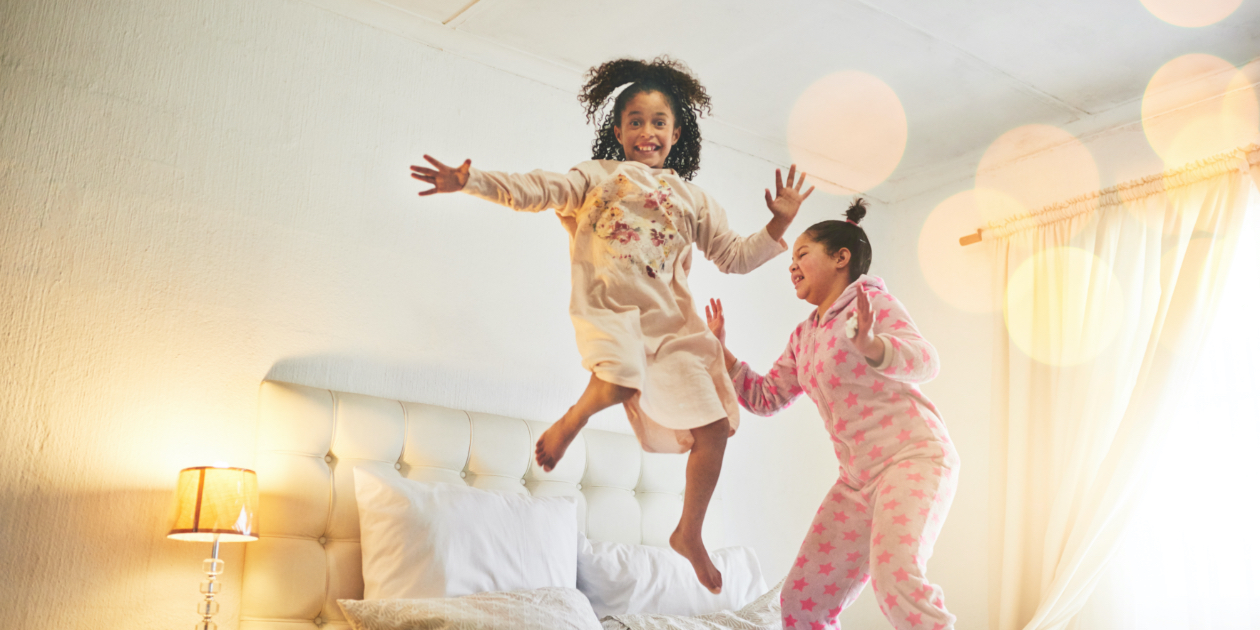 Having your first sleepover is a big milestone — for both kids and parents. Like anything else, your sleepover will go more smoothly and be more fun for everyone with a little bit of advanced planning. Here are some easy tips and ideas to ensure your sleepover is the best one yet!
Sleepover Planning Tips
Before you start shopping for goodies and games, think over how you can structure the sleepover to be comfortable and fun for all kids and families.
Plan the Guest List - When organizing your sleepover, think over the guest list. Will it be better to keep it small? Is there a certain person who creates a lot of conflict in the group of friends? Plan your guest list carefully.
Talk to Parents - Depending on their age, you may want to check with parents before sending out invites to see who is ready, or which families will even allow it. Inviting a kid that isn't going to be able to come will only complicate things.
Respect Rules - When talking to parents, see if there are any rules that are important to them. Maybe their child isn't allowed to watch certain types of shows or do particular activities. It's always good to check before the sleepover planning begins.
Ask About Allergies - You don't want to wait until the kids show up to find out one of them has a nut allergy. There are so many allergies out there, so ask the parents before buying anything.
Get Contact Info - If something should happen while their child is in your care, make sure you have the best contact info for any time — day or night.
Pick the Date - Sleepovers usually involve very little sleep, so plan accordingly! It's probably best to do them on a weekend when the next morning is not a school day.
Fuss Free Food - Keep the food simple. Nobody wants to do a long sit-down meal at a sleepover. Better yet, just put out some easy snack trays with a variety of options and let kids graze as the night goes on. Hungry kids are no fun!
Home Tour - As soon as the guests arrive, show them the important rooms in the house, such as the bathroom, sleeping area, where to find you if needed, and the kitchen. Let them know what they can (or can't) eat and drink, so you don't need to play waitress all night.
Group Huddle - After everyone arrives, have a group huddle for just a few minutes where you talk over some ground rules, such as: nobody goes off on their own, bring any conflicts to an adult, please check in before calling a parent to come get them, and any house rules, like only eat in the kitchen.
Create an RSVP sign up for the sleepover with SignUpGenius. View an Example
Fun Sleepover Ideas
Now it's time to plan the fun! Here are some sleepover activities, games and ideas that will keep everyone engaged (and out of trouble). 
Food Ideas
Popcorn Station - Set up a make-your-own popcorn station, with plain popcorn and all the possible fixings — savory and sweet!
S'mores Indoors - Use an indoor s'more maker or even just roast marshmallows in the oven to make delicious, gooey s'mores indoors.
Burger Bar - Put out all the goodies they could want on a burger and let them make their own.
Nacho Station - Everyone loves nachos — and what's better than making your own?
Salad Bar - Eating healthy? Keep everyone's energy up with a serious salad bar with proteins, veggies, dressings and all the fixings.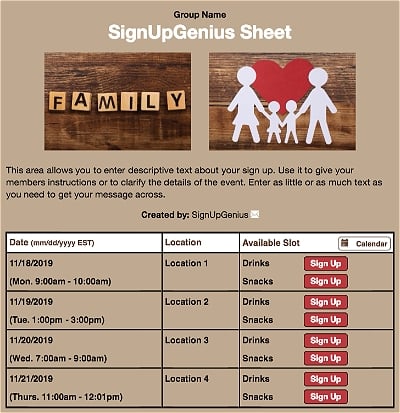 Hot Cocoa Bar - As the hours pass and the temperature dips, nothing is better than a big cup of hot cocoa.
Ice Cream Sundaes - Who doesn't love ice cream? Put out all the toppings and have a few ice cream selections, including non-dairy, for them to make their own sundae.
Cupcake Station - Make plain chocolate and vanilla cupcakes and put out frosting, sauce, and other toppings and let them decorate.
Pizza Party - Pizza is the iconic sleepover food. Let them pick the toppings for their own pizzas or make several different kinds for them to choose from.
Pancake Breakfast - Don't forget about breakfast. They might be groggy, but they'll still be hungry. Pancakes are a fan favorite.
Plan a youth group camping trip with a sign up. View an Example
Activity Ideas
Movie Marathon - Get a list of movies loaded and ready to go to last all night long. Genius Tip: Try one of these classic movies to watch with kids.
Living Room Salon - Set up a living room salon with all the tools for gorgeous hair. Make sure to have adult supervision for any hot tools.
Karaoke Time - Make your own stage, bring in some fun props like hats and scarves, and them be the star!
Make Your Own T-Shirts - Get plain t-shirts, puff paints, tie-dye or other decorations and let them make their own t-shirts to wear and take home the next day.
Design a Pillowcase - Use pillowcases to decorate instead of shirts, so you don't have to worry about getting the right size.
Friendship Bracelets - Beads and string are all it takes and let their imagination run wild!
Face Masks - Turn your living room into a spa with a selection of face masks.
Tent City - Glamp indoors with colorful tents they can work together to build and get cozy.
Hair Tutorials - Watch hair tutorials on YouTube for a fun style like braids and have them practice on each other!
Game Night - Get out the classic board games, like Twister, Pictionary, Monopoly and Uno, and let the games begin.
Murder Mystery - Download a fun murder mystery game, assign roles, have some costume props handy and have some fun.
Stargaze - Take pillows and blankets outside and watch some stars.
Insta Influencer - Social media influencers are all the rage. Let the kids experience the fun with a photo station that has props, costumes and a tripod for phones.
Glow in the Dark Stories - Give everyone a flashlight, turn down the lights and share scary stories. Note: this may be a game best suited for an older audience.
Nail Salon - Set up a fun nail salon with different types of nail polish, manicure tools, nail decorations and let them have fun.
Dance Contest - Play a dance video game and then host a dance contest to see who's got the moves! Or, encourage the whole group to choreograph a piece they can perform together.
Make Slime - Kids love slime. Find a recipe online for a fun slime (such as a glow in the dark slime or unicorn slime) buy the supplies and get sliming. Just grab containers that they can seal to take home, so you're not left with a giant batch of slime the next day.
Scavenger Hunt - Download a free scavenger hunt and have some fun. Depending on ages, these can be done around the neighborhood, around a shopping mall, or another safe place. Encourage kids to not go off on their own at any time. Buddy system!
Pillow Fort - Get all the extra pillows and blankets in the house and let them build a massive fort in the living room.
Hide-and-Seek - It's not just for little kids. Hide-and-seek is still super fun, and even more challenging, with big kids. Start the game with a discussion on where or which rooms they can hide in and let them have some fun.
Take Home Bags - Have a bag they can decorate to take home all of their goodies. They might be lucky enough to leave with a pillowcase, slime, a bracelet and more!
Sleepover memories last a lifetime. Set the stage for a fun and safe sleepover experience for everyone by using these tips, food ideas and activity suggestions.
But remember, a great group of friends can talk and entertain themselves all night long with minimal entertainment, too. Don't feel stressed that you need to over-plan. Have a few ideas or things ready if needed, but don't interrupt a group of kids who are having a good time all on their own! 
Erica Jabali is a freelance writer and blogs over at ispyfabulous.com.