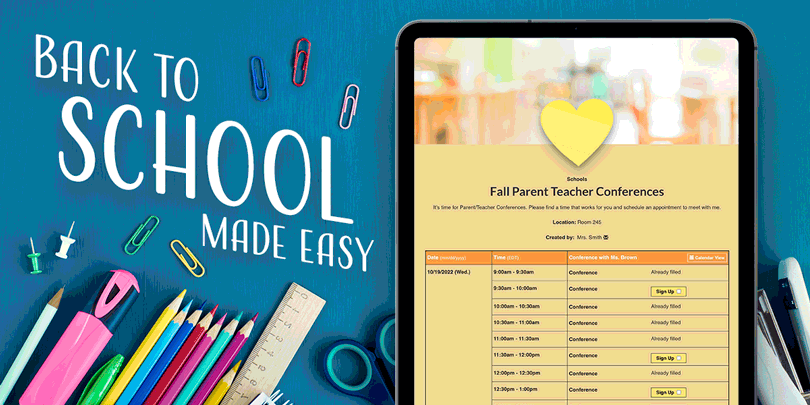 The beginning of the school year can be a busy time. Whether you are a parent, teacher or school administrator, ramping up for another year is no easy task. There are needs for volunteers, meetings to schedule, events to plan and so much more.
Fortunately, online sign ups help relieve stress by simplifying and automating so much of the scheduling and planning. Here are five ways that online sign ups can make this year your best school planning and organizing experience ever! 
Easier Volunteer Recruiting
It's hard to find volunteers. Sometimes people want to help but with so much going on and so many sign up opportunities, how will people ever know about your volunteer needs?
Picture this: An online sign up page that communicates all your needs and the time slots for volunteers to sign up. Post online sign ups on the school website, in an email, or in any application where you want to paste the sign up link. There are multiple ways to promote your volunteer opportunities to boost volunteer recruitment.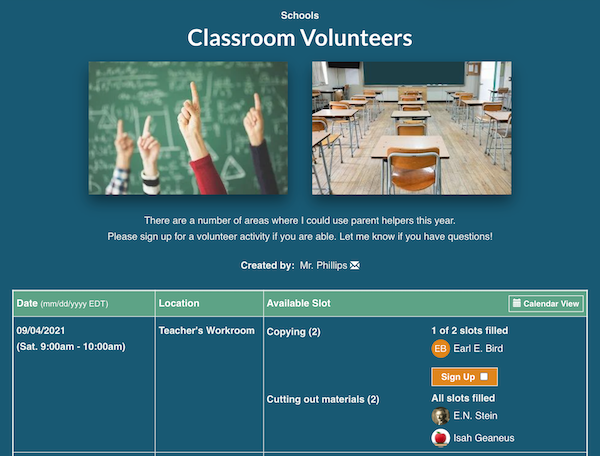 Faster Appointment Scheduling
Whether you are
scheduling parent teacher conferences
or weekly classroom readers, online sign ups make it easy to recruit and keep track of appointments and volunteer assignments throughout the year.
When you create your sign up, you can automatically generate all your dates and times and assign them to one or more slots. With our hide dates feature, you can hide past dates and/or dates that are further in the future to keep your sign up current. Need to schedule a video call for your appointments? We offer a Zoom integration or the ability to include links for the video call.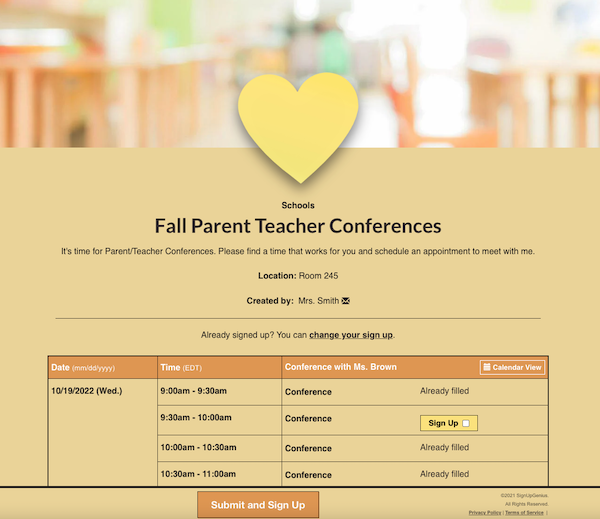 No More Paper Sign Ups
As our world moves increasingly to paperless options, online sign ups provide an environmentally friendly option for organizing groups and events. It's also a lot easier to stay organized with digital tools than with keeping track of paper or spreadsheets when it comes to school and classroom organizing.
Online sign ups allow participants to easily reschedule or swap their volunteer slot with others on the sign up. Parents and volunteers can refer to the sign up to view the items they signed up for at any time. Even easier than paper, you can share the sign up in an email or post on a website which beats passing around a sign up sheet. Plus, sign ups can be duplicated to share with other teachers, or you can transfer ownership of a particular sign up if you need someone else to manage it.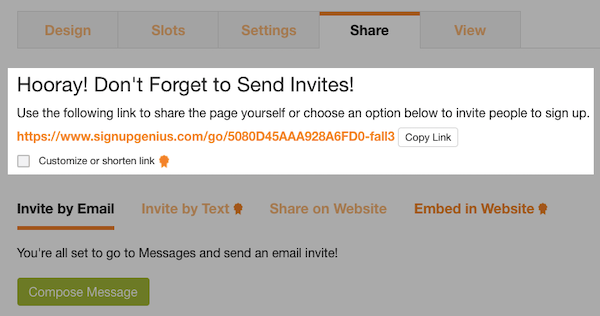 Automatic Reminders
It's never fun having to remember who is scheduled for various roles and emailing them to remind them about it. Fortunately, our online sign ups can automatically send reminder emails or texts to sign up participants. You can choose to have the reminder sent 1-14 days in advance.
With our custom reminder feature, you create custom messages to specify additional notes in your reminder message. Need to remind volunteers to bring a form or item when they show up? Be sure to include the message in your custom reminder.

Simple Donation and Supply Collection
Back to school means it's time for classroom wish lists. With an online sign up, it's easy to list out your classroom needs and limit the quantity of items.
This way, you don't get 30 bottles of hand sanitizer when you really need more packs of crayons. Parents can easily sign up for items to prevent too many people from donating the same items. Plus, you can hide names to keep everything anonymous and protect the privacy of anyone who may not be able to donate.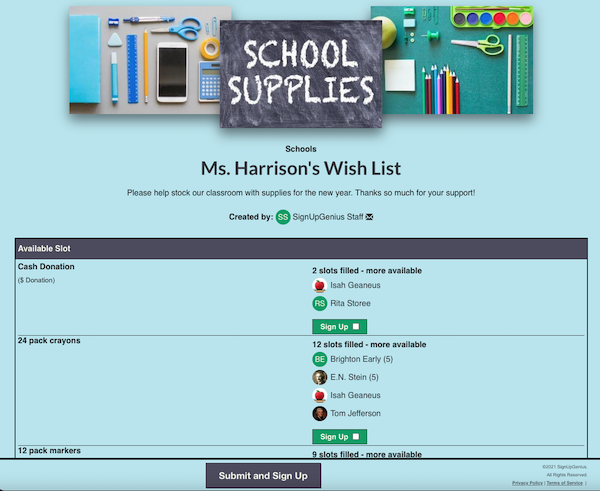 Online sign ups help streamline school coordination and communication! Learn additional ways for schools to use online sign ups throughout the year. Before you know it, everyone in the school will be using SignUpGenius.