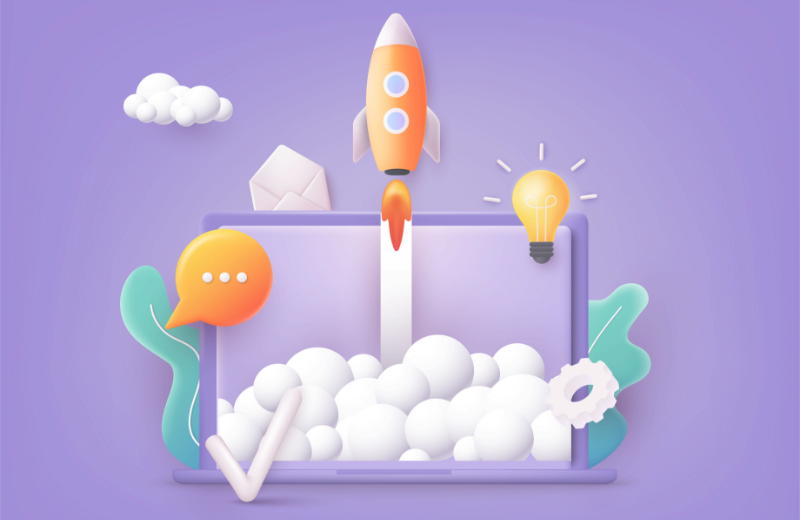 Technology gives your team more freedom to focus on growing your business. Choosing the right software is a crucial decision, and it can be hard to know what tools are the best fit to help you stay connected and accomplish your goals. Online sign ups help streamline organizing from human resources to client scheduling, whether you are an entrepreneur or work at a large company. Sign ups simplify planning for events such as appointments, trainings, team building activities, interviews, volunteering and more. Here are six features and benefits to help take your organizing to the next level.
Security and privacy 
There are several ways to 
increase security on sign ups
 clients and employees peace of mind. You can choose to hide names on your sign ups, so names and comments are only visible to you and other authorized administrators. People who view the sign up will see that the slot is filled but the name will be hidden. This feature ensures privacy when clients schedule appointments and when inviting employees to sign up for annual reviews, coaching sessions, health screenings and more.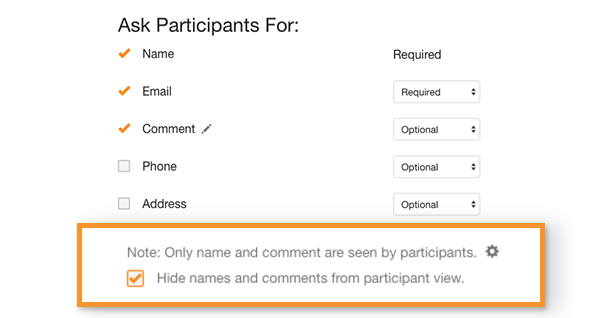 You can also protect the privacy of your events by setting up an access code that people need to enter to view your sign up. When you select this option, your invitation emails will include the access code, ensuring only those invited can sign up for your events. 

Create a seamless sign up experience 
It's easy to integrate your sign ups with your web site using the 
embed feature
. Sign ups will display on your site when you paste an embeddable code snippet into your source code. This feature gives you the ability to direct people to your web site to learn about your business and engage with opportunities.  You can also use our Web Button Builder to add a button on your web site that links to your sign up. Click the Tools icon on the left side of the account page and select the Web Button Builder option. Follow the steps and select the sign up you'd like to share. If you'd rather not post a button on your website, use a
QR code
instead.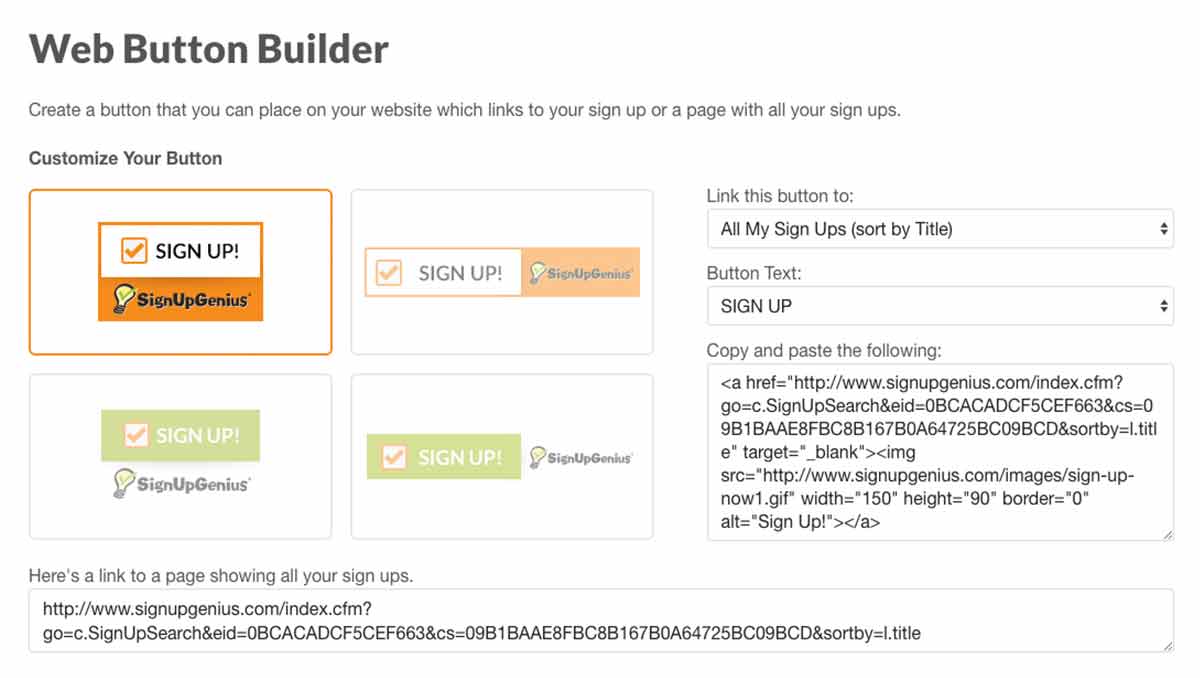 You can provide a consistent experience for your audience by designing sign ups to reflect your company's brand. With our Enterprise plan, you can remove SignUpGenius branding to create a white-label template. You can then customize your sign up to have the look and feel of your own website.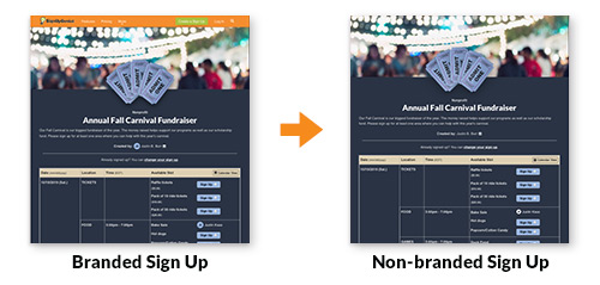 Software integrations 
SignUpGenius syncs with many software tools that are popular with businesses, such as digital calendars, email newsletter tools and social media platforms. You can boost your organizing power even more by activating software integrations in just a few steps. With our 
Zoom integration
, you can include a video conference link on your sign up to invite your group to a virtual meeting or event. Your participants can click the link in the location field as well as in reminder and confirmation emails to join your call.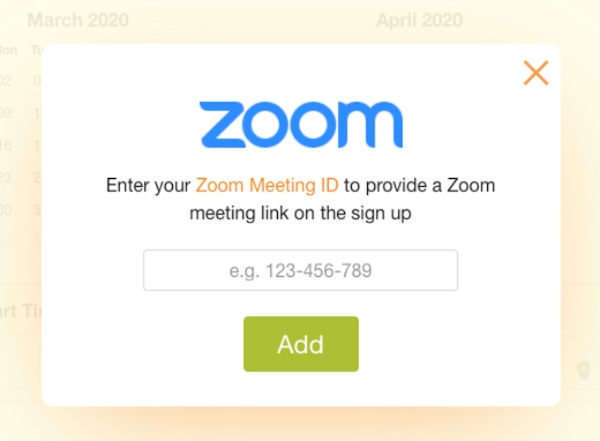 Our integration with Zapier connects your sign ups to hundreds of web applications such as SalesForce, Constant Contact and Google Sheets. Zapier shares information between your web apps automatically, so you have more time to focus on your goals.  
Learn more about our software integrations. 
Customize a professional look on your sign up
The ads displayed on sign ups support are only seen with the free version of our tool. But it's easy to remove ads to and create a polished look that represents your business. With our premium plans, you can 
remove ads
with the click of a button to help people focus on your sign up. Advertising is automatically removed from all of your sign up pages with the platinum level premium plan.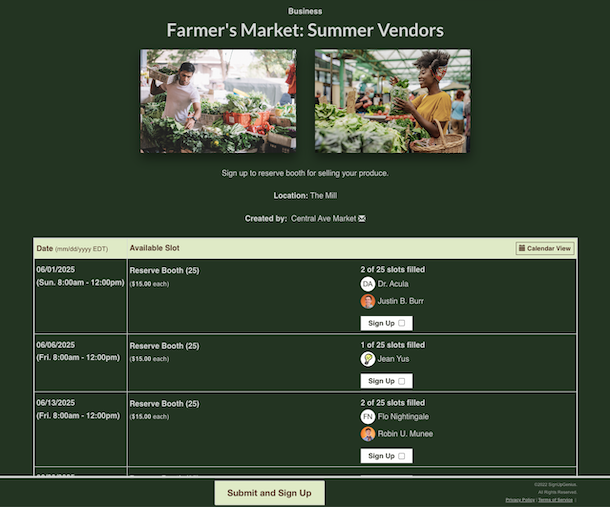 You can also customize sign up themes to reflect your brand or event with our premium plans. Check out this guide for easy steps to design your themes. You can also choose from our huge collection of seasonal, professional, and event-based sign up themes.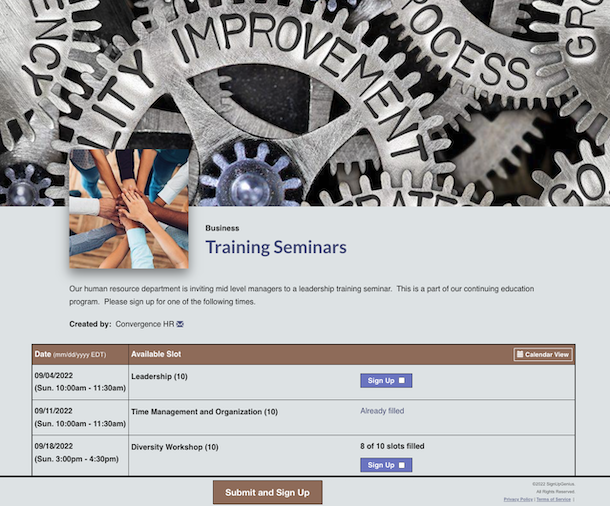 Large scale planning  
If you organize multiple events or manage different sign ups for your business, our advanced features help bring all the elements together. We offer several options to display multiple sign ups together so people can view all your events in one place. For example,
our tabbing feature
 is great way to share all the opportunities offered by your business. This makes it easy for your audience to review all your sign ups and find the best offering for them.
A portal page serves as an online hub for a group of sign ups — connecting participants to related opportunities, documents to download, and additional information through one link. This feature is included with our Enterprise plan.  
Our multiple administrator feature gives you the ability to share organizing responsibilities with your team. You can assign different levels of permission to others, allowing some people to just monitor sign up slots and others to add volunteers or make changes to the schedule. This feature makes it easy to collaborate and simplify planning for your events.
Custom automations
Let your sign ups do the work for you by automating tasks like appointment scheduling and client communication.  
Sign ups help simplify the process of booking appointments for clients and your team. When setting up your schedule with multiple dates or times, you can automate the creation of slots on your sign up. This feature will populate the slots for your appointments or shifts, eliminating the need to enter details for individual slots. The sign up takes care of scheduling so you can focus on growing your business.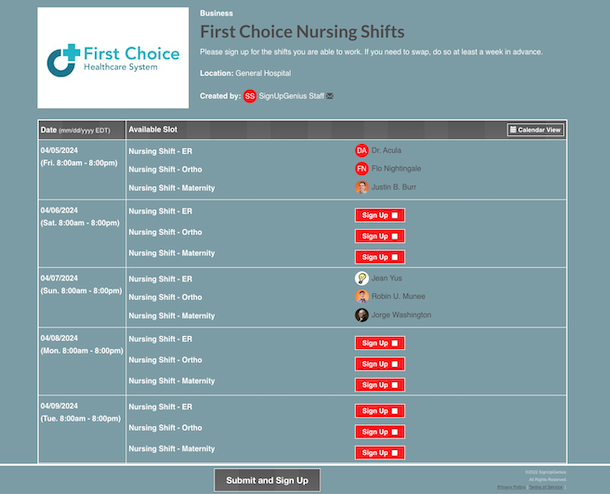 The hide dates feature keeps your sign up looking clean and ensures clients see your most current opportunities. You can choose to automatically hide past or future dates, or both, and customize the time frame to show slots on your sign up. 

After the appointment is scheduled,  you can share important details with custom reminders and confirmation emails. You can set up messages to send automatically and attach paperwork to complete before the appointment. You'll save time by simplifying communication with clients and taking care of administrative work in advance.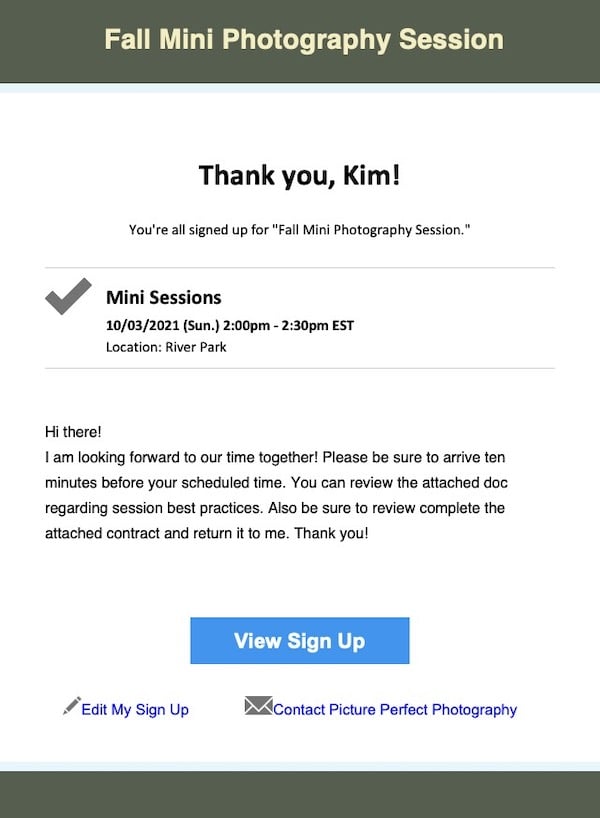 Sign ups help streamline organizing and communication with many options to customize the tool for your business. With more digital power taking care of the busy work, your team will have more space for creativity and growth.