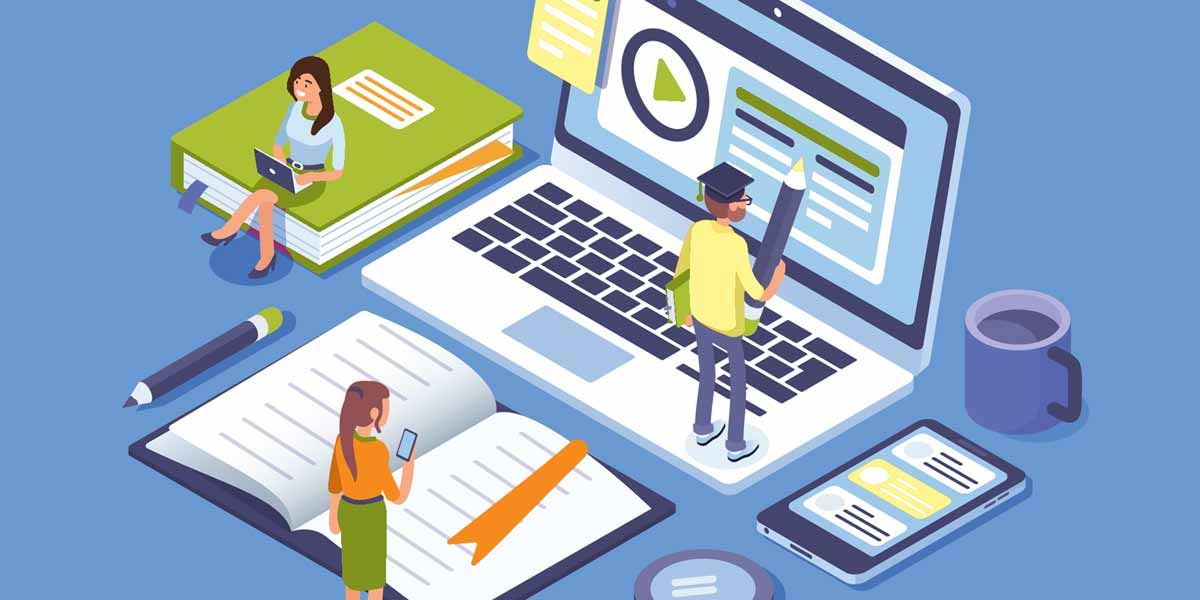 Time to plan parent teacher conferences! It's easy to create your conference schedule and invite parents with an online sign up. That way, you can save time and focus on the main priority — your students. Who doesn't like efficiency, right?
Did you know that we have lots of helpful tools that make conference sign ups even more efficient? Here are a few popular features to help streamline parent teacher conference sign ups.
Auto Generate Dates/Times
You still have the option to individually select each date and time for your conferences, but for those who prefer to automate things, we have a tool that will generate time slots and dates for your conference appointments.
Once you reach the Slots tab, select the +Add Dates button. On the next screen, select the option Add Time Slots at the top. Then, enter the parameters for your conferences and select the time increments for your slots. This will generate incremental sign up times for the parameter dates and times you entered.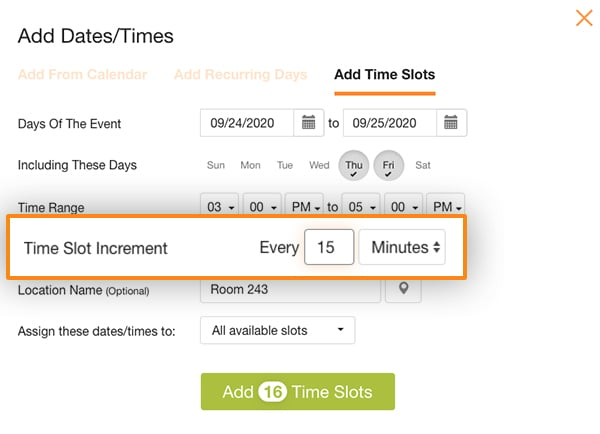 Hide Names on Sign Up
Sometimes you don't want everyone to see the names on the sign up. We understand that privacy is important to everyone using our site. That's why we have lots of
custom security options
that can be employed on sign ups.
If you'd like to hide names, get started creating your sign up. On the Settings tab, select the gear icon next to Note: Only names and comments are seen by participants. You will then see a box to select for hiding names and comments so that they are only visible to the sign up administrator.
Keep in mind that if you are logged in as the sign up administrator, you will see names and comments on the sign up. However, they are only visible because you are logged in. If you log out, you can view the sign up as others see it and note that the names are hidden.
Genius Tip: On the Settings tab, select the pencil icon next to the Comment field and rename the field Your Child's Name to request the name of children next to the parent's name. If you choose to hide names and comments from the participant view, these names will also be hidden.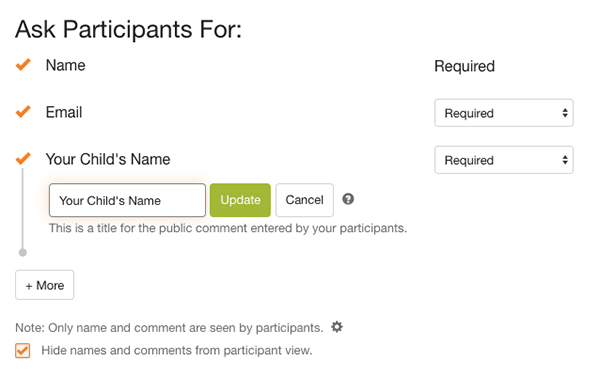 Sign Up Locking
No one likes it when people suddenly drop off a sign up without giving any notice. With conferences, parents might also suddenly sign up at the last minute without giving any notice. You may think you don't have anything scheduled for 3:15 because you checked that morning, but one parent might notice the empty slot around 3:00 and sign up — leaving you surprised when they appear 15 minutes later.
We've developed a handy premium feature to prevent those last-minute sign ups or deletions called Sign Up Locking. With Sign Up Locking, you can select parameters for when specific slots will lock on your sign up. Anyone who wishes to delete their name from a locked slot must contact the sign up creator. Also, no one can sign up on a slot once it is locked.
When on the Settings tab, select the Restrictions options near the bottom of the page. You will see the option for the Sign Up Locking feature.

Remove Ads for a Professional Look
Need to prevent ads from populating on your sign ups? For
premium subscribers
, we offer the ability to
remove ads
from sign ups so that your sign up maintains a professional look.
Once you've subscribed, you can remove ads by going to the Settings tab in the sign up creation process and selecting the option to remove ads. Once a sign up is complete, you can remove the selection from that sign up (since it's no longer in use) and apply the feature to a new sign up.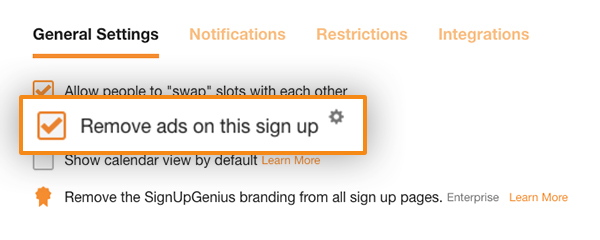 Now your sign up is ready for those conference sign ups. Now you can spread the word — and better yet, duplicate and transfer a sign up to share with another teacher. You might just become teacher of the year when you share these tips and sign ups with others.