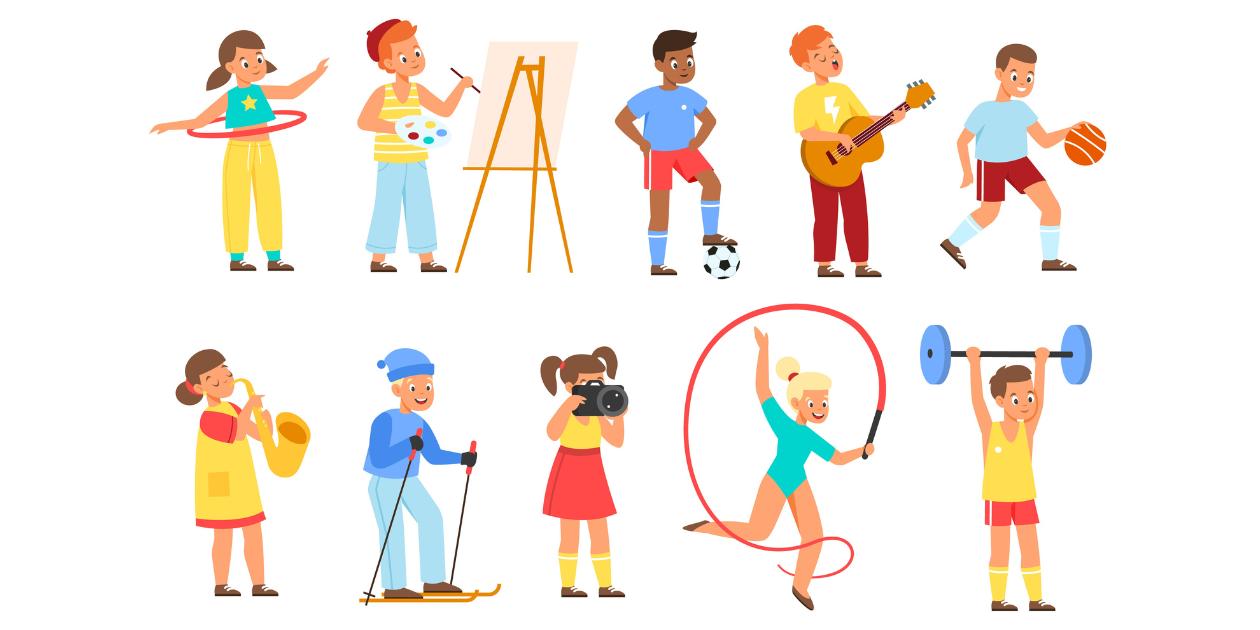 So many events happen in schools on any given day, such as sports games, theater rehearsals, club meetings and community service. Students lead many of these activities, learning and taking on new challenges with support from school staff and volunteers. These experiences are vital to their education, providing opportunities to try new things and follow their interests.
Online sign ups help organize school activities from the stage to athletic fields, saving time and simplifying communication for everyone involved. Sign ups simplify tasks like recruiting volunteers and sending reminder emails, so teachers and staff can focus on encouraging students.
Check out how sign ups can simplify organizing for these popular school activities:
Sports
Sports programs are the heart of school spirit and engage students in physical activity throughout the year. Many people are involved in helping athletes take their game to the next level, such as booster clubs and coaching staff. Online sign ups help coordinate volunteers to support events like concession stand shifts, team banquets and fundraisers. Create a winning sign up with one of
hundreds of professionally designed themes
or
customize your own design
to reflect your event.
Online sign ups streamline the busy work of organizing events so everyone can spend more time cheering on the home team!
Want to score with a successful concession stand? Check out these mistakes to avoid.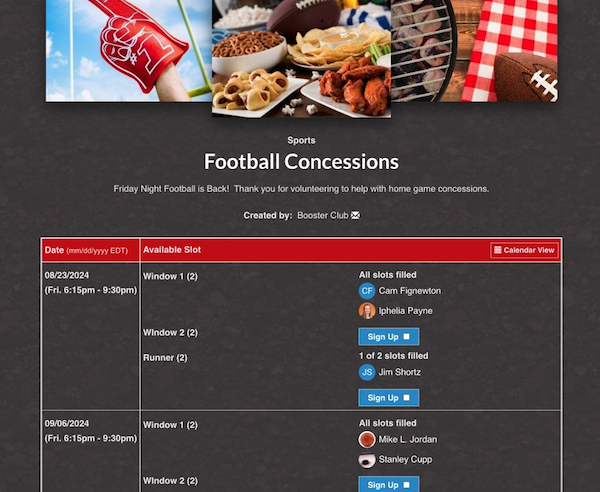 Arts programs
Whether they play an instrument in the band or work on costumes for musical theater, arts programs inspire students to discover their creativity, grow their confidence and express themselves. Most schools rely on donations and volunteers to support the arts and value time as much as financial contributions.
Teachers are often responsible for planning events like concerts and theater performances along with teaching classes, making it important to save time whenever possible. Online sign ups help coordinate events such as theater auditions and fundraisers, simplifying scheduling and communication. With this helpful tool, teachers can easily request volunteers and share opportunities for students through digital channels. Once participants are signed up, you can send more details with custom confirmation and reminder emails.
If you're planning an event with a number of dates and times, it's easy to automate the creation of time slots on a sign up. This feature populates time slots for regular appointment times or shifts, eliminating the need to set up individual slots.
Looking for more ways to bring the arts to your school? Check out these ideas to celebrate creativity.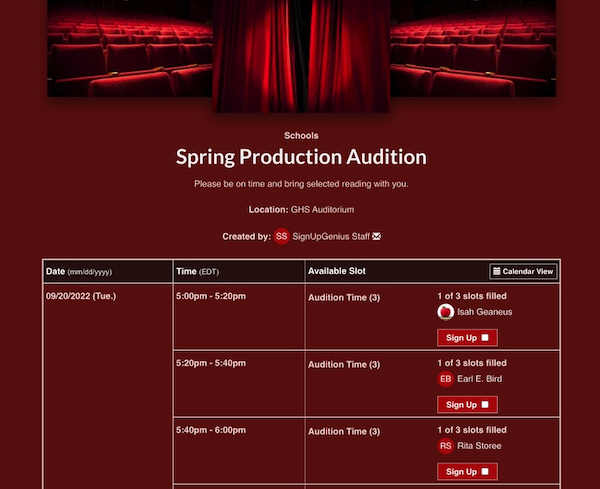 Student Government
Student council and activities leaders help shape life on campus and set the tone for the school community. Student representatives and their staff advisors have a lot to manage, balancing leadership responsibilities with their classes and other activities. Smart organizing tools help make the most of their time by bringing groups together without time-consuming administrative work.
Online sign ups help coordinate student government initiatives such as committees, elections and advocacy. To organize events efficiently, you can share the work of managing sign ups with the multiple administrator feature. Assigning different levels of permission to others allows some people to just monitor slots and others to edit the sign up.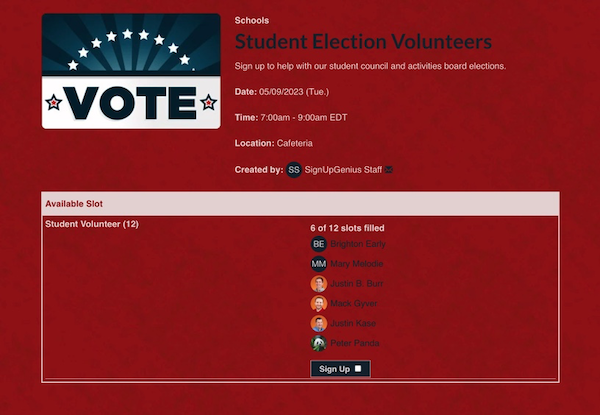 School Clubs
Does your school offer clubs for activities like chess, debate, STEM or Young Life? Make it easy for parents and students to sign up for clubs with an online sign up. You can set quantity limits for the number of maximum participants for each club, and request important information with our
custom questions feature
.
You can accept club fees and donations on your sign up with LumaPay, our new payment processor powered by Stripe. It just takes a few minutes to set up a LumaPay account and customers can pay with their credit card or digital wallet. You'll have access to payments data and insights with the dashboard functionality and reporting offered with LumaPay.
Looking for ideas to help kids connect at club meetings? Try these icebreaker questions to get the conversation flowing.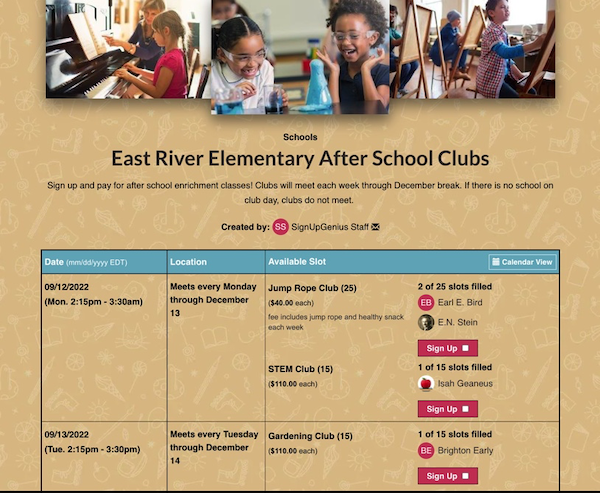 Community Service
Students can have a powerful impact on their school community and beyond when they join to serve together. Whether they are tutoring other students, cleaning up the school grounds or helping out in the community, students can discover the power of making a difference for others. Organizing volunteer opportunities takes some time and effort, but the rewards are well worth it.
Online sign ups make it easy to coordinate student volunteers and chaperones and communicate the latest details about volunteer opportunities. Organizers can attach documents such as permission forms to confirmation emails so paperwork will be taken care of before the event.
Want to organize more community service ideas for students? Check out these ideas.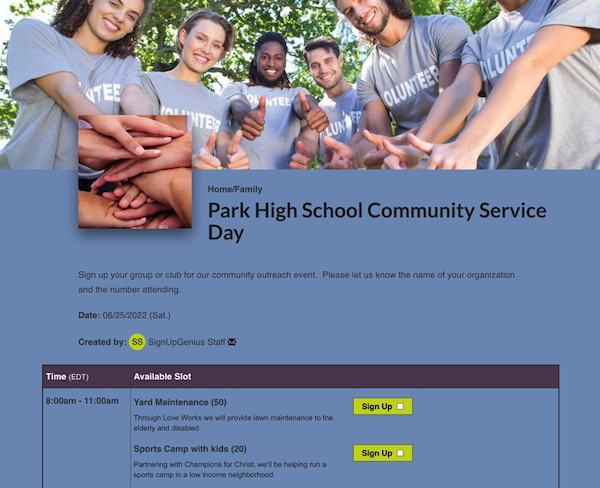 The possibilities are endless for students to explore new activities and follow their passions. Sign ups simplify event and volunteer organizing, giving students and staff more time to focus on meaningful opportunities.