20 Concession Stand Mistakes to Avoid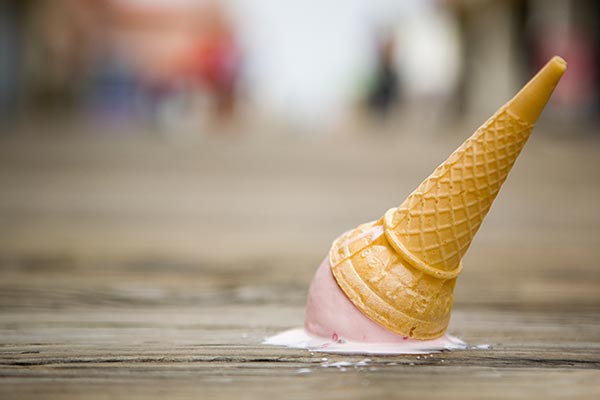 When running a concession stand, many find themselves taking note of what not to do in the future. Thankfully, you can learn from those that have gone before you and avoid these 20 concession stand mistakes.
Setup and Volunteer Mistakes
Avoid Surprises - Be sure to check your equipment and space ahead of time in case there are repairs that need to be made, supplies that need replacing or even a critter invasion. Get lots of tips and advice from anyone who has had the job before you.
Avoid Payment Issues - If it's a weekend or evening event, set an alarm on your phone to remind you to head to the bank during the week to get your cash box ready. If you have internet access at the venue, consider researching mobile payment options and have one or two lines that accept card payments. You will save yourself sanity points by having payment options ready to go when your concession stand opens for business!
Avoid Communication Issues - When it comes to communicating with your volunteers, give information a month or so out rather than at the last minute. Be sure everyone knows who is in charge and where they can be reached. Use a sign up to gather volunteers and be sure to add lots of details like when to arrive, roles (cashier, prepping food, runner, clean up), if the volunteer will need a car to pick up items from a vendor, what to wear (comfortable shoes!) and how to get a sub if you can't make your shift.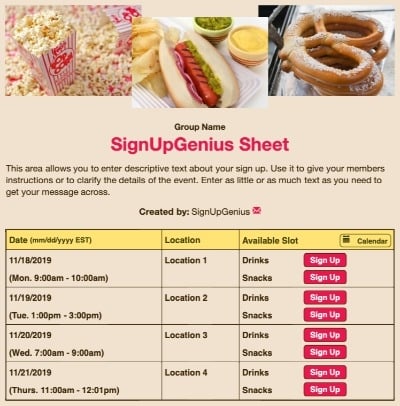 Avoid Volunteers Eating Your Profits - Clearly communicate to your help if they will be given a free concession item during their shift or not. Also let volunteers know if there is a school and faculty discount option or free food for referees. Equip them with all the details they will need to know to make the event a success.
Avoid Overwhelm - If you expect big crowds, have your more vocal volunteers work the front and ask your quieter volunteers to prepare the food, grab supplies and fill cups. Be sure you play to each volunteer's strengths and skills.
Avoid Emergencies and Accidents - It's wise to have an age requirement for workers (14 and up is recommended) and no children or visitors. Be sure volunteers are trained in and practice proper food-handling procedures, know where fire extinguishers are, are trained on any heated or dangerous equipment and have access to emergency contact numbers.
Avoid Stress - The leader tends to set the tone of cheerfulness and calm in spite of having long lines or unhappy customers. If pressure tends to trigger you, consider having a right-hand person who can step in to maintain calm and order, and allow you to step back and bag popcorn!
---
Organize football concessions volunteer roles with a sign up. View an Example
---
Fan Frustration
Avoid Long Lines - Chaotic lines and unreadable menus can make your concession stand feel like pure torture. During a rush, assign those with loud voices to help with line management and see if your building will let you borrow rope barriers (called stanchions) if they have them.
Avoid Menu Confusion - Consider putting your concession menu in the event program for easier decision making. And keep your menu signs high enough to read and simple so patrons can make choices while they wait.
Avoid Starving Students - If you are having a tournament or festival where the performance or game can have a tight turnaround, consider having a "grab and go" dollar table with a volunteer to grab bills with easy choices such as juice boxes, fruit cups, water bottles and pre-wrapped snacks.
Avoid Small Waste Cans - Be sure to use large industrial-sized recycling and/or compost cans and be clear about what goes in them. You may still have to do some sorting later, but at least you are making the effort to reuse and recycle. Regardless, it is wise to provide large waste bins and clearly label them.
---
Create a concession stand donation list with a sign up. View an Example
---
Menu Mistakes
Avoid Paying for Every Menu Item - If one of your goals is to make profit for your group, consider asking for concession item donations from families, but be specific. For example, if you are asking for drink donations, specify preferred sizes and brand names. Also, asking for donations from big-box stores is the best to streamline donations and encourage item uniformity. Genius Tip: Send out a donation wish list sign up to request specific food items.
Avoid Perishable Leftovers - Almost every stand sells some type of perishable food, so avoid waste by selling those items first. Also, offer a value pack like a hot dog and chips or a pizza slice and drink to help increase sales. If you have a long event, consider offering perishables at a discount towards the end of the event timeframe, because a little profit is better than none.
Avoid Food Shortage - The other side of avoiding waste is running out. This is where doing your homework helps. Talk to others who have run concessions and ask for tips to avoid over-buying perishable items.
Avoid Food Boredom - Offering a unique item like popcorn balls or a seasonal item like hot cider in addition to your regular menu can break up the concession monotony without overtaking your food choices.
Avoid Costly Specialty Items - A well-meaning community member may want to offer a unique food item for your concession stand, but it will not go over well if it eats into profits. Offer them a separate table for their gourmet items so they are available to your audience, but the burden of sales is on them.
---
Coordinate swim team volunteers with a sign up, too. View an Example
---
Post-Concession Headaches
Avoid Scaring Off Future Volunteers - As mentioned in #7, the leader sets the tone for the time together. Make sure you express your gratitude when the shift is over or write a note later. This will go a long way in helping you recruit people for your next event.
Avoid Annoying your Maintenance Staff - Be sure it's clear who is taking out the trash or sweeping floors before you leave the building and don't assume there is a hired staff member to do it. Avoid menu items that make clean-up a nightmare (think sticky cinnamon rolls or anything with jelly).
Avoid Flying Solo for Clean-Up - Be sure to clearly indicate if cleaning concession equipment or helping with leftover inventory is part of a volunteer's role and clearly explain what they will be responsible for. Many hands make light work, and at the end of the event you will need that!
Avoid Future Inventory Confusion - You won't regret keeping a detailed account of what you bought and what you sold in light of your crowd size. This helps steer you toward items that perform as bestsellers. It is also great information to pass on to the next person that steps into the role.
Organizing and leading a concession stand can be a triple win: feed your crowds, make a profit for your organization and build camaraderie among your volunteers. If you can avoid some of these challenges, you will soon find yourself in the running for MVP (Most Valuable Planner)! 
Julie David is married to a worship pastor and after 20 years in ministry together with three daughters, she is still developing the tender balance of thick skin and gracious heart. She currently leads a small group of high school junior girls.