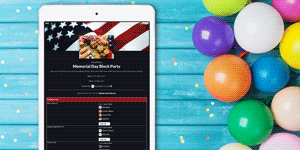 It's time to celebrate! May brings a flurry of events, and you'll want to be prepared so you have time to sit out in the sunshine and celebrate in style. Keep this checklist in mind for all your event planning this month.
Plan a Mother's Day Brunch
Celebrate moms this month when you plan a brunch for single mothers at your church or hold a Muffins for Mom event at your school. Just make sure to send out your sign up as early as possible for maximum attendance (and so everyone has time to whip up their yummiest creations).
Start Planning: As early in the month as possible
Celebrate Graduates
Whether you've got a pre-school student ready for kindergarten, a high-schooler going to college or a college grad preparing for a first job, celebrate those important milestones! Organize a graduation party or reception with an online sign up.
Start Planning: At least three weeks before your event
Toast the Bride-to-Be
Wedding season is heating up! Before you break out your dancing shoes, it's time to give the bride-to-be some love (and lots of gifts). Coordinate bridal shower snacks or a group gift to celebrate the happy couple.
Start Planning: 1-2 weeks before the bridal shower
Plan an End-of-Season Sports Party
Knock it out of the park with a celebration that honors your young athletes' accomplishments this season. You could go casual with a team party on the weekend (try these team meal ideas) or plan a formal awards ceremony or banquet for spring sports.
Start Planning: At least a few weeks in advance
Organize Field Day
This time-honored tradition is a great way to celebrate the end of the school year — and burn off some energy. Try these 50 field day game ideas, and manage volunteers with a sign up.
Start Planning: 2-4 weeks before your event, depending on complexity/size
Kick Off Summer with a Memorial Day Party
Take the time to remember what the day is truly about by attending a local parade or memorial service. Then plan a party with friends by the pool or with a neighborhood block party. Hello, summer!
Start Planning: Send out party invites at least two weeks in advance
Honor Teachers
Whether you're finalizing plans for Teacher Appreciation Week (May 7-11) with several events or organizing a class gift for the end of the school year, make sure to show your teacher some love this month. Genius Tip: Use these 50 teacher appreciation ideas as inspiration.
Start Planning: Throughout the month (depending on event)
Register Summer Campers
From a weeklong dance clinic to a sleepaway camp, make registration simple with an online sign up where you can register campers and collect payments in the same spot. Genius Tip: Pass along this printable summer camp packing checklist to parents.
Start Planning: Beginning of the month
Plan a Scout Crossover Event
Celebrate your Cub Scouts becoming Boy Scouts or Brownies becoming Girl Scouts with a crossover ceremony. Honor all the hard work they've put in through the years with awards and a reception with yummy treats.
Start Planning: 2-4 weeks before your event Cheers to a great spring celebrating the ones important to you!