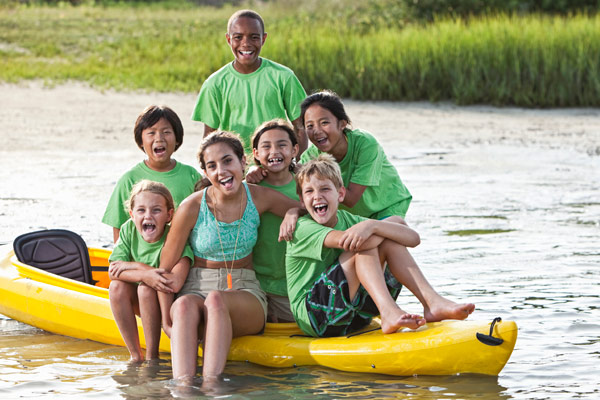 A child's excitement about summer camp can sometimes be in equal proportion to the parent's stress over packing for summer camp! This list will help lessen your stress and pass along some good "camp wisdom" learned along the way. 
Before You Go 
First-timers –
To ensure a smooth arrival at camp, do a little sleuthing. Ask former campers or email the staff to get the details about the best time to arrive, where to go first, what forms you need, if they take cash or credit to pay balances and where to drop off your stuff. But be flexible. If your child has something go wrong, be steady and encouraging, reminding them that everything will work out great!
Medical needs –
If your child has any special medical considerations, start early getting forms filled out from the doctor and prescriptions filled so that there is no last-minute panic.
Labeling –
Silver markers work great for dark clothes. And yes, label the toothpaste.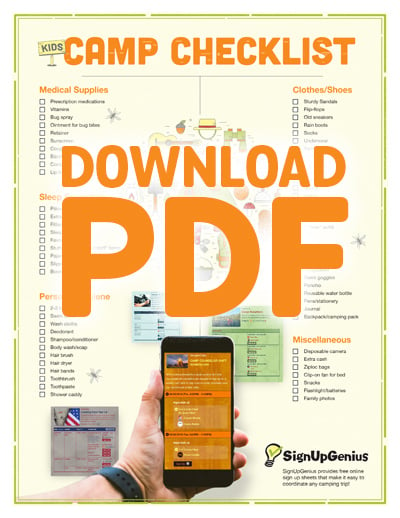 Packing: The Must Haves 
Prescriptions –
Camps typically have a way they want medications brought to camp, who they should be given to, how they should be stored … well, lots of specifics. Be sure to read up on this early and deliver any medications and doctor's letters to camp according to their specifications. Also consider sending fiber gummies or other fiber supplement because constipation can be an issue for some. Not fun.
Treatment for bug bites –
 Get something before camp and make sure it doesn't irritate your child's skin.  For irritating bites, this is your best bet. (Unless you can get them to put on bug spray beforehand.)  
Sleep necessities –
Get a good night's rest with the right supplies.
Pillow: Since you can't usually borrow one of these!
Fitted sheet: to keep sleeping bag from sliding on slick camp mattress
Sleeping bag or favorite blanket (or both if it's a cold climate)
Towels
–
Two (or more for longer camps) so they can be rotated while the other dries — same with wash cloths and swim towels.
Shoes
–
Be prepared for all weather and scenarios.
Sandals with backs are good for lots of walking, especially in creeks and on slippery surfaces.
Old tennis shoes are good, too. In fact, your camp may require closed-toe shoes.
Flip-flops for the shower and the pool.
Rain boots in case of wet weather.
---
Collect camp donations with an online sign up! SAMPLE.
---
Clothing –
The same principle applies for clothes as shoes.
Lots of socks and underwear: Running out and having to re-wear sweaty socks or undies is no bueno.
Swimsuit: Check your camp's website for guidelines on swimwear. Consider sending two so they can rotate them while they dry. And for modest girls in the crowd, a strapless swim cover-up can also be used after the shower to stay covered while slipping on clothing.
Sweatshirt and/or light jacket: Layers are key. Throw in a long-sleeved T-shirt too, you never know.
Old shorts and jeans: Don't own "old" clothes? Go to a used clothing store or a garage sale to get some clothing that you are fine never seeing again, especially if there are creeks, mud, paint wars or any other messy activities.
Pajamas: you will pack them, but some kids just sleep in their clothes. So pack enough for a week or so and don't sweat it too much.
Specialty clothing items
–
Horse camp, sports camp, fishing camp  — all of these may require specialty equipment that can't always be borrowed. Be sure to check the camp website for information about special shoes, clothing or gear needed for the camp.
Pictures of family
–
Print off a collage of family pictures on a regular piece of paper and put it inside a clear sheet protector.
Snacks
–
You will want to check with your camp about the availability of snacks or if campers can/should bring their own in a sealed container. No one likes a hangry camper.
Backpack and mesh bag
–
It's a bummer not to have something to carry around camp for hikes or swimming, and a mesh bag for carrying wet things is very handy.
Fun extras
–
Some camps have theme days or special events.  Check with former campers or email the camp to ask if any costume pieces, colored hairspray, face paint or crazy hats should be thrown in for fun. 
---
Organize Scout camp with an online sign up! SAMPLE.
---
Packing: Items You will Need (But Can Probably Borrow or Buy at Camp Store) 
Toiletries (body wash/soap, toothpaste, toothbrush)
Sunscreen (and aloe for missed spots)
Sunglasses
Goggles
Poncho
Reusable water bottle
Baseball hat
Books for down time
Bible for church camp
Pens and stationary
Disposable camera
Extra money
Shower caddy to keep toiletries together (or a shower lanyard)
Deodorant
Clip-on fan and extension cord (if your child is a white-noise fan or it's going to be a hot one)
Extra Ziploc bags (for wet things, gross things and special treasurers)
Cough drops
Streamers (if you have a birthday during camp)
Packing Tips 
Trunk, tub or duffle?
–
For a weeklong camp, consider an 18-inch by 34-inch clear, under-the-bed tub (and a duffle or trash bag for bedding). If the camp is longer, you can opt for a trunk (you can order them online) and a duffle or trash bag for bedding.
Extended camps -
Most multi-week residential camps have a laundry service (thus labeling is vital!) so you don't need to pack outfits for the entire time. 
Pack together – 
It might be easier to fly solo, but depending on your child, it might be wise to include them in some of the decision making so you both know what's going and what's staying, no surprises.
Inventory lists –
Some moms like to make this and send it with the child. It's a great idea if you know your child will do better with the list. However, it can be more stressful at the end for the very conscientious child who can't find something. Your call. 
---
Sign up to bring snacks to camp with an online sign up! SAMPLE.
---
Just So You Know… 
If you have boys –
Don't expect to get all the socks and underwear you sent returned home at the end of the week.  It's not fun to claim what's still on the cabin floor (and maybe wet or muddy) the last day of camp, so don't have high hopes of seeing all of that returned.
Showering
can be very sketchy
–
That's whether it gets done well or gets done at all (this applies to both genders). Fair warning.
Gifts, care packages and letters TO your child –
Some camps have strict rules about food in the sleeping areas or how to communicate with your camper, so be sure to follow those guidelines. And when it comes to care packages, consider sending things your child can share with the cabin and keep it simple. Yes, it is possible to over communicate (and possibly stir up home sickness) so remember less is probably more.
Letters FROM your child –
You may pack lots of stationary and find your kids mostly write notes to friends at camp and not as many to you. Don't necessarily expect to hear from them constantly.
Don't forget those counselors –
Once you find out the name of the counselors for your child, think about sending them an encouraging note mid-camp (or at the end of the time) to let them know how much you appreciate all the energy and time they spent pouring into your child.
You might be surprised at the goodbye
–
Your child may want you to exit quickly or be a little on the snarky side because of nerves. Be quick and cheerful (not too stressed or irritated) and when it's time to go, keep it simple with, "I am heading out — have a great time! I love you!" 
Try not to worry. Your kids will almost certainly come home with many happy memories and be begging you to go back next year! 
Julie David lives in Charlotte, N.C., with her husband and three daughters.   
SaveSave