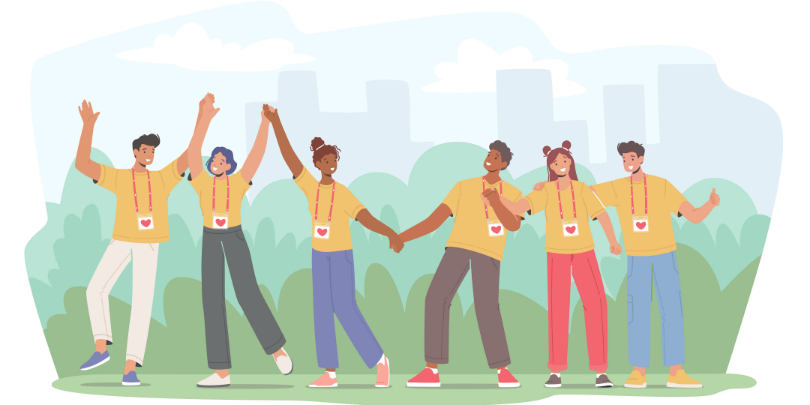 Every successful event is different, but the key ingredient they all share are volunteers. Whether you are a nonprofit trying to advance your mission, a church in need of extra help or a group rallying around seasonal giving - volunteers are the ones who make it happen!
But, many nonprofits find it difficult to communicate their needs. They struggle with recruiting volunteers to their cause or they don't know how to mobilize them and match volunteer opportunities with actual volunteers. Finding a way to fill the needs of your organization can be simplified with the use of sign ups. How? In this blog, we'll discuss a number of ways that sign ups help nonprofits better engage and mobilize volunteers every day.
Promote what's needed
One of the most important steps that's easily forgotten when
recruiting
volunteers is
promoting
what help is needed from others. In order to receive help, you must first ask for it! You can showcase the needs of your organization through a sign up and
share it
with potential volunteers in multiple ways.
If you send newsletters to your organization members, include the link to your sign up and make it easy for volunteers to have direct access to the sign ups that showcase current options to serve. If you prefer to direct people to your website on posters or business cards, make sure to have your sign ups embedded onto your site. This allows volunteer opportunities to be easily located in a place where people are most likely to look for them.
Another way to highlight your volunteer needs is with a custom portal page. This feature allows you to have a page that hosts all your sign ups. This could include the various events you are holding, any donation needs you have, and all your volunteer service opportunities.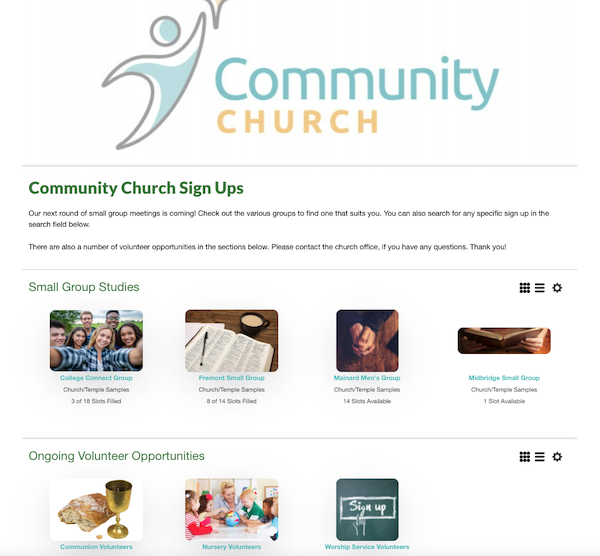 This option will keep your sign ups organized and separate from each other so that individual links don't get overcrowded with multiple slots and dates.
Match and fill needs
Sign ups are a great way to allow volunteers the ability to select the specific ways, timeframes and tasks that they prefer for serving. Showcasing your organization's needs in a single location for people to pick and choose is less stressful for the person organizing volunteers, and helpful to those choosing to volunteer their time and effort.
Sign ups help to match needs with volunteers, whether you choose to organize with slots that need to be filled or with the dates you need volunteer support. No matter if you are organizing a meal train, setting up an angel tree or scheduling recurring volunteer shifts; listing your needs in a sign up is an easy way to showcase how volunteers can help.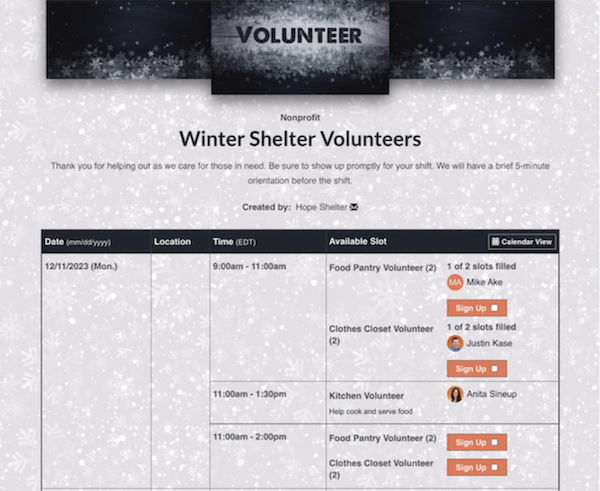 If you need to collect donations, you can have volunteers sign up for specific items to bring in or include an option for money donations. We offer LumaPay integrated on sign ups as an easy way for participants to donate directly through your sign up!
Streamline communication
It can be difficult to
manage volunteers
once you've secured their help. Follow up communication is where a number of organizations stumble. It's an easy oversite and many assume or imply the next steps for volunteers. However, you need to be clear and consistent when communicating with volunteers. It nurtures the relationship and creates a good experience for them.
Using sign ups can help to streamline your communication with volunteers, no matter how many you have. Sending out confirmation and reminder messages is a great way to keep your volunteers informed and accountable for how they've chosen to serve. Our premium plans allow you to customize messages sent to participants, ensuring you provide all relevant and important details prior to volunteering. This is particularly helpful if you need to provide action steps or helpful reminders to volunteers. You can even attach waivers or other forms in these emails for volunteers to complete and return to you.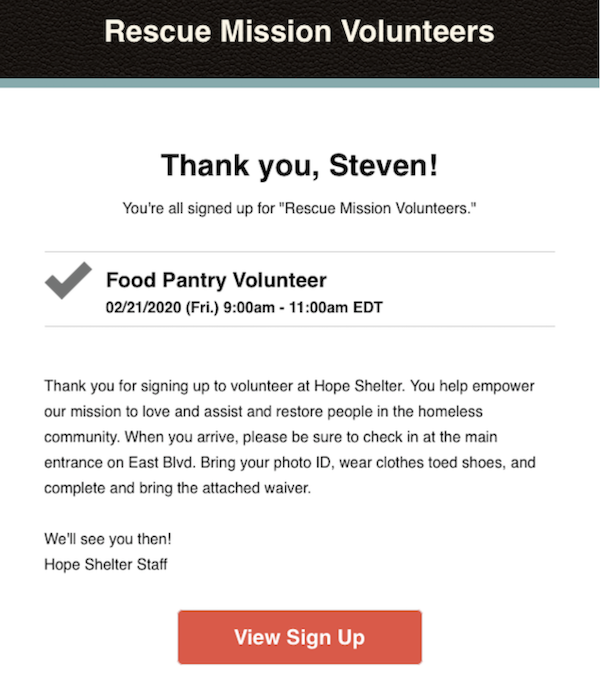 After your volunteers have served, make sure you follow up with them. It's important to show your appreciation for all they have done to help your organization and its goals. Plus, acknowledging volunteer efforts may even make them more likely to serve again in the future.
Build your volunteer database
Using sign ups to fill volunteer needs will also help you to build out a database of volunteers for future communication. For every participant that signs up to volunteer, you will have their email address saved in your SignUpGenius account. You can easily export your list of email addresses for sending newsletter and keeping in contact with volunteers when future needs arise. We even offer a
CRM integration
so that you can improve your volunteer record keeping for better volunteer management.
With a premium plan, you can track volunteer hours and export reports. This will help you gain insight into your volunteers and how frequently they are signing up to help. Also, you can keep tabs on which needs are being met with volunteer support.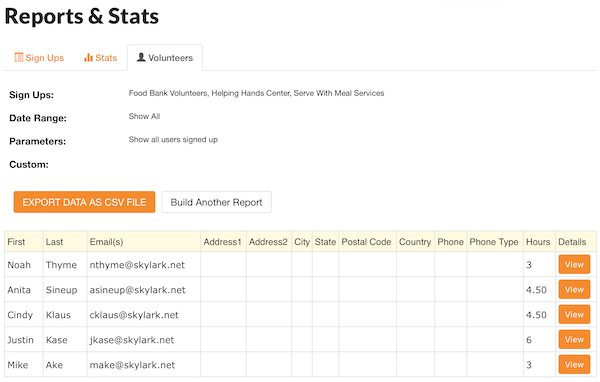 If you are looking for an easy way to recruit volunteers for your mission, look no further than online sign ups. Make it simple for participants to locate volunteer options, fill a need, and stay up to date with communication. Start organizing your volunteers like a genius, today!