FAQs
/
Advanced Features
/ Create Custom Notification and Reminder Emails
Create Custom Notification and Reminder Emails
Need to send a special note to sign up participants about your event? Skip the carrier pigeon and go with this slightly quicker mode of communication.
Using a paid subscription, you have the option to send a customized confirmation email and/or customized reminder email to sign up participants. Please note that when using the Slots Only sign up format, you will not be able to assign a custom confirmation message. The custom confirmation option is only available for those sign ups that are linked to a specific date and/or time.
To create customized templates:
Click the Messages icon located on the left side of your account sign ups page.
Click Compose.
Select Email Template.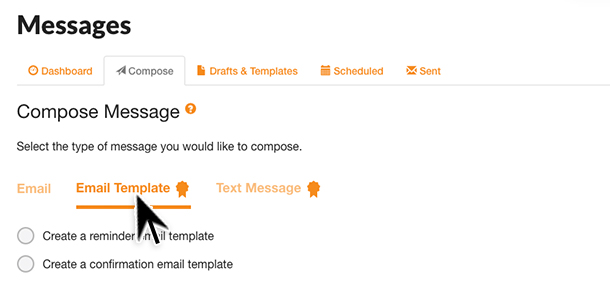 Select the option to Create a reminder email template or Create a confirmation email template.
Complete the steps provided to create the customized message your group members would receive.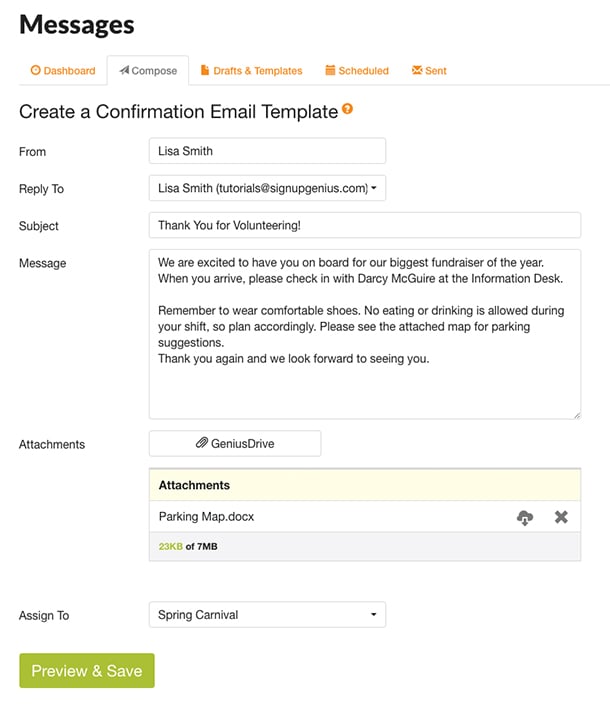 You can add attachments from the GeniusDrive and assign the template to the desired sign up from the list of sign ups that are available when you click the Select a Sign Up option.
When all text has been entered, the green Preview and Save button will be enabled.
Review your email template and click to save the message.
The message will now be accessible to you from the Drafts & Templates tab of the Messages area.
If you have already created a template, you can select the template you wish to use for your sign up.
Click the Created tab and select the pencil icon to the right of the sign up.
Go to the Settings tab and scroll down to Preferences.
Check the box to customize the confirmation or reminder email.
From the dropdown menu, choose the desired template.
Save the changes.
With that, your sign up participants will be neatly notified about specifics. No need for pigeons!