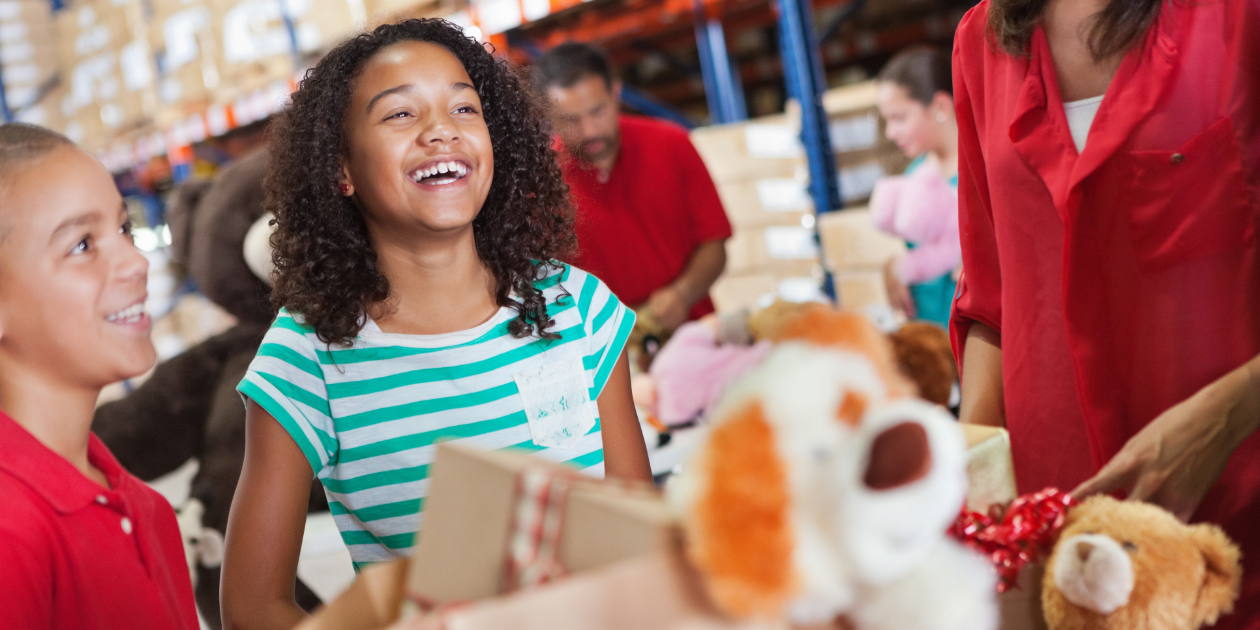 Looking for ideas to give back during the holidays? Adopting families for Christmas is a popular way to spread joy in your community. Here's what you need to know to coordinate a successful program for your organization.
Think through common questions
Once your group has decided to adopt families, there are a few logistics to consider that will help your program run smoothly.
How will you identify families in need in your community? Is there an organization you can partner with?
How many gifts can your group reasonably expect to collect? Once you figure that number out, you will be able to determine how many people you should sponsor.
Will you collect gifts at one location or instruct participants to drop them off at a donation site?
What happens if not all requested gifts are picked?
Where is the drop-off location(s)?
What is the final deadline for gift collection to ensure an on-time delivery for Christmas Day?
How many volunteers are needed for each phase of the project?
Collect holiday gift donations using a sign up! View an Example
Find families to sponsor
Many nonprofits coordinate programs to match families in need with sponsors during the holiday season. The Salvation Army Angel Tree program collects gifts for children, while some organizations also provide gifts to the elderly and disabled individuals. There are several ways to identify worthy recipients:
Obtain names and gift requests via a well-established organization, such as The Salvation Army. Contact a local office to find out more.
Organizing your own? Local churches and nonprofit organizations are a good source to obtain information for families in need. It may be wise to screen participants before listing them to make sure your group is helping those most in need.
After screening your participants, you will need to find out two to three wish list items for each person in the family, such as clothing, toys and electronics. If clothing, make sure to ask for sizes.
Alternatively, you can also purchase gifts for children around the world via Operation Christmas Child.
Sample Sign Up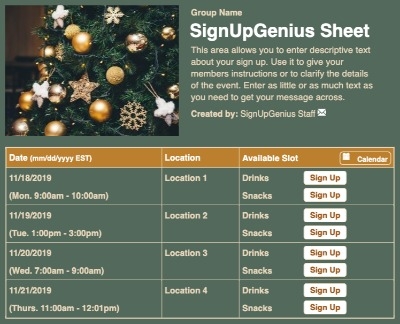 Recruit volunteers
After you've decided how many volunteers you'll need, it's time to start recruiting. The more people who want to lend a hand, the easier it will be to coordinate your gift donations. Keep these in mind:
Reach out directly to people you think have a certain skill that would be a good fit for different phases of the project. For example, church members who work with nonprofit organizations could help identify families to sponsor.
Think through all your volunteer tasks, so you can clearly articulate the needs and the time involved. Always plan on a few extra volunteers, in case of illness or unexpected emergencies.
Simplify the time-consuming task of scheduling and signing up volunteers by using SignUpGenius. It's an easy way to organize coordinate people events, and you can create a simple sign up in minutes. The text and email reminder options help to notify volunteers of their upcoming duties.
Create gift policies
It's important to establish some ground rules for gift giving. Consider the following criteria and implement what your group sees fit.
Decide on a dollar limit. There should be a limit that each person will spend on an individual. This policy will give participants freedom to choose what gift they want to purchase while not under or over buying.
Create a written policy that your organization will only accept new gifts that are unwrapped in original packaging. Staff will need to see the gifts first before they are wrapped for distribution. Do not accept used items in any condition. It's important to make this policy known to all gift givers.
Consider a No Gift Cards policy. Some participants might not have transportation to a store or internet access. Provide the specific gifts suggested unless gift cards are requested.
Coordinate holiday volunteers with an online sign up. View an Example
Organize gift requests with a sign up
With many people connecting virtually, using a sign up is a convenient way to organize and request your gift donations. Create slots for gifts and be sure to include important details such as type of clothes and sizes. When people sign up, they will receive an automatic confirmation email that can be customized with additional details. You can also set up automatic reminders to send to participants a few days before the donation deadline.
If your group works or meets in person, decorating a tree with gift tags is a festive way to launch your program. Write the gift requests on tags and invite your group to choose items they would like to buy. They can attach the tags to the gifts when they bring them in to donate and you can display them underneath the tree.
If you are one of the many companies and groups with team members that work remotely, you can use a sign up to coordinate gifts, and set up your tree as a gift drop off location. This will give you a festive decoration and a convenient way for in-person team members to donate. Consider giving remote employees the option to ship gifts. Keep these important tips in mind:
Ensure donors purchase age-appropriate gifts, especially for children. Create a list with some suggestions for those who either don't have kids or whose have long since grown.
List the drop-off location and the date gifts should be returned.
Avoid over sharing personal information. Your organization might want to include a first name to make it personal, but do not include last names. Designate a letter for each family or include a number so you can keep track of people with the same first name.
Publicize by sharing gift donation information in an e-mail blast, put a notice in your group newsletter or add information to your organization's website.
Organize a gift-wrapping party with an online sign up! View an Example
Collect and distribute gifts
Set up drop-off locations and schedule volunteers to review incoming gifts and wrap them once approved. Remember to (check with your nonprofit partner to see if they prefer to receive unwrapped gifts). Consider the below checklist.Keep this checklist in mind to make sure everything goes smoothly.
Review gifts to ensure they are new and not used. For children's gifts, age-appropriate gifts are a must. Establish clear guidelines for review process.
Make sure to have a comfortable setting to wrap gifts. Stock with wrapping paper, bows, scissors and tape. Make it fun by hosting a wrapping party and provide pizza and snacks.
Have containers or large boxes to store gifts once they are wrapped for distribution.
Genius tip: Use an online sign up to collect monetary donations with SignUpGenius online payments for extra presents.
Create detailed instructions for volunteers who will drop off presents to your nonprofit partner or to families. You'll want to make sure they know when and where to bring the gifts. If they are delivering gifts to families, some parents will want to make sure it's not when their kids are around.
Be thankful, stay organized
Make sure to appreciate your volunteers and compliment them sincerely. Let themIt's vital for them to know this project wouldn't be a success without them. Afterward, stay in touch with a message about how Christmas went for the families and summarizing how many people were helped. Remember to keep a list of those who volunteered, so you can reach out again next year. You'll be surprised at how many people want to include giving back in their Christmas traditions.
A gift donation program can bring Christmas joy to families who otherwise wouldn't have as much holiday cheer. Count your blessings and make it a goal to participate this year.
Contributors: Sara Kendall, Ashley Kaufman