Blog
/ SignUpGenius Serves at Loaves and Fishes
The Genius Blog
SignUpGenius Serves at Loaves and Fishes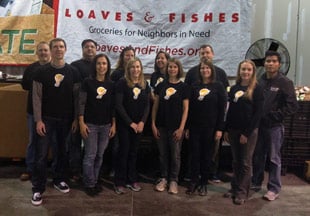 Last week, the SignUpGenius team took a break from our computers to spend time serving at Loaves and Fishes, a ministry that has over 20 food pantries in our hometown of Charlotte, NC. The organization provides a week's worth of nutritious groceries to individuals and families in a short-term crisis, and last year alone they served 78,602 people. 
During our lunch hour, 12 of our team members helped to sort over 175 boxes containing food and household items. Sorting the items into categories helps the Loaves and Fishes staff stock and distribute goods in a nutritionally balanced way to those in need. 
If you'd like to learn more about SignUpGenius and the organizations that we support throughout the year, please visit our Giving Back page.
There are few things more rewarding than serving in the local community. What are YOU up to in your own little corner of the world? Share your story!
Posted by cynthia chavarin on Monday, April 20, 2015 12:51 AM EDT
How do you sign up for electives?
Posted by Teresa Clark on Monday, April 20, 2015 11:22 AM EDT
Hi Cynthia!
Because we have many thousands of sign ups on our site at any given time, we are only able to locate individual sign ups if you have the following:

1. The email address of the sign up creator. If you have that email, you can go to SignUpGenius.com and click "Find a Sign Up" in the top right corner of the page. Enter the creator's email. It will then pull up all of the links to active sign ups that person has created.

2. An email invite to the sign up. If you received an email invite to the sign up, you will see the link to the sign up in the email. Follow that link to the sign up.

In addition, if you have received an email invite to a sign up and have an account with us, you can go to SignUpGenius.com and log into your account to view the sign ups you've been invited to.

If you do not have the sign up creator's email or an email invite, you can contact the sign up creator, school, or organization to request the link. If you have any other questions, please email our support team at: http://www.signupgenius.com/help. Someone from that team will be happy to help!