Blog
/ Look Who's Talking!
The Genius Blog
Look Who's Talking!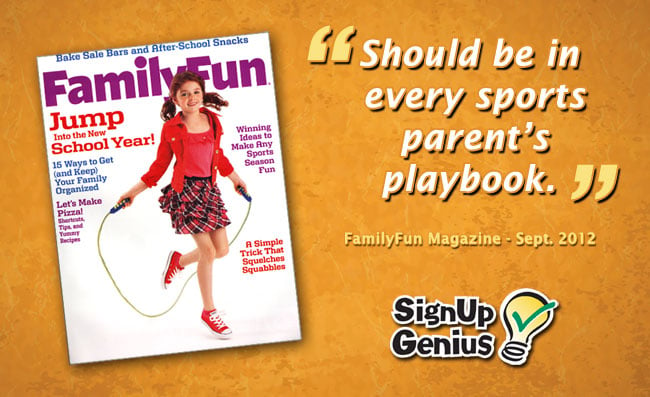 Guess who's talking about SignUpGenius? This month, SignUpGenius was featured in an article in FamilyFun Magazine. The article spotlighted technology that made organizing your sports teams easy. We love the tagline they used too... "Improve your Organizing IQ" is the perfect way to describe SignUpGenius!
Posted by Dan Rutledge on Wednesday, September 26, 2012 8:04 AM EDT
Hi Nicholas. Thanks for writing. You can find answers to a lot of these questions and others on our FAQ page via the help tab. Our 'custom reports' feature lets you view and export the data from your sign up and is found in the navigation on the My Account page. SignUpGenius automatically sends out reminders and you decide when they go out when you setup your sign up. Many people have their members enter the phone number in the comments field for each sign up item. We're just about to release phone-number integration, which will make it even easier. Hope that helps!
Posted by Sandie Bailey c-918-381-6933 on Saturday, October 06, 2012 8:46 AM EDT
I put my phone number after my last name in my profile and it appears automatically when I sign up. When the administrator signs people up, you can do the same thing. Great not to have to enter it each time.