Blog
/ Announcing New Features!
The Genius Blog
Announcing New Features!
Here at SignUpGenius, we're dedicated to making your life as a leader easier! We're constantly working to expand our system in order to make organizing your sign ups and events as simple as possible! Today, we're proud to announce several big upgrades that move us another step forward in our goal to provide you with the most powerful volunteer management tool on the planet.

And the best part? Just like the rest of our site - every single new feature… is FREE.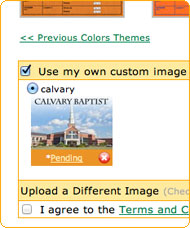 Store your images easily for
       use on multiple sign ups!
Add Your Logo or Photo to Your Sign Up!
Now it's easy to customize your sign up page for your group or organization by loading your logo or image right onto the sign up! When you get to the "themes" page of the sign up creation wizard, choose a theme with the background colors you want. Then look for the checkbox that says "Upload my custom image" to send your image to our server.

To make it even more useful for you… we've added a new theme category called "Colors." This category is loaded with background themes using popular color combinations. Select the one that fits your school or group colors, then add your logo or image to match.
Over 30 new themes in our "Colors" category!
And if that isn't enough - the custom images are completely integrated into our sign up duplication and transfer functionalities, making it super easy for larger organizations to share images across multiple sign ups. For example, a school administrator could create a sign up that includes the school logo, duplicate that sign up, and then transfer the copy to a teacher. That teacher now has access to the logo in her account and can use it on any of her sign ups going forward!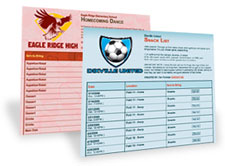 Finally - with any new functionality comes a new responsibility for safety and security. We're dedicated to protecting our users to make sure that no inappropriate images could ever get loaded and sent out to users. Therefore, our support team will manually review every image prior to publication for the safety of everyone that uses our site. The review process is fast and won't interfere with the creation of your sign up - but is one more reason you can be confident in using our site.

Easy. Highly customizable. Safe. Ready to get started? Login today and add an image to a new sign up or an existing one! It couldn't be simpler!
Add Social Media Sharing to Your Sign Up Page!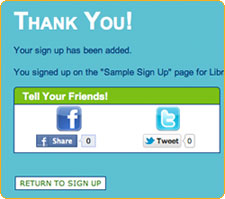 Your members can help spread the word!
The social media revolution is here - and you can't afford to be left behind! Sites like Twitter and Facebook can be powerful tools to help you recruit and communicate with your volunteers. Now, with SignUpGenius, you can automatically add "share" buttons to any of your public sign up pages. Users that sign up for something can easily spread the word to their entire social network and help do some of the recruiting work for you! This new setting is enabled by default on all new sign ups, but can also be disabled prior to publishing your sign up. So what are you waiting for? Get sharing!
Download Your Responsibility to Your Calendar or SmartPhone!
It's already great to get our automated email reminders when you sign up for something - but now you can also add your sign up responsibility to the calendar of your computer or smartphone with a click of a button! Users with an account at SignUpGenius will have the option to download their responsibilities to Outlook or Mac iCal after signing up.

After signing up, your members can easily add their
responsibilities to their calendars.
In addition, there is a simple button to add the event to your Google calendar - which syncs perfectly with any Android phone. For iPhone, iPad, or Blackberry users, you have the option to email yourself an ICS file, open the email on your device and easily add the event to your mobile calendar. Now it's even easier to keep track of all your volunteer responsibilities!
Login with Improved SSL Security
Privacy and security have always been top priorities for our site. As technology advances and changes, we're aways working to find better ways to protect our users. Even though we don't deal with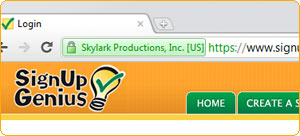 financial information, SignUpGenius now joins a number of major sites in using SSL encryption for login and registration pages to better protect email/password information. To see the new feature, look for the HTTPS in the header of your browser and the safety seal on our login pages. We're proud to be one of the only volunteer sites to make this upgrade!
And More to Come
2012 is a big year for us and we've got plenty of additional great features in development. Continue to check our blog for the latest upgrades to the site!

Happy Sign Ups!
Posted by Angel Conaway on Wednesday, July 20, 2016 11:41 AM EDT
Hello - we have a community google outlook calendar for our PTO - can we connect a sign up genius link directly on the calendar. If you click the event it takes you to sign up genius?
thanks
Posted by Betsy Lytle on Wednesday, July 20, 2016 12:23 PM EDT
Angel,
We offer the ability for a sign up creator to sync all sign ups to their personal calendar (including Outlook and Google) using SignUpGenius Pro. You can create a calendar feed for just yourself or one that participants can subscribe to if they need to quickly check shift schedules, carpool sign ups and more. Sign up creators can filter by "filled" or "unfilled" slots for display in the calendar - or select both. You can learn more by going to this link: http://www.signupgenius.com/pro.

We also offer a Web Button that can be embedded into your website that would direct your volunteers to an index page containing all of your active sign ups. To create the Web Button, you will log into your account, go to the left side of your account page and scroll down the list of options until you see: *Goodies*. Scroll past the logo options until you see the column heading for: *Web Button Builder*. Follow the steps to build a button. You will see the code to use if you plan to embed the button into your website.

If you have further questions about this, please contact directly via the "Help" tab at the top of the page.