Blog
/ Be Brilliant This New Year with SignUpGenius Pro
The Genius Blog
Be Brilliant This New Year with SignUpGenius Pro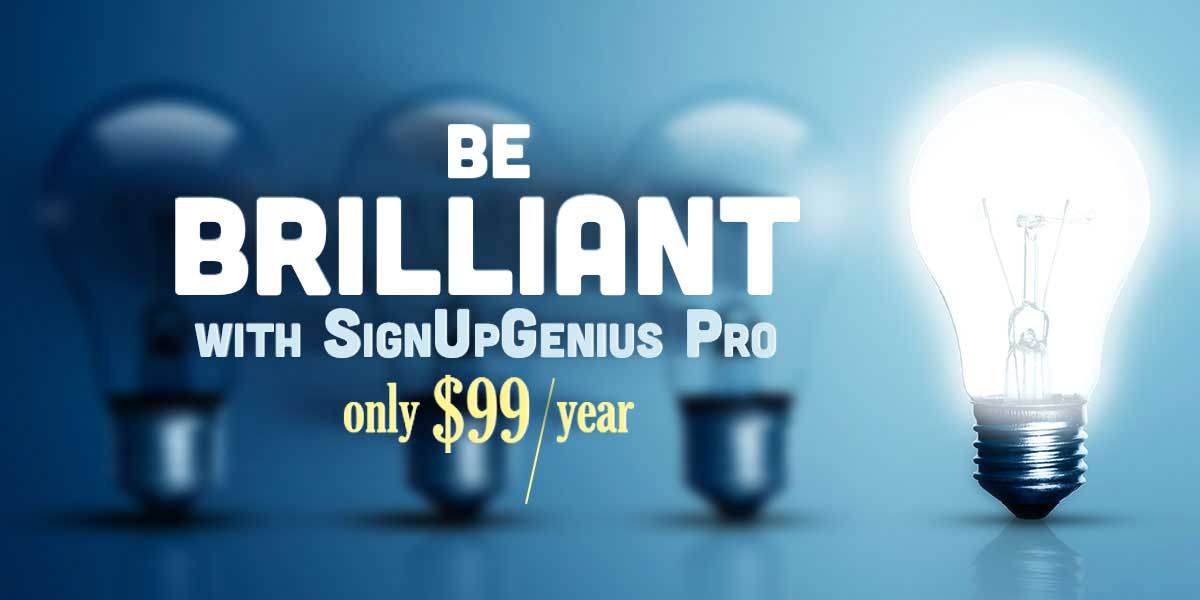 We're flipping the switch on a brighter way to organize this year, so prepare to dazzle your friends with your planning brilliance! 
To help you do that, we're offering a special discount through January 31, 2017: a full year of SignUpGenius Pro for just $99! 
With Pro, you'll unlock advanced features so you can: 
Remove ads on sign ups
Display multiple sign ups on one page with tabs
Schedule emails to participants
Add multiple admins on the account
Choose advanced reporting options
Use calendaring syncing for sign ups
Collect more participant data with custom questions
Use file storage for attachments on sign ups
Create custom start/stop dates
And that's just for starters. 
SignUpGenius wants you to be the brightest bulb in the box this New Year. So hurry and sign up before the lights go out on this stellar deal!
Posted by Bonnie Baer on Thursday, February 09, 2017 4:23 PM EDT
I wish there was not such a huge difference in the pro pricing. I am a faculty sponsor for a student organization who cannot afford the gold or platinum, but they do volunteer hours that we track and could so use that part of those programs.
Posted by Betsy Lytle on Monday, February 13, 2017 8:39 AM EDT
Bonnie,
If the student group is not able to purchase Pro Gold, you can use our free version and run a regular "Sign Up" Report.

This allows a sign up creator to export all sign up data to Excel. This report will not automatically tally volunteer hours for you, but you can sort by last name to group items together for a particular volunteer. From there you could manually tally the hours, but all entries for that volunteer would be grouped together for you.

To create a "Sign Up" report, go to SignUpGenius.com and log in. On the left side of your account page, click *Reports*.