Blog
/ Genius Hack: Duplicating and Transferring Sign Ups 
The Genius Blog
Genius Hack: Duplicating and Transferring Sign Ups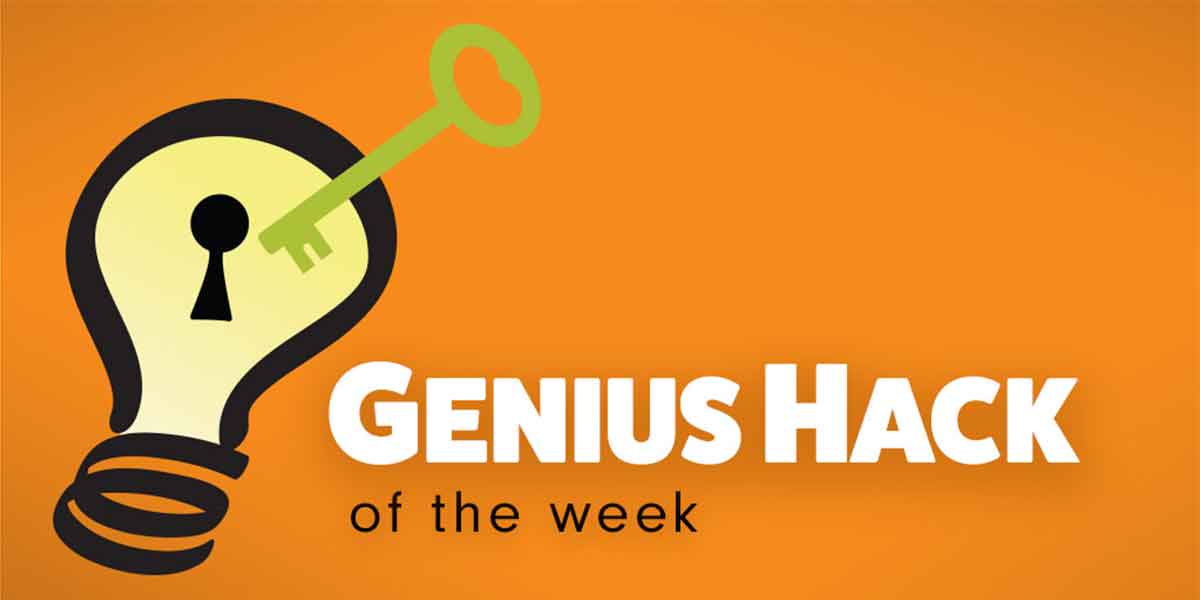 Getting ready for your nonprofit's annual 5K run or scheduling your school's monthly cafeteria volunteers?  
Recruiting helpers is already simple when you use SignUpGenius' online tools to create an online sign up and send invitations via email and social media to fill responsibilities. It's even easier when you're planning a regularly occurring or repeating event. 
You can duplicate a sign up by logging into your account, heading to your My Account page and clicking the Created tab, where you'll see all the sign ups you've made. 
Find the one you'd like to recreate, and click on More Actions (it's the little icon that looks like an ellipsis or three dots). There you will easily be able to duplicate, transfer, archive or delete the sign up.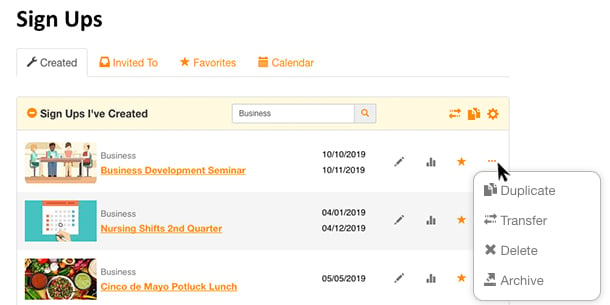 There's also a duplicate button on the top right of your account page (it looks like two pieces of paper) that lets you select the sign up you would like to duplicate from a drop down menu. 
Your duplicated sign up will show up in your My Account page but won't go live until you give it the OK. The sign up page will be a clean slate for new people to sign up to help since names aren't transferred over.  
You will be able to adjust dates and time to reflect the new opportunity and can send invitations like you normally would. Make sure you're sending it to the correct group of people by going to Step 1: General Details in the sign up creation wizard. 
If you know you're handing over an annual or regular event, you can duplicate a sign up and transfer it to the new leader. That way, they won't be working from scratch. You'll look like a genius — and be helpful! 
Need more advice or tips? Browse our FAQs for answers to common questions or contact our award-winning customer support staff. And stay tuned for more weekly Genius Hacks this fall.
Comments
Posted by Melissa Balsiger on Friday, October 14, 2016 2:47 PM EDT
I have tried to Duplicate our 2015 Parent / Teacher Conferences several times. Each time I get all the way through. It tells me the new Sign Up will be available in a few minutes. I never shows up.
Posted by Betsy Lytle on Saturday, October 15, 2016 5:23 PM EDT
Hi Melissa,
The issue is likely that you did not have the *Created* tab set to *Show unpublished sign ups.* Go to the far right of the sign ups you have created where you will notice a *Gear* icon. When you select that icon, a list of drop-down options will be available for you. Choose to show unpublished sign ups.