Blog
/ NEW FEATURE: Calendar Sync
The Genius Blog
NEW FEATURE: Calendar Sync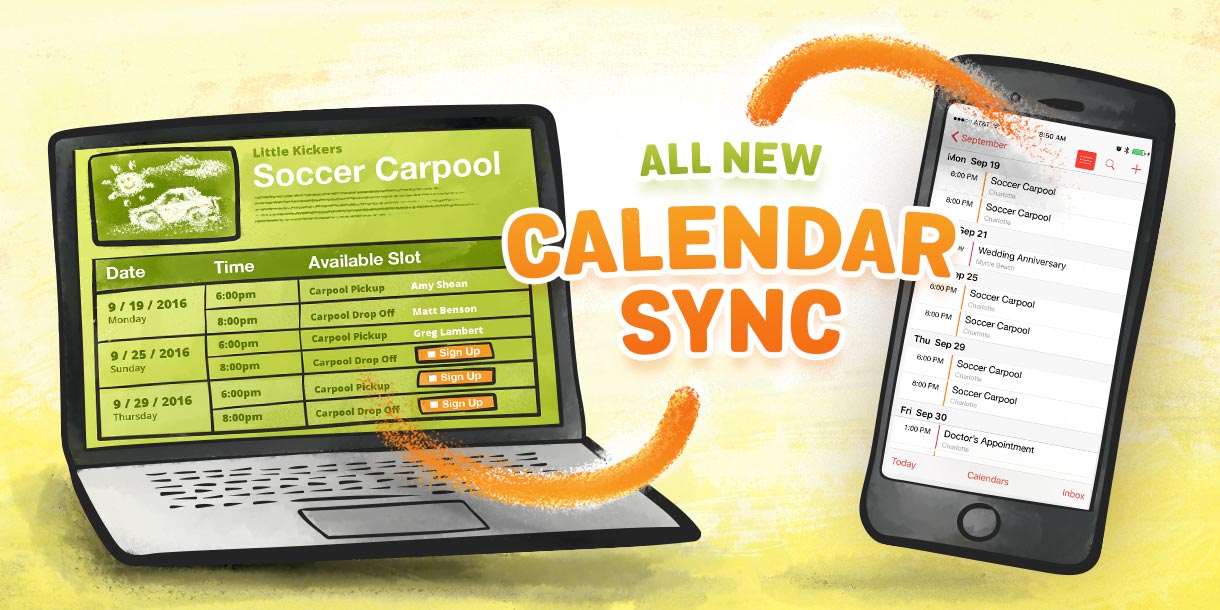 Organizing your digital calendar just got a little easier. SignUpGenius is unveiling its latest feature just in time to help with your blossoming spring schedule!  
Calendar Sync gives SignUpGenius users and sign up creators powerful options to track events and commitments on their personal digital calendars. Sign up participants can sync all the items they've signed up for to personal calendars such as Google Calendar, Apple's Calendar and Microsoft Outlook.  
Need to make a change to your sign up item before an event? No problem. Changes to your sign up slots will automatically sync to your digital calendar.  (Feeling more organized already?) 
SignUpGenius Pro users will get an additional tool: the ability to create a subscribable calendar. Creators who choose this option can allow participants to sync an entire sign up to their personal digital calendars. These calendars can be filtered by "filled" or "unfilled" slots — or show both. 
Here are some ideas for when Pro Calendar Sync tools could be a good option for your sign up:
Shift scheduling, so all employees can easily see at any given time who is working.
Carpools, so parents can see who is scheduled to pick up the kids each day of the week.
 While you're exploring SignUpGenius' tools, be sure to check out our special offer on Pro in honor of Volunteer Appreciation Week. You'll also be able to assign multiple administrators, eliminate ads, add attachments, access advanced sign up reporting and much more. 
It's time to get your spring planning in sync!   
Posted by Lora Powell on Tuesday, April 18, 2017 7:45 PM EDT
So is Calendar Sync and creating a Subscribable calendar the same feature? If not the same, are both only available with the Pro version? The intro paragraphs sounds like everyone can sync something they sign up for with their digital calendars, but creating a subscribable calendar is something different and only available with the pro version... Obviously I am confused about these new great sounding features!
Posted by Betsy Lytle on Wednesday, April 19, 2017 10:37 AM EDT
Hi Lora,
I'm happy to explain the difference between Calendar Sync and creating a calendar feed.

All users with a free account have the ability to sync all of the items they have signed up for to their personal digital calendar. This is a handy feature because unlike the ics file that is included in the confirmation email (which can be used to add that specific item to their calendar), calendar syncing allows a user to add all items signed up for with that account to their calendar. This includes current and future events. Any changes to these sign ups will be updated on the digital calendar.

The Pro feature gives a sign up creator the ability to create a calendar feed. This calendar is typically synced only to the creator's personal digital calendar since most users do not want to see everyone else's sign ups on their own calendar. However, in specific cases, such as employee shifts, carpools, or other types of schedules that need to be seen by everyone on the sign up, the creator can make the calendar feed available to all participants by adding the link to the sign up.

I hope this helps clarify the difference between the two types of calendar syncing. If you have more specific questions about either feature, please feel free to contact us directly using the Help tab at the top under More.