SignUpGenius Boosts Group Organizing with New Features
Pro subscribers will receive access to text messaging communication and exclusive multi-photo themes.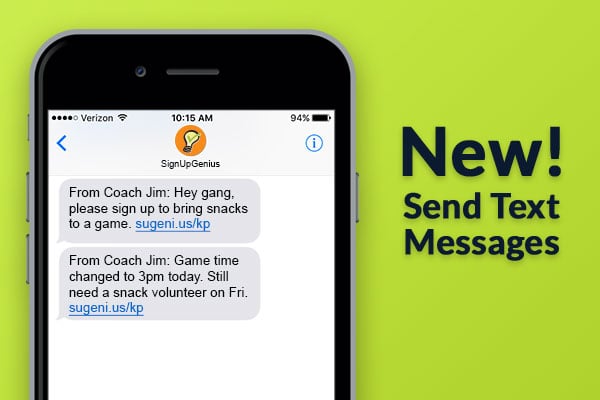 CHARLOTTE, N.C. — SignUpGenius, the leading online sign up service for event and volunteer management, has released two new features developed to make group organizing even easier.  
SignUpGenius Pro subscribers can send group participants text messages to aid communication, as well as access 250 exclusive professionally designed themes that feature new layouts with multiple photos.  
"Our text messaging option makes it easy for participants to get the latest news about their events without the confusion of group texts," SignUpGenius Senior Developer Jojo Serquina said. "We are always looking for new ways to make group organizing even simpler for our users." 
User demand inspired both features. Text messaging will give Pro subscribers a convenient way to reach event participants. Sign up creators can text group members who opt in with their sign up links or send updates about events.
The 250 new theme templates for Pro subscribers offer more options for organizers to customize their sign ups. SignUpGenius also recently unveiled a Custom Theme Builder that allows Pro sign up subscribers to design their own sign ups, selecting from multiple layouts, custom background and button colors and a library with thousands of stock images.  
Spring is a busy time of year for many SignUpGenius users as end-of-school year events, fundraisers and youth sports competitions fill the calendar. Up to 12 million people per month use the site's sign up tools, and more than 66 million people visited SignUpGenius in 2016. 
About SignUpGenius
SignUpGenius simplifies the process of coordinating events and people by providing online sign ups for nonprofits, schools, sports, churches, families, colleges, businesses and organizations. By enabling up to 12 million unique visitors per month to sign up for tasks online, SignUpGenius has done away with the need for paper sign ups, "reply-all" emails and phone trees.
SignUpGenius on Facebook: www.facebook.com/SignUpGenius
SignUpGenius on Twitter: www.twitter.com
Contact SignUpGenius: [email protected] 
Posted by Ashley Kaufman
There are currently no comments for this page.
Post Your Comment
NOTE: You do not need an account to post. For the ability to delete, create an account.