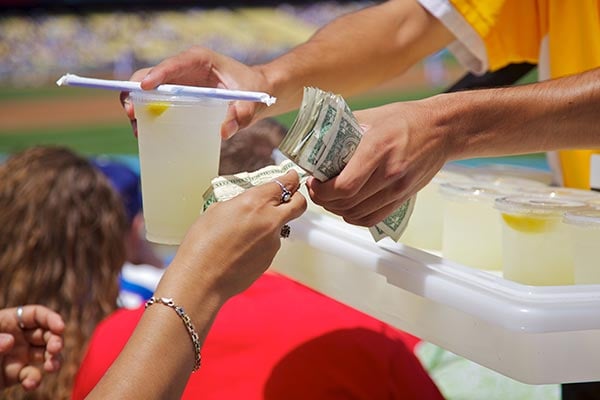 Effective fundraising strategies can mean the difference between a thriving sports program and a merely surviving one. Finding the right fundraiser for your team or school also provides the opportunity to build teamwork, leadership skills and family involvement. 
Offer a Useful Service
Donors are usually eager to get something they can actually use along with their show of support.           
Reserved Parking for Games - Especially in areas where game parking is scarce and fought over every season, this idea is a winner.
Athlete (or Even Team) Rental - With no overhead costs and a little elbow grease, team members can complete a wide variety of tasks, such as mowing lawns, cleaning gutters, shoveling snow, babysitting, dog walking and more.
Local Food Truck Rally - Many locally owned food truck vendors are happy to support a school team by donating a percentage of the event's profits and simultaneously gaining exposure to a valuable market segment.
Fan Photo Shoots - Search for a new or student photographer willing to provide their services at a deep discount in exchange for the good publicity. Offer family photo sittings before or during games. Be sure to come prepared with colorful team paraphernalia such as team hats, scarves, banners, face paint and more to add to the experience. Genius Tip: Schedule photo sessions and collect money with a sign up.
50/50 Raffle - The chance to win cash is always welcome. Team members sell tickets and the winner gets to keep half of all the money collected with the remainder awarded to the fundraising team.
Restaurant Nights - Find a popular spot willing to donate a percentage of profits to your team on a designated date. Don't forget to promote it on social media and organize prize giveaways to encourage community participation.
Fundraiser Discount Cards - Find local vendors willing to offer small discounts on products or services for the publicity of advertising on discount cards valid for the sport season or a school semester.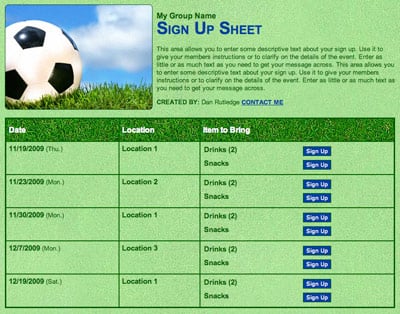 Plan a Social Media Campaign
Building and maintaining interest is often the biggest challenge in fundraising. Social media engages potential donors and provides multiple opportunities for promotion. 
Faculty Challenges - Take donations for bets on all sorts of matchups among faculty members and showcase fun photos along the way. Who will win in a one-on-one basketball game, arm wrestling match and more? The challenge doesn't happen until a set goal of donations is placed on the event. Air the contest live over social media to engage fans near and far.
Trivia Tournaments - Take dollar donations for your fundraiser and give students opportunities to win money and prizes, too. Try to match the questions with your sports team. For instance, if the fundraiser is for the basketball team, make it a March Madness Trivia Tourney.
Vote with Cash - Have students and faculty pay to determine which wacky fundraising stunt your coach must perform. For example, would you rather have your coach get a pie in the face, dress up as the mascot for a day, drink a gallon of pickle juice or wrestle the quarterback?
Reverse Roles Matchups - Take donations to see your high school athletes compete in sporting events outside their comfort zone, such as football players doing gymnastics moves or wrestlers playing in the marching band.
Text-to-Give Tools - Check into the wide array of organizations that offer software services to help school fundraisers, especially those including corporate matching capabilities.
---
Recruit concession stand volunteers with a sign up. SAMPLE
---
Host an Event
It doesn't have to involve red carpets and high costs, just make your fundraising event creative! 
Balloon Pop Party - Put money (rolled up with rubber bands to conceal the amount) into helium-filled balloons and sell them for $5 to $10 each. Most will only have $1 in them, but a select few will have $10, $20, $50 and $100 bills.
Dog Wash - Use an online schedule to spread out appointments and sell tickets online. Be sure to share the charming photos on social media, along with online voting for the most adorable wet dog contest.
Video Game Tournament - Be sure to include some retro games to encourage parent participation. Charge a fee for participation and sell concessions as well for extra money. Genius Tip: Try these 100 concession stand food ideas.
Anniversary Celebration - Bring back an "all-generational team" to celebrate their championships of 10, 15 or 20 years ago. Celebrate their past and present achievements with a special game and dinner while finding ways to raise money through dinner, contests and game tickets.
Goal Shot - This event can happen before or after a game — or even during halftime activities. Game spectators buy a shot at the basketball, soccer, field goal or any other goal to win prizes and bragging rights. The aim is to score and can be done in rounds to build excitement.
Pitch-a-thon Party - Rent a radar gun and let the fun begin. Sell tickets for participants to measure how fast they can throw a baseball, kick a soccer ball, ride a bike, sprint and more. Hold contests and sell concessions.
---
Coordinate a booster club BBQ and collect payments with a sign up. SAMPLE
---
Use Your Team's Skills
There are always younger students looking for ways to build their athletic skills, as well as opportunities to hang out with the older kids. Explore teaching opportunities as a way to raise money for your team. 
Athletic Clinics and Camps - Charge a fee for registration to cover any costs associated with hosting the camp plus a donation to your team's fundraising efforts. Athletes can get extra conditioning and learn valuable mentoring skills. Genius Tip: Get tips to run a successful sports camp or clinic.
Regional Tournaments - If your school is fortunate to have facilities large enough to accommodate big groups, take advantage of the extra money to be gained by organizing larger-scale tournaments and clinics.
Community Exercise or Training Classes - Charge a small entrance fee to exercise classes run by a rotation of school athletes and coaches. Genius Tip: Schedule fitness classes with online sign ups.
---
Sell fundraiser baskets and collect donations with a sign up. SAMPLE
---
Accept Pledges
Just be sure all team members are serious about the follow-up. 
Cleanup Count - Organize a team cleanup that's good for your local environment and your organization. Pledges can be tied to goals such as the number of road miles cleaned, bags of trash collected or total hours spent volunteering.
Fun Runs - Accept pledges for participation in a color run where students wear white T-shirts and volunteers spray them with water-based paints at checkpoints. Volunteers throwing water balloons filled with paint also create fabulous photo ops. Genius Tip: Organize a 5K or fun run with simple ideas and tips.
Letter Writing Campaigns - These should always be included in your overall fundraising plan. It's important to have the athletes — not just coaches and parents — participate in seeking small business and corporate sponsorships.
An A-team Promise - Encourage your team's academic performance by gathering pledges for team members' "A" grades on report cards. Parents will love to jump on board for this one.
When teams, faculty, families and the local community work together, fundraising not only builds school spirit, but also makes all members more vested in its success. Go team! 
Laura Jackson is a freelance writer based in Hilton Head, S.C. with her husband and two teenagers.