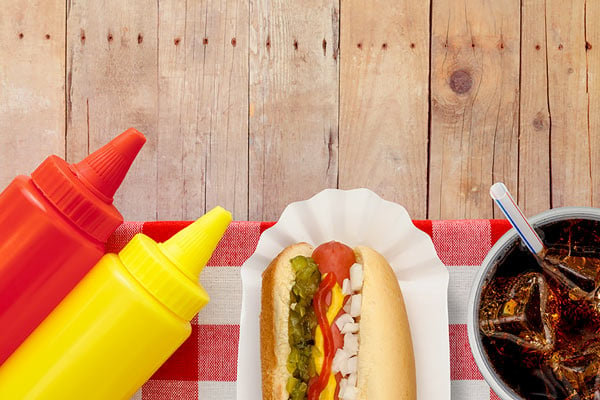 There's something almost magical about smearing grease paint under your eyes and going hoarse from cheering for your favorite sports team. And we all know that cheering isn't possible until your fans settle those cravings for concessions! The selections are endless, but we've rounded up a great list of the very best concession stand food ideas.
Classic Concessions
You can't go wrong using one of these classic concession stand foods. They've been a staple of sports fans forever!
Hot dogs
French fries
Funnel cakes
Honey roasted peanuts
Corn dogs
Popcorn
Hamburgers
Soft pretzels
Wings
Snow cones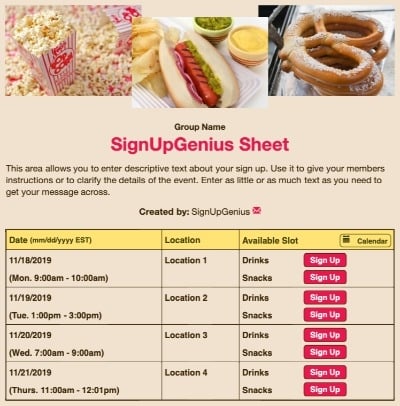 Sweet Treats
These sugary-sweet baked goods will satisfy fans with a sweet tooth. You may just have a hard time keeping your workers from eating them, too.
Rice Krispie treats
Cake pops
Donuts
Chocolate chip cookies
Brownies
Fried cookie dough
Cupcakes
Mug cakes
Muffins
Sugar cookies
Salty Snacks
Try any of these salty favorites served with a refreshing beverage.
21. Mozzarella sticks
22. Cheese quesadillas
23. Potato chips
24. Soft pretzel bites
25. Tacos in a bag
26. Dill pickles
27. Hush puppies
28. Chex mix
29. Bagel bites
30. Roasted Almonds
---
Organize concession stand volunteers with a sign up! SAMPLE
---
Toasty-Warm Treats
If you're hosting a game in the wintertime, warm up your fans with these ideas!
Hot Chocolate
Hot pockets
Pigs in a blanket
Nachos
Hot boiled peanuts
Waffle fries
Bacon-wrapped tater tots
Hot apple cider
Hot muffins
Meatballs
Thirst-Quenchers
If it's refreshments your stand needs, look no further.
Coffee
Lemonade
Sports Drinks
Soda
Cold Water
Smoothie
Fruit punch
Juice boxes
Slushie
Milk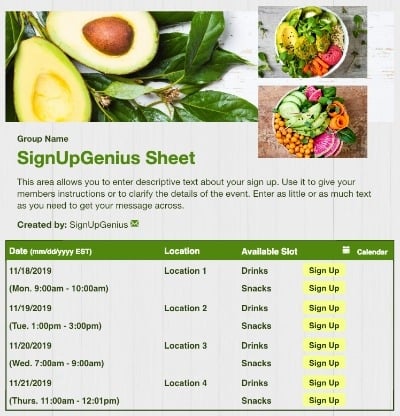 Healthy Snacks
Trying to steer clear of the typical fried and buttery foods? Try a few of these healthy snack selections.
Veggie cups
Yogurt parfaits
Sweet potato chips
Pistachios
Sliced apples
Candied Grapes
Frozen yogurt
Homemade granola bars
Edamame
Frozen popsicles with fruit
---
So many delectable sign up templates available for your concession stand! SAMPLE
---
Allergen-Free Foods
If you have any fans with food allergies, this list of nut, dairy, and gluten free snacks will help you include everyone in your snacks.
61. Hummus and corn chips
62. Rice cakes
63. Seaweed/Kale chips
64. Carrot fries
65. Fresh fruit
66. Popcorn (without butter)
67. Applesauce
68. Store-bought allergen-free cookies
69. Grilled chicken nuggets
70. Baked potatoes (hold the sour cream)
Unexpected Combinations
Here are ten ideas for unique combos that your fans will be drooling over.
Chocolate covered potato chips
Pickles wrapped in ham and cream cheese
French fries with nacho cheese dip
Fried bananas with cinnamon
Hollow apples with caramel inside
Frozen yogurt covered berries
Hot dogs in corn muffins
Popcorn and candy mix
Mac and cheese inside croissants
Frozen milk and cereal popsicles
No Prep Goodies
If you don't have the facilities for cooking or heating food, try these zero prep snacks fans are sure to love.
Dried fruit
Fruit roll-ups
Fruit snacks
Individual boxes of cereal
M&Ms/Skittles
Goldfish
Cheese sticks
Raisins
Trail mix
Individually packaged chips
---
Organizing your athletic department has never been so easy. SAMPLE
---
Delicious Confections
These candy confections are so sweet that they'll distract the fans if your team is losing!
Caramel apples
Cotton candy
Root beer floats
King-sized candy bars
Churros
S'mores
Ice cream cones
Lollipops
Gummies
Chocolate covered pretzel wands
With all of these ideas, you'll be able to fuel your fans and produce a cheering section that will lead your team to victory!
SaveSave