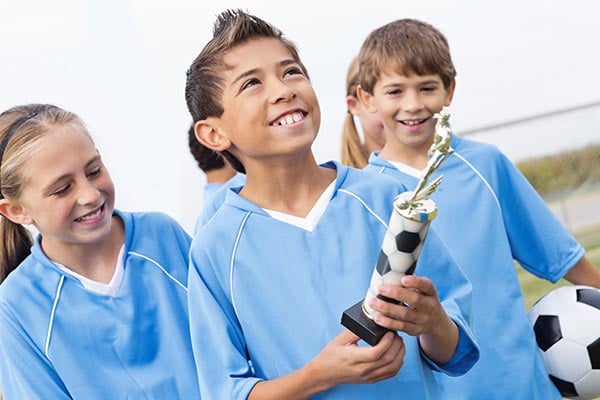 It's time to celebrate your athletes and their accomplishments as another season of clear eyes and full hearts comes to a close. Here are a few ideas to host a party that congratulates the kids, coaches and parents for a job well done. 
Let the Games Begin
Organize a party that lets everyone blow off a little steam and encourages teamwork by exercising a different set of skills than on the playing field.  
Dress-up Relay - Divide into two teams, each with a box of extra-large sports gear. Competitors must dress up in full gear as fast as possible and run to the end of the line where their team members must repeat the process until the first team finishes.
Parents vs. Kids - Raise the energy level and encourage everyone to get involved in games, timed drills and relay races.
Yankee Gift Swap - Also known as a white elephant exchange, wrap your most outrageous sports memorabilia collected from pro and college teams over the years and get ready for the laughter.
Design Your Own Escape Room - An escape room can be a great activity to show off your group's teamwork and problem-solving skills in a totally different, non-sport activity. There are many downloadable versions to create your own fun and challenging party atmosphere.
Fanatic Fan Contest - Award prizes for the party participants dressed in the most outrageous representations of their favorite sports teams.
Beach Ball Volleyball - Easy and always fun, particularly if you are at a park or a family's backyard. Badminton nets work well for the smaller kids.
Hula Hoop Soccer - Use hula hoops cut in half and inserted into the ground with dowels to create a fun course to kick balls through.
Obstacle Course Challenge Races - Set up obstacle courses using cones, jump ropes and a variety of large and small balls. Participants must balance balls between their knees while maneuvering through the course. 
Sports-themed Scavenger Hunt - This can be played in pairs or teams. Instead of returning with the actual items, players must return with photos from their phones of the scavenger hunt items.
Sports Trivia - Before the party, prepare player- and parent-appropriate questions at a variety of levels. If you have the space, consider setting up a mock playing field where players can "run the bases" or "score goals" after successfully answering trivia questions.
Pin the Football on the Goal - Just like pinning a tail on a donkey, in this game dizzy blindfolded players must place felt footballs within the goal posts. Make a target for the middle section to see who can get the most accurate goal.
Wacky Knockout - Play the classic schoolyard basketball game where players line up and try to "knock out" the person in front of them by shooting a basket before the other person can get it in, but with a twist. Each time someone makes a basket, they have to put on a wacky costume piece for their next turn. When it's down to the last two players, they'll be covered in oversized jerseys, silly hats and clown shoes.
---
Coordinate the end-of-season potluck with a sign up. SAMPLE
---
Location. Location. Location.
Tired of having the team party at a parent's house or restaurant? Think outside the box for your venue this year. 
Enjoy the Great Outdoors - Hosting a cookout at the park works well for your high-energy athletes because there's enough space to run around and play everything from relay games to water balloon tosses. Remember you often have a much bigger than usual crowd with younger siblings to entertain.
Jump for Joy - You made it through the season and it's time to have fun!  Trampoline parks offer entertainment and usually have party rooms for rent.
Climb the Walls - Look for indoor venues with rock climbing walls such as community centers, gymnasiums, your local YMCA or gymnastics training centers. Many of these also have community rooms to host the rest of your party.
Strike! (The Good Kind) - Bowling alleys usually offer a large supply of inexpensive food options and a competitive team game ready to go.
Laser Tag to the Rescue - Lots of energetic kids plus a place to run out some energy and play on teams equals a great party venue option if you have a local spot.
Attend a Minor League Sports Game - It doesn't have to necessarily match your sport, and if there's an easily accessible team in your area, it can be a fun end-of-season outing with kid-friendly treats such as hot dogs, popcorn and cotton candy.
Stay at Home Base - If your venue is at the team's usual practice court or field on the same day and time as practices, planning is easy for parents and you're guaranteed higher participation. Get creative with decorations and food to make your home court or field feel extra special.
Parking Lot Party - Host your end-of-season party tailgate-style in the parking lot of the building or field where your team normally practices. You can set up tables for food, plus there's plenty of space for outdoor games. Genius Tip: Try these 20 tailgating tips.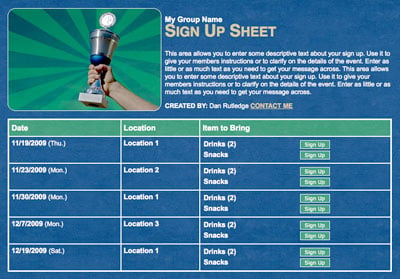 Food Matters
Parents and siblings are likely to tag along, so make sure you plan for enough food to feed everyone! 
Favorite Foods Buffet - Ask each parent to bring their child's favorite food with enough to share. There will probably not be a lot of veggies on the table, but be prepared for a fun mix. Make sure someone brings your coach's favorites, too. Genius Tip: Create a sign up so that the whole meal isn't just mac-and-cheese!
Team Color-Themed Menus - Beyond the decorations, use your team's colors as your food guide and serve food only in those colors. Of course, some team colors are easier than others here, but the kids get a kick out of brightly colored dips and colorful veggie choices that fit your team colors.
Ice Cream Bar - Skip the meal and keep it simple with an always-fun dessert-focused event. Adding a celebratory cake would also fit in well.
Personalized Water Bottles - If there's enough money in the budget, find bottles suitable for next season's practices. They make great take-home gifts.
Have a Ball - Serving food out of fun containers is always a hit. Besides the great number of sports-themed decorative dishes available, there are also lots of ways to create your own. Hollowed-out cantaloupes, watermelons and oranges work great as soccer balls, footballs and basketballs (icing works well for the appropriate colors and stripes) and hold a variety of party foods.
Concession Stand Food - Have team families bring concession stand classics, like popcorn, hot dogs and potato chips. Genius Tip: Check out these 100 concession stand ideas.
Deliciously Nutritious Feast - Fuel up your athletes with healthy versions of their favorite foods. Search for baked chicken nugget recipes, cauliflower mac-n-cheese and other sneakily nourishing foods to keep stomachs satisfied and bodies healthy.
Smoothie Bar - Fire up the blenders and offer your athletes a medley of smoothies to choose from. Be sure to include different types of fruits, along with protein-rich options that include peanut butter or Greek yogurt. 
---
Collect money for the team's group gift to Coach with a sign up. SAMPLE
---
Gifts for Coach
Make sure the kids remember the countless hours and sacrifices their coaches give to their teams with a thoughtful gift. 
Coaching Wisdom Book - Have all the players submit some of their favorite pieces of wisdom or advice that they received from their coach — they can also include funny quotes or catchphrases their coach says. Compile them all in a scrapbook with handwritten notes on each page thanking the coach for investing in them.
Custom T-Shirt - Give your coach a customized T-shirt or jersey — it can be silly, with players' faces all over it, or a fun way to honor the "Best Coach Ever."
Season Tickets - All the team parents can pitch in to give your coach season tickets to their favorite professional team — or if they have another interest such as the arts, you can get creative and give them season tickets to your city's ballet company or performing arts center.
Give Forward - Honor your coach by starting a scholarship that pays fees for future athletes who may not otherwise be able to afford being on the team. You could also start a giving campaign for a cause that your coach cares about.
Video Camera - With this gift, your coach can keep track of game footage — or just use it to capture memories!
Glory Days Collage - Enlist the help of your coach's spouse and family to collect photos and memorabilia from his or her prime athletic days. Combine them in a scrapbook or framed collage to display fun memories they can keep for a lifetime.
Signed + Framed Jersey - A classic and meaningful gift, a jersey signed by all of your athletes and stretched out into a frame is a great way to celebrate a great season.
Spa Gift Certificate ­- All of the physical activity that a coach does can take a toll on his or her body. Give the gift of a spa day, complete with massages for tired muscles, and your coach can rest and rejuvenate for next season.
Lip Sync Video - Film your athletes lip syncing to a fun, upbeat song as a way to thank their coach. Have a media-savvy parent compile the video to show as a surprise at the celebration.
And the Award Goes to …
Award any team trophies earned during the season, but think about unique awards and superlatives you can surprise your players and coaches with during the party. 
Your Sponsors - Be sure to invite them to your celebration. Even if they're not active participants, they'll appreciate the gesture. Make sure the kids sign a card of thanks as well.
Your Parents and Volunteers - Don't forget to verbally acknowledge all their help in getting kids to practice, helping at concessions and moral support. Consider certificate awards for categories such as best practice attendance, most valuable supporter and creative cheerer.
Good Attitudes - Beyond all the team player awards for performance, be sure to acknowledge players' strengths in attitude, character and leadership.  Ribbons or patches are great options for these awards. Some unique award suggestions: Least Likely to Give Up, Most Likely to Help After Practice, Most Unique Pre-Game Ritual.
Silly Superlatives - Give your athletes awards that highlight their unique skills and abilities — along with remembering fun moments from the season — by creating super-specific awards. For instance, "Best Tarzan Impression" to the athlete who lets out a jungle cry every time she scores a goal. Keep these lighthearted and positive!
Honoring Each Other - Have athletes write something they admire and appreciate about each of their teammates. After you've looked them over, give each player the stack of encouraging notes from their peers.
Good Sportsmanship - Rally your athletes to think of ways to thank each of the teams they played this season. Help them come up with uplifting ways to recognize and honor their opponents — such as "Scrappiest Comeback" or "Strongest Plays." Identify strengths in other teams that might have made for a nail-biter but are worthy of respect!
Exceptional Stats - Honor players who had record-breaking games this season. Spread the awards out over different skills, so athletes in different positions can shine.
---
Get a head start on next season's carpool shifts with a sign up. SAMPLE 
---
Remember the Good Times
Create a Season Video - For future planning, this is a great job to assign to a parent early in the season. Allow enough time for parents to submit photos early. Consider uploading the slideshow to YouTube for easy sharing later.
Make Speeches - Depending on your age group, involve the kids as much as possible. Have them prepare their comments beforehand — just make sure to set a time limit and keep things moving! If your team will be eating during the party, this is a good time to schedule speeches.
Signature Requests - A great coach gift often includes a framed team photo with messages on the mat. Use this time and a Sharpie to get all the signatures needed for this item and any other thank you cards and gifts.
Plan an Informal End-of-Season Photo - Include parents and remember to take this early in the party for the best participation odds.
Take Home Memories - Put together "highlight reel" photo books of significant moments and memories from the season to take home.
Share Favorite Stories - Have athletes share memories from the season ahead of time — from game-winning goals to a funny moment at a post-game ice cream run — along with one important thing they've learned this season. You can get creative and include these memories as notes that make up table centerpieces or are written on paper tablecloths.
When you plan ahead with these tips, your team will have an end-of-year celebration worthy of a stellar season. Play ball, genius organizer! 
Laura Jackson is a freelance writer based in Hilton Head, S.C. with her husband and two teenagers.