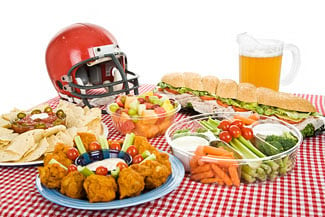 Fall is here, the kids are in school, and best of all, it's tailgating season! Here are some great tips for keeping food fresh and the party festive. Plus, SignUpGenius saves time and makes it simple for you to organize your tailgating crew.
1. Plan Ahead
Look at the calendar and send out your invitation to your group at least four weeks ahead of time. This will allow everyone to plan accordingly.
2. Personalize your Invitations
SignUpGenius has over 500 sign up themes from which to choose. You can also select team colors, choose an image, or upload a logo or photograph of your own.
3. Communicate to your Peeps!
Your guests will need to know the details of your event and SignUpGenius makes it easy. Include all the necessary details with your sign up, communicate changes, and send out automatic reminders. You will look like a PRO!
4. Delegate Food Responsibilities
You don't want everyone to bring potato chips. List suggested food on the sign up, and each guest can put their name next to an item. It's the best way to eliminate duplicate items! SAMPLE
5. Make a Checklist
Don't forget to plan for ice, bottle openers, match light, hats, sunscreen, bug spray, antibacterial gel, small plastic bags for leftovers, aluminum foil, condiments, cups, plates, napkins, eating utensils, coolers, chairs, and tickets. If you're a rookie and don't have the tailgating gear, list canopies, coolers and grills on your sign up.
6. Don't Worry, Be Happy!
Use smiley words so people get excited! A smidgeon of humor always makes it fun.
7. Sit Together
Buy your game tickets in bulk and use SignUpGenius Payments to reserve the tickets and collect the money.
8. Assign Designated Drivers
Organize carpooling and designated drivers for your group.
9. Use Social Media
Spread the word and post your sign up to social media sites.
10. Make the Group Bigger
Join forces with another tailgating group - the more the merrier! Just add email addresses to the sign up.
---
Planning parties, potlucks and events has never been easier. Get started!
---
11.
Boost the Fun Factor
Develop a friendly competition. Contest ideas include: Corn Hole or Four Square tournament, face painting, biggest fan, and best chili or dip. First place receives a small team logo item.
12. Keep Cold Food Cold
The last thing you want is food poisoning! Put cold foods on ice in a cooler. Keep the raw meat in a sealed Ziploc bag to prevent cross-contamination. Store beverages in a separate cooler so the raw meat cooler can stay closed. Bring antibacterial gel to use after handling raw meat.
13. Keep Hot Foods Hot
Put cooked meat by the side of the grill to keep it hot. Cover hot foods on the table with aluminum foil. Throw out food that sits out for more than two hours. If it's hotter than 90 degrees outside, toss the food after one hour.
14. Create a Winning Atmosphere
Do some decorating, but keep it simple! Hang a team flag off your antennae or out the car window. Decorate your canopy with jerseys and hang banners or streamers in team colors. Provide portable speakers or a television so guests can hear the pre-game coverage.
15. Flashback to your PEP RALLY days
Remember that half the decorating is your own attire. Hang a team flag around you like a cape, paint your faces, or wear jerseys and caps!
16. Check on Open Container Policy
Research the tailgating venue and stadium to see if you can bring alcohol, glass containers, or kegs. Plastic cups are a safe bet.
17. Stay Warm (or Cool)
It is colder than you think in the open air. Dress in layers, such as fleece. Bring a hat, gloves, blanket, raincoat, and even insulated boots. Serve chili or soup. Provide a thermos of warm coffee or cider for your guests. Do the opposite if it's hot outside, making note to remember hats and sunscreen.
18. Fire it up!
Get there early to grab a good space, and light the charcoal grill ASAP. It takes a while for those coals to heat up.
19. Clean it up
Perhaps the most important item - garbage bags! Leave your tailgate area just as you found it.
20. Use it AGAIN
Next year, create a new sign up based on the old one! You can save your group emails in one place to make it easy.
By following these tips you are sure to keep the tailgate party under control. Now kick back, relax, and have some fun!
Emily Mathias is a freelance writer living in Charlotte, NC.