50 Raffle Basket Themes and Ideas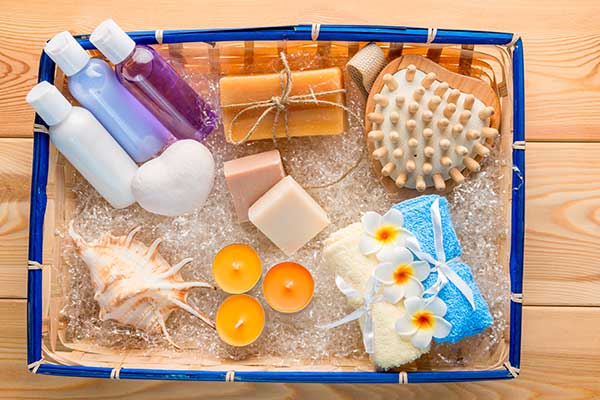 Looking to create the perfect fundraising raffle basket for school, church, a nonprofit or work? This list of creative ideas will inspire you to find the perfect fit for people of all ages and interests. All you'll have to worry about is keeping track of the highest bid! 
Family Fun
I Scream, You Scream - Compile a basket with all the ingredients for the perfect ice cream sundae bar. (Except, of course, for the ice cream — give a gift card for that.) Different syrups, sprinkles, cones and whipped cream can create a family ice cream extravaganza!
School Spirit - Outfit the whole family with spirit wear from your school, including shirts for kids and adults, hats, chair covers for sporting events and more. Include a restaurant gift card to a nearby popular restaurant that they can enjoy after a school event.
Road Trip - A gas card, some fun snacks and board games made for the road that are easy to play in the car are the perfect recipe for a family road trip! To add some extra helpful items, include sunscreen, gum, coloring books or a fast food gift card (for any pit stops).
New Baby - Put together the perfect welcoming basket for a new baby with blankets, diapers and a cute print for the nursery wall. If someone in your organization knits or sews, see if they'd contribute a tiny hat or some socks!
Get Cooking - For this basket, put together all the necessary ingredients for an easy-to-cook meal (such as spaghetti) and dessert. Tell bidders they have to cook the meal as a family. A new skill for the kids and a family dinner for the parents — what more could you ask for?
Movie Night In - Include DVDs (or streaming service gift cards) of fun, classic family movies, like Jumanji, The Lion King or Mary Poppins, along with popcorn, fuzzy socks (of all sizes) and sodas for a fun family night in! Genius Tip: Try these 25 ideas for more family night ideas.
Game Night - Pick a classic board game such as Monopoly or Life and add some yummy snacks and candy to round out this family-friendly basket.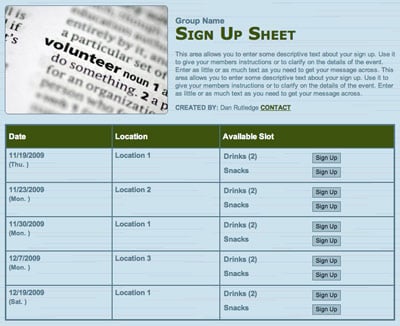 Activities Galore
Everything's Coming Up Roses - A gardening-themed basket is perfect for the green-thumbed bidder. Include new gardening tools, vegetable and flower seeds, a new pair of gloves and maybe even a pink flamingo lawn decoration.
Now That's Crafty - The crafters among your audience will love this basket with refills on hot glue, glitter, glue sticks, scissors, scrapbooking paper and calligraphy pens. Include a gift card to a craft supplies store as well.
Take a Hike - This hiking basket can include granola bars, an upscale water bottle, new carabineers, hiking socks, sunscreen and even a camping tent if you really want to up the ante.
Ticket to Anywhere - Fill a colorful basket with tickets to an amusement park near your city. Include fast passes for rides and a meal option. If you don't have many amusement parks in driving distance, try local museums or escape rooms.
Groupons Galore - Fill a basket with some fun Groupons from your city. They won't break the bank, and they'll be local hotspots!
City Slickers - For the folks who love to explore your city's downtown spots, create a basket that includes vouchers for your metro system or Uber/Lyft, admission for museums, gift cards to local restaurants and a guide for the best places to sightsee!
---
Collect raffle basket donations with a sign up. SAMPLE
---
For the Kids
Water Day - Let your "basket" be an inflatable pool that you fill with summertime gear such as pool floats, snorkels, bubbles and sidewalk chalk.  
Birthday in a Box - Include birthday decorations from characters popular with the kids — whether it's super heroes or princesses — and parents will have one less thing to worry about planning a party. Include themed plates, napkins, banners and cupcake/cake toppers. Genius Tip: Use this birthday party planning checklist so you don't forget a thing.
All Pro - Decorate a sports-themed basket and include a registration for a local youth sports league such as soccer, baseball/softball, basketball or flag football. Include some basic equipment such as a baseball glove or soccer ball that matches the theme.
Toddler Time - Give parents of young children a basket that will keep their little ones occupied. Include toys that make noises when pressed, blocks or a train track set. Throw in a few toddler-friendly snacks and a sippy cup as well.
Super Scientist - Encourage a love of science in elementary-age students by putting together a basket with several science experiment kits that they can try on the weekends. Tuck in some goggles and gloves. Safety first!
Craft Corner - Create a kid-friendly craft basket, filled with construction paper, die cut-outs, ribbon, glitter glue, pipe cleaners and more. Whoever wins this basket will go home with a creativity factory!
Zoo Baby - A trip to the zoo — especially in the spring as new animals make their debut — will be a fun trip for the whole family. Include zoo passes for four, plus a few stuffed animals and snacks (like animal crackers) in this basket.
Perfect for Date Nights
I Pick You - A picnic basket is romantic and easy. Put together a picnic blanket and some non-perishable food (or a grocery store gift card) and let people bid away.
A Night at the Movies - Include two complimentary movie tickets, some popcorn and movie candy and a couple of sodas. Now this basket winner is ready for a night at the cinema! Package it all in a nice red-and-white striped basket, and tuck in some star-shaped sunglasses for fun.
Dinner for Two - A gift card and reservation to an exclusive dinner spot in your city, along with a bottle of wine, makes for a simple but irresistible date night basket. For extra flair, add a florist gift card — or cash for a babysitter!
Kiss the Chef - Place a gift card for a week of food delivery service meals nestled in with some candles and chocolates, and you've got the perfect date-night-in basket. Whoever takes home this one is sure to win some points!
Day at the Spa - A gift card for his and hers massages, along with some nice candles and bath salts, can make for a relaxing date perfect for a busy couple.
Weekend Getaway - Give one lucky couple the gift of quality time with a getaway basket filled with an Airbnb voucher or complimentary hotel reservation, plus a gas gift card or airline miles. If you're creating a basket for a specific destination (beach, mountains, etc.) you can include travel necessities such as sunscreen or bug spray.
---
Sell entry and raffle tickets for the spring carnival with a sign up. SAMPLE
---
Food-based Baskets
I Want S'more - Besides the classic s'mores ingredients, add extra fun toppings like peanut butter, chocolate syrup and sprinkles. Throw in a comfy blanket and some skewers and you have the perfect cozy basket.
Breakfast Food - Waffle mix, high-quality maple syrup and a waffle iron make for a yummy breakfast-themed combination. Include some non-perishable toppings (like sprinkles and chocolate chips) for an extra tasty touch.
Feel Like Snackin' - Fill a basket with only the highest quality snack food from an organic grocer or local boutique grocery store. Include salty (like fancy pretzels) and sweet (like hand-dipped chocolate). Who can resist snack food?
Caffeine Fix - The basket for the coffee lover in your life! Add a few gift cards to popular local coffee shops in your city, as well as fun coffee items such as a French press or pour over kit. Include some coffee beans as a final touch — it will make the basket smell good!
A Lot of Chocolate - Anything that can be covered in chocolate should be included in this basket! Add a variety of chocolates — from truffles to chocolate-covered blueberries.
Soda Shoppe - We've all had the mass-produced colas, but what about putting together a basket that includes craft soda that's produced in smaller batches? From grape to cream to upscale ginger ale, you'll tempt the taste buds of this basket's winner!
Grill 'Em - If you know someone with a famous grilling recipe, convince them to include the recipe in a basket with some new grilling equipment such as tongs, meat seasoning, a grill brush and apron. Aspiring grillers will pay big bucks to learn the secrets of that famous steak!
Don't-Bust-Your-Budget Baskets
Pamper The Chef - A new apron, some fancy cooking utensils and a gift card to a cookware store is all you need to show your favorite chef some love!
Relaxation Time - Fill a basket with candles, lotion, bath bombs/salts and essential oils for the perfect at-home spa. Bonus points if you include a sleeping mask and earplugs!
Kids Art Corner - This basket is perfect for parents to bid on. Fill it with markers, crayons, sticker books, coloring books and glue to make any artsy kid's dreams come true.
Baking Day - Buy a few baking mixes, some icing and sprinkles and a few cooking utensils for a basket that is inexpensive but will provides many delicious goodies.
The Cozy Box - Fill this box with a nice robe, cozy blankets, fuzzy socks and mittens! It's perfect for the always-cold bidder or even someone who's just looking to have a cozy winter by the fireplace.
Budget Basket - Who says practical can't be fun? Give an organization-loving person the tools to stay financially responsible by filling a basket with books on creating a sustainable budget, subscriptions to personal finance software like Mint and TurboTax and a pouch filled with chocolate coins to remind them of all the cash they'll save!
---
Coordinate the carnival committee with a sign up. SAMPLE
---
Easy for Everyone
As Seen on TV - Gather a basket full of funny or interesting "As-Seen-On-TV" products together. They don't have to relate, but they should be popular items that people will recognize!
Gift Cards Galore - For a basket that will appeal to anyone, gather gift cards from spots around your city in varying amounts and put them together in a gift card basket.
Puppy Lovers - For the dog lovers in your audience, put together a basket with treats, a cute pet outfit and a new leash. The pup will get pampered and the owner will be pretty happy, too!
Football Fans - For the football fanatic, put together a basket with sports memorabilia, a jersey of a popular player and maybe even tickets, if you can score them. Bonus points if you add some yummy tailgating food, or a gift card to a sports bar.
Winter Survival Kit - Keep your bidders away from winter colds with some Vitamin C, honey, tea, fuzzy socks and fun coffee mugs.
Around Town Tasks – Provide vouchers (or gift cards) for typical errands such as dry cleaning, grocery shopping, the car wash, a hair salon and more. Throw in a monthly house cleaning service to sweeten the deal.
Miscellaneous Fun
Manicure Day – Provide the luxury of a manicure in the comfort of their own home by filling a basket with nail polish, remover and a home manicure or pedicure set. For extra flair, add a voucher for a free manicure or pedicure to a local salon.
Zen Fitness - Include a monthly membership to a popular yoga studio, videos or access to a streaming service, along with a yoga mat and a water bottle.
Race Day - For bidders who prefer more cardio, include an entry to a popular 5K or half marathon, as well as gear they'll need to make it to race day — a gift card for new running shoes and apparel, healthy snacks and a hand-held water bottle.
Bridal Bouquet – This one is for brides-to-be. Compile a basket with day-of necessities, packaged in a beautiful white basket, such as makeup remover, stain remover, bottled water, a mini First-Aid kit and cough drops.
Manscaping - Guys want to look nice, too! Create a beard kit basket for the manly men who will be bidding. Include a beard trimmer, beard oil and a comb to keep this basket's winner nicely groomed.
Put together several baskets that represent a variety of interests and you're sure to have a successful fundraiser. The only thing left to do now is start the bidding! 
Kayla Rutledge is a college student who spends most of her time writing, singing for her church and eating quesadillas.