30 Galentine's Day Ideas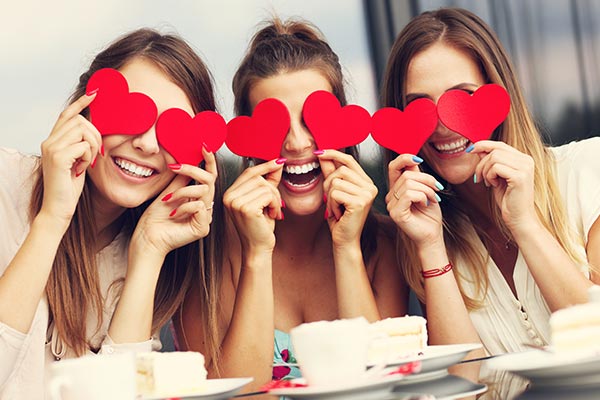 Valentine's Day may be all about the guy who stole your heart, but Galentine's Day is all about ladies celebrating ladies. Every year, more women are shaking up the Valentine's season for a night with their girl squads. Whether you're married, single or somewhere in the middle, here are 30 ideas to make this Galentine's Day with your favorite women one to remember. 
Closet Cleanout - Get the group together and clean out everything in your closet, cupboard and cabinets to purge your place of excess. Take to a donation center or a resale store like Plato's Closet. Another variation: Ask everyone to go through their closets beforehand, and bring over 5-10 pieces of clothing to swap!
Go to an Old School Arcade - Bring your quarters and video game skills when you and the gals hit up the local arcade. No Pac-Man skills? Many arcades also have sporty games like skee-ball and basketball.
Table for Two - Delicious fancy meals go hand-in-hand with Valentine's — and Galentine's. Grab one of your gal pals and split a yummy steak dinner and a bottle of vino at one of the trendiest restaurants in your town. Go ahead and spring for the sautéed onions and garlic on top — you won't have to worry about kissing anyone at the end of the evening.
DIY Party - You and the ladies can let your creative juices flow by splitting the cost of supplies and painting or crafting in someone's home. It's fun to have one template for everyone to follow (i.e., paint the Eiffel Tower or craft an oven mitt) and then see the different interpretations! At the end of the evening, you leave with a piece of art or a cool craft to display in your home.
Get Moving - Gather the girls and treat yourselves to the hottest ticket in town: the trendy exercise class you've always said was too expensive. Afterward, hit the smoothie bar or a healthy restaurant for something yummy and guilt-free.
---
Collect RSVPs and coordinate Galentine's party snacks with a sign up. SAMPLE
---
Get Pampered - Treat yourself and your ladies to a spa day for a mani, pedi, facial or other luxurious treatment. This is a classic for a reason.
Plan a Favorite Things Party - Who says you have to do this around the holidays? Invite all your gal-pals and have everyone bring two of their "favorite things" — from skincare products to your favorite coffee and beyond. At the party, everyone will draw a number and leave with two of someone else's favorite things. Set your budget limit ahead of time.
Have a Movie Date Night - Get dressed up with your crew and head to the cinema. Let the group choose whether they want something sweet and romantic or something that ignores love entirely. Order the large popcorn and soda, and pick your own favorite candy knowing you won't have to share with a picky significant other.
Plan a Staycation - Grab your bestie (or your mom!) and rent a room in your city's nicest hotel. Order room service, lounge around in fuzzy robes and generally enjoy seeing how the other half lives. Genius Tip: Browse these 30 staycation ideas for more inspiration.
Get Bowled Over - Gather the gals and hit the lanes for a good old-fashioned game of bowling. Split a pitcher of drinks and try not to laugh at how goofy you look in your colorful rented shoes.
Shop till You Drop - When's the last time you went to an actual store to shop for an outfit rather than putting it in your online cart? Pick up your bestie for a trip to the mall (food court dinner and fitting room fashion shows optional).
Have an Ice Cream Social - Get the girls and head to the sweet creamery in town — the one with flavors like sea salt caramel — and ball out on sundaes and cones. If you're feeling like a night in, ask the ladies to all bring a pint of their favorite flavor and you can provide the toppings.
Train Up the Next Generation - Take some time to invest in the girls who will be tomorrow's leading women. You and your ladies can take a day to volunteer together or organize a capital campaign. Some great organizations to start with are: Girls on the Run, Malala Fund, Girls Who Code, She's the First and Girls Going Global. Genius Tip: Learn how to raise money in a short amount of time with a capital campaign.
Plan a Rom-Com Marathon - Embrace the Hallmark holiday with a marathon of romantic comedies on the couch with your bestie. Wear comfy PJs, order pizza and laugh about how unrealistic it would be to fall in love with someone you bumped into on the subway. Genius Tip: Start here with 20 of the best Valentine's Day movies.
Organize a Cooking Class - Bring some friends to a cooking class to brush up on those culinary skills to impress a future date (or your mom at Thanksgiving). You can also arrange for a chef to do a personal lesson at home.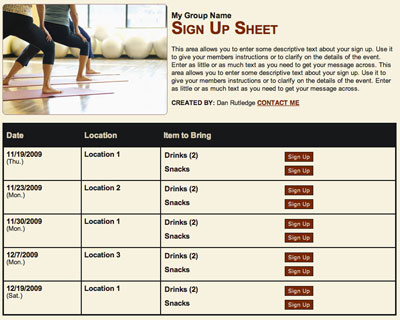 Plan an Adventure in the Great Outdoors - Enjoy the crisp February air on a hike, bike or run with your closest gal-pals. Bonus: since you worked out during the day, you can splurge on coffee or dinner out later in the day.
Get a Couple's Massage - Call a local resort and book a couple's massage for you and your bestie. There's usually no rule that says you have to have a romantic partner on the opposite table.
Do a Wine Tasting - Whether it's just two or your entire crew, a wine tasting is a fun way to try new flavors and catch up with old pals. Choose a nearby winery or a restaurant with a great selection, and make sure to book in advance to get a spot.
Attend the Theater - Get some culture in your lives by taking in a play, ballet or symphony at the local theater. Get dressed up and do a fancy dinner beforehand (make sure you make reservations).
Give Back - Get those heartstrings tugged by volunteering at a local animal shelter, nursing home, soup kitchen or other nonprofit. It will be a fun way to catch up with the ladies, and you can serve others at the same time. Genius Tip: Need inspiration? Try these 50 community service ideas.
Go Ice Skating - Enjoy this old-school pastime with your girlfriends — without worrying that you'll look silly when you slip and fall. You've always secretly wanted to be Tara Lipinski.
A Bit of Earth - What better way to celebrate friendship than working in a garden, sowing and reaping together? Depending on where you live, February can be the ideal time to plant certain fruits and vegetables. You can work in someone's backyard or you can all pitch in for a plot at the local community garden. After getting your hands dirty for a morning, caravan to a delicious farm-to-table restaurant for lunch.
Host a Potluck - You don't have to be fancy to have fun. Invite all the gals to bring a dish to your place, and enjoy drinks and reminiscing in the comfort of your home. You can get dressed up, keep it casual or wear pajamas — it's all about having fun and feeling fabulous. Genius Tip: Organize the menu with an online sign up.
Cheer on the Home Team - Whether it's a minor league hockey game or college basketball game, gather the girls to support a local team. If you're alumni of a local school (college or high school), go out together and reminisce over concessions.
Have a Poker Night - This isn't just for the guys. Play cards and eschew all things romantic. Bonus points if you and your pals teach each other to play new games you haven't played before.
---
Recruit volunteers for a women's shelter with a sign up. SAMPLE
---
Plan a Card Exchange - Tap into the spirit of Valentine's Day by writing cards for each of your girlfriends letting them know how much you love and care about them.
Throw a Slumber Party - Have the girls bring their cutest PJs for an old-school slumber party complete with games of truth-or-dare, MASH, etc. The only thing not allowed: prank calling ex-boyfriends.
Animal Magnetism - Load up your besties and head to the zoo or an aquarium to take in some of Earth's coolest creations.
Go on A Road Trip - Whether you take a day to drive to the next town or a weekend to trek to a national park, a road trip with the girls is always a fun bonding experience.
Host Board Game Night - Have all the gals over for a grown-up evening of childhood favorites like Clue, Sorry! and Monopoly. Serve beverages and enjoy letting your competitive spirit out. If your friends are really into board games, you can try something more complicated like Settlers of Catan.
It doesn't matter if you're going out, staying in, celebrating with your best friend or your whole crew, Galentine's Day is a fun tradition all women can enjoy. 
Sarah Pryor is a journalist, wife, mom and Auburn football fan living in Charlotte, N.C.