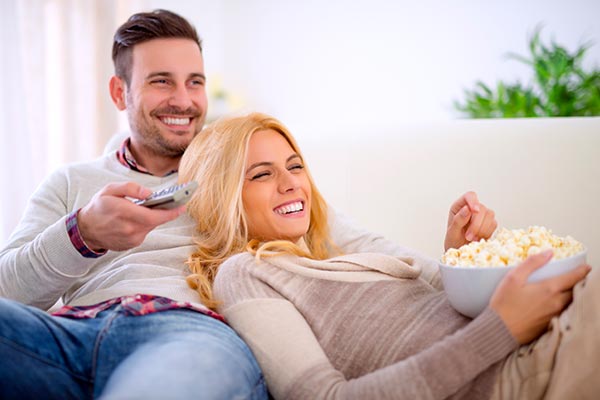 Valentine's Day is a great time snuggle up for a movie, whether with friends, the kids or a special someone. Though "best" is very subjective when it comes to movies, this list of 20 movies to watch for Valentine's Day are a good mix of quirky and cool, funny and sweet. Plus, they'll remind you of all there is to love about love.
Romantic Films
The Amazing Spider-Man
(2012)
While this movie hits many of the same beats as previous installments of Spider-Man, a bright spot is the romance between our hero and Gwen Stacy. The love story is engaging and believable and if your beloved likes action, this fits that bill also.
Ghost Town (2008)
Ricky Gervais is funny and sharp as a dentist with antisocial tendencies who wakes up from a surgery to find he is the only one who can interact with forlorn spirits who roam New York trying to set things right with those they love. You'll find yourself cheering him on in his misery and quest for freedom from the departed.
So I Married An Ax Murderer (1993)
I know, the title alone makes it questionable for a Valentine's list, but stay with me. A San Francisco poet meets his dream girl at the meat market, but could she also be wanted for murdering several previous husbands? If you like Mike Myers and hilarious slam poetry (woman, whoaaa man...) you will enjoy this unorthodox romantic comedy.
Return To Me (2000)
A heart transplant connects the lives of two strangers, but when they meet and begin to fall in love, the story begins to tangle a bit. This movie has a sweet old-fashioned feel to it and the bonus of a well-meaning meddling family that will help restore your hope in the power of love.
Breakfast at Tiffany's (1961)
The beauty and style of Audrey Hepburn is more memorable than the plot, but in short it's the story of two lovely drifters who wonder if they can find the fulfillment of their hopes and dreams in each other. This film will remind you how to be fashionable, fantastic and fall in love all at the same time.
---
Coordinate volunteers for your classroom Valentine's Day party. SAMPLE
---
While You Were Sleeping
(1995)
You find yourself deeply sympathetic to Sandra Bullock's character as she pines for a stranger, saves him from an oncoming train and then captivates this man-in-a-coma's family trying to sort out her good intentions gone wrong. A great cast of characters and wholly heartwarming, it's set at Christmas but great for Valentine's Day, too!
10 Things I Hate About You (1999)
Younger sister Bianca is forbidden from dating until her older, boy-hating sister, Kat, gets a date first. Cameron, a new student smitten with Bianca, devises a plot to get a date for Kat in this modern adaptation of "The Taming of the Shrew." A surprisingly clever script and strong performances make this movie a teen relationship stand out.
Chick Flicks
Julie and Julia
(2009)
Based on two true stories, these lovable women are strong yet sweet, and show us that with the right combination of determination and butter, you can accomplish your dreams. A great movie to watch while cooking up something delicious to enjoy afterwards!
Austenland (2013)
This quirky comedy lovingly mocks immersion travel experiences as the main character fulfills her lifelong dream to live in the times of Jane Austen. The costumes and setting are lovely, the humor is silly, and the romantic revelation at the end makes the whole crazy ride worthwhile.
13 Going on 30 (2004)
Sometimes getting to flash-forward from middle school to "30, flirty, and thriving" is a blast, but it also teaches you not to leave behind those who love you and know you best. It's a fun look at adulting through the eyes of a 13-year old with 80's nostalgia to boot!
Enough Said (2013)
A masseuse by trade, our leading lady befriends an ex-husband-hating client and simultaneously starts to date, you guessed it, the client's ex-husband. This movie had a limited release, so check it out for a grown-up movie at its best and most bittersweet.
Waitress (2007):
While the main character's choices may be misguided, her pies will delight you and her letters to her unborn baby will melt your heart. It has a great ensemble of female characters and teaches you when life gives you lemons - make lemon pie!
Decoy Bride (2012)
The romance in this film is both complex and comical when local girl Katie is asked to stand in as a decoy bride to throw off the paparazzi for the wedding of a famous actress. You'll love watching the eccentric relationships that bloom amongst the rocky crags of the Scottish island of Hegg unfold.
---
Plan a fun Valentine's Day movie night with yummy snacks and good friends. SAMPLE
---
Family Friendly
Cinderella
(Live Action Version-2015)
Director Kenneth Branagh sticks to the traditional tale so viewers can focus on the beautiful costumes and cinematography. You will once again find yourself enchanted by this story of triumphant love.
Toy Story 3 (2010)
As Andy prepares to head off to college, the toys are off on another adventure, this time escaping the clutches of toddlers at the local daycare. Great for the whole family, but if you have a high school senior at home, you will hug him a little tighter.
Enchanted (2007)
A fairy tale princess finds herself thrust into the real world in this movie that blends animation with live action and the storybook world with gritty New York City. There is some peril for our princess, but overall it oozes clever charm and great musical numbers.
Charlie and the Chocolate Factory (2005) (also Willy Wonka and the Chocolate Factory, with Gene Wilder)
What says Valentine's Day more than chocolate? While Mr. Wonka is a somewhat complex character with some family issues of his own, Charlie's own extended family shows the beauty of family love and underdogs winning the day.
The Princess Bride (1987)
This perennial classic has something for everyone: sword fights, revenge, good guys and bad guys, and some only-slightly-harmful torture thrown in for good measure. Great for seeing true love win the day and having a few laughs along the way.
---
Coordinate snacks for students to enjoy during the class Valentine's movie. SAMPLE
---
Belle
(2014)
Born in 1761 to a British Navy officer and an enslaved African woman, Belle is given a generous sum upon her father's death and compelled into a confusing world of high society and social limitations. A great film if you have older kids who enjoy a compelling historical film that also intertwines an uplifting love story.
Lady and the Tramp (1955)
Pampered dog Lady feels nudged aside when a baby joins the family, so she goes on a high adventure with a feisty pack of neighborhood purebreds and the lovable mutt Tramp. With amazing music and animation plus two dogs sharing one spaghetti strand ... nothing is more heartwarming than this classic.
Even if you are not a fan of heart-shaped candy boxes, it never hurts to indulge in a movie that explores the complexity and romance of relationships. I hope somewhere on this list you'll find a new favorite movie to warm your heart this Valentine's Day.

Julie David lives in Charlotte, N.C., with her husband and three daughters.