25 Fall Bucket List Ideas for Your Family
There's something magical about fall. The weather cools down, the trees put on a colorful show and everything feels cozier. Get in the autumnal spirit with these classic and creative ideas for your family's fall bucket list. 
Cheer on the Football Team - Whether you take a road trip to your alma mater or head down the street to the local high school, it's hard to beat the electricity in the air as the quarterback runs the ball in for a touchdown.
Ride a Bike - Dust off your old fixed-gear (or see if your city has a bike rental program) and enjoy a ride without worrying about the summertime sweats. Plan a route that stops at a favorite restaurant or ice cream place for the kids.
Plan a Nature Scavenger Hunt - Take the kids to the park or just head out into the yard to hunt for fall nature items like acorns and brightly colored leaves. Genius Tip: Try these 60 outdoor activities for kids.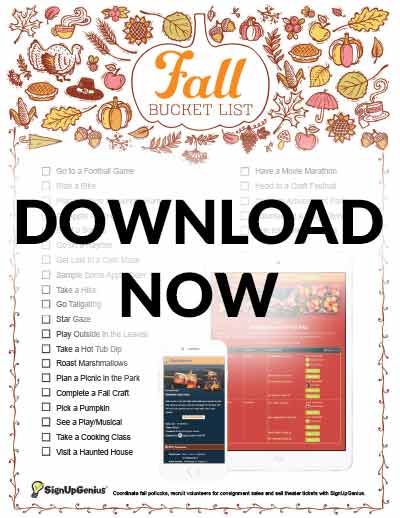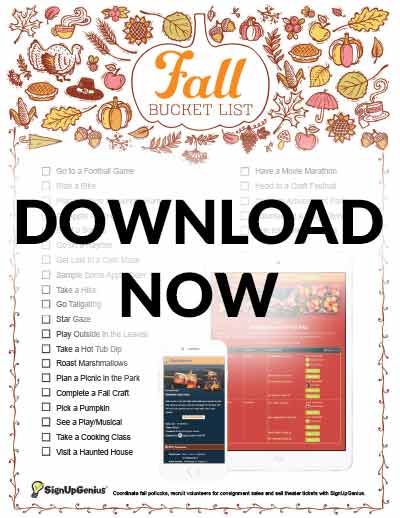 Go Apple Picking - Find a local orchard and bring a few baskets to stock up on yummy treats. Grandma's cobbler recipe will taste even better with apples you picked yourself. Just remember that apple picking season peaks earlier than you might think (September in most places), so get this one checked off early!
Build a Bonfire - When the temperature dips, cozy up next to a roaring fire. Invite the neighbors over and make it even more fun with a potluck invite. You'll love sampling favorite fall recipes.
Go on a Hayride - The whole family will love this quaint throwback activity. Find a local farm or a pal with a truck and some hay bales and get riding.
Get Lost in a Corn Maze - Gather your most directionally gifted pals and split into teams — or make it a family competition — to see who can find the exit fastest.
Sample Some Cider - The quintessential fall drink, apple cider is delicious warm or chilled. Get some pre-mixed or find a recipe online and make it yourself. It's a great chance to teach your kids how to measure ingredients!
Take a Hike - Pack your backpack and head out into nature to enjoy the changing leaves and crisp autumn air. Go online to find trails that are as easy or as challenging as you can handle. Pack a fall picnic if you plan to be out for more than an hour or two.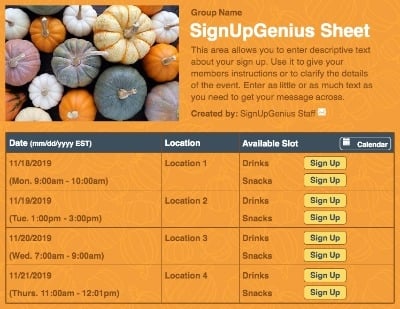 Go Tailgating - Get to your favorite sporting event early and enjoy grilling hamburgers, drinking fall beverages and hanging out with family and friends. Genius Tip: Use these 20 tips for a winning tailgate recipe.
Star Gaze - Once the sun goes down, grab a blanket and the family and check out the night sky. Use your phone's app store to find apps that can help you identify constellations, satellites, planets and other points of interest.
Play Outside - Fall is the perfect time to enjoy yard games like corn hole and Frisbee golf or build a huge leaf pile. You can also teach the kids some classics like kickball. Genius Tip: Try these 20 outdoor games for your backyard party to up the fun.
---
Collect RSVPs for a pumpkin patch trip with a sign up. SAMPLE
---
Take a Dip - Plunging temperatures make fall a fantastic time to enjoy relaxing in a bubbling hot tub. If you don't have easy access to one, book a staycation in a local hotel.
Roast Marshmallows - Even though they're typically best enjoyed on a stick and roasted over a fire, you can also roast over a stove eye or even in the oven. Make sure to have graham crackers and chocolates ready for s'mores. Pair with some hot chocolate or apple cider.
Plan a Picnic in the Park - Bring a blanket and some sandwiches and dine al fresco in a local park. Be sure to pick an area far from anyone playing sports so you don't accidentally take a Frisbee to the face!
Complete a Fall Craft - Whether you're doing leaf art or even candle making, get your kids involved with a fun project they can proudly display on the mantel or fridge for the season.
Pick a Pumpkin - No fall bucket list would be complete without this item. Find your perfect future jack-o-lantern at a local farm or even a roadside stand. You can cheat at carving elaborate shapes by taping a stencil to the pumpkin and cutting around it.
See a Play/Musical - Feel like being inside? Check out the community theater or high school for an evening at a fall musical or play. Many groups are putting on the classics this time of year.
---
Schedule volunteers for a fall rummage sale with a sign up. SAMPLE
---
Take a Cooking Class - Prepare to dazzle your family at Thanksgiving with a new dish. Look online for schedules of local businesses and restaurants — some may even host kid-friendly classes.
Visit a Haunted House - Get a good scare at a haunted house, but make sure it's age-appropriate before you bring the kiddos. Sometimes local schools and other groups will put on their own haunted house attractions for charity.
Have a Movie Marathon - As Halloween approaches, pick out classics like Ghostbusters or Hocus Pocus and plan a family movie night, complete with caramel popcorn, apple cider and maybe even a few Halloween treats.
Head to a Craft Festival - Fall's seasonal plants like gourds and cotton are beautiful additions for your home decor. Head to a local craft festival to find fall wreaths, centerpieces and more made by talented artisans.
Go to an Amusement Park - Summer's long lines will dwindle when the kids go back to school. Enjoy one last day of riding roller coasters before the park closes for the season.
Volunteer at a Soup Kitchen - With the holidays approaching, many charities need extra volunteers. Take the kids along to teach them a lesson about philanthropy and appreciating what they have. Genius Tip: Try these kid-friendly volunteering ideas this fall.
Run (or Walk) in a Race - Slightly cooler temperatures mean no more excuses for not getting outside and exercising. Find a local nonprofit holding a 5K race or a fun run, sign up and start training.
Whether you love the great outdoors or want to linger inside by the fire, fall has something for everyone. Start checking off some items! 
Sarah Pryor is a journalist, wife, mom and Auburn football fan living in Charlotte, N.C.