50 Classic Children's Books to Read with Your Family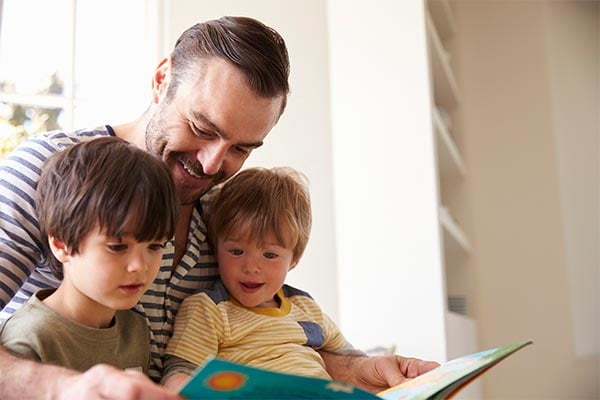 Snuggling up with a good book is an essential part of a family's nightly routine. Whether you're looking for a book to read aloud or need a suggestion for your burgeoning young reader, these classic books and series will instill a love for literature.
Classic Books
Alexander and the Terrible, Horrible, No Good, Very Bad Day (by Judith Viorst) - This is the perfect book to whip out anytime your child comes home from a bad day at school. It's also a great reminder that in the grand scheme of things, maybe our day wasn't that bad after all.
Charlie and the Chocolate Factory (by Roald Dahl) - This classic has so many amazing lessons packaged in one book, but ultimately teaches us the importance of being selfless and putting others ahead of ourselves.
Charlotte's Web (by E.B. White) - This sweet book may require you to keep a pack of tissues handy. It's such a touching story of life changes, growing older, friendships, death and the circle of life.
Chicka Chicka Boom Boom (by Bill Martin Jr.) - What a fun book to have sitting on your shelf. Its rhythm, rhyme and colorful illustrations make learning the alphabet so much fun.
Cloudy with a Chance of Meatballs (by Judi Barrett) - A fantastical book with great illustrations and humor that will make your children laugh out loud.
Corduroy (by Don Freeman) - This story about a fun-loving little store bear is one that everyone needs on their bookshelves. It's a classic, fun read that all children will love.
The Giving Tree (by Shel Silverstein) - This story of selflessness, love and giving is one that every child needs to read. The Giving Tree is a book for all ages and a simple reminder of the joys of giving to others.
Goodnight Moon (by Margaret Wise Brown) - This classic bedtime book is one you can read to your children as babies and again as pre-schoolers because of its simple message.
Green Eggs and Ham (by Dr. Seuss) - This is a great book to break out anytime your children struggle with trying new foods and learning new things. Dr. Seuss always makes complex topics so simplistic and so much fun to learn and teach.
Gulliver's Travels (by Jonathan Swift) - There are also many children's adaptations of this book, and it is a great read for young minds who love travel and adventure.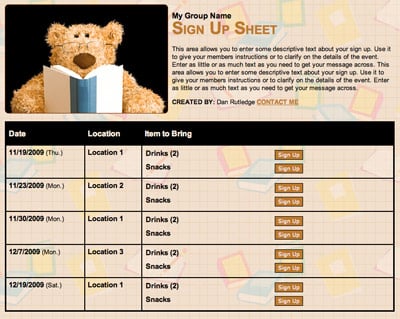 ---
Plan a neighborhood book drive with an online sign up. SAMPLE
---
Harold and the Purple Crayon (by Crockett Johnson) - Harold is a must-read for pre-schoolers. It teaches so many wonderful lessons about creativity, imagination and finding a way. This book is great for children starting school or beginning new adventures.
If You Give a Mouse a Cookie (by Laura Numeroff) - This short children's book teaches kids the importance of cause and effect. It also teaches them about responsibility and the consequences that are associated with their actions.
Llama Llama Red Pajama (by Anna Dewdney) - The rhymes and comedy are adorable. This is a book that will keep you coming back time and time again. You may need to hide it from your children once they read it or you'll be reading it every night — sometimes twice a night.
Love You Forever (by Robert Munsch) - A great reminder of a mother's love, and that no matter how big we get, our mother will love us unconditionally.
Mike Mulligan and His Steam Shovel (by Virginia Lee Burton) - This classic teaches us so many lessons about never giving up, finding ourselves and persevering.
Mama, Do You Love Me? (By Barbara M. Joosse) - Moms and dads might like this one even more than their children. It's such a fun book about a parent's unconditional love for their children. It teaches children that no matter what you do or where you go, a parent will always be right there with open arms and a loving heart.
On the Night You Were Born (by Nancy Tillman) - Celebrate the uniqueness of each child, making them feel special and loved. Children of any age will appreciate this story — pull it out if your child is feeling down on herself.
Oh, the Places You'll Go (by Dr. Seuss) - Take this out for every milestone, every accomplishment and every award. It gives you the confidence you need to go out and conquer the world no matter how big or small you are.
Pete the Cat: Rocking in my School Shoes (by Eric Litwin) - A great book for pre-schoolers who are getting ready for kindergarten. Its fun, catchy rhymes are sure to have you "rocking in your school shoes" too.
The Rainbow Fish (by Marcus Pfister) - A work that teaches us all that unique is beautiful, and our differences are what make us so beautiful. Such a great book to have on your bookshelf no matter your age.
Runaway Bunny (by Margaret Wise Brown) - A sweet reminder to children everywhere about a mother's unconditional love for her children.
Rikki Tikki Tavi (by Rudyard Kipling) - This book is a moving story about pets and their love for their humans. It's a great story about family and their bonds with their animals.
The Best Christmas Pageant Ever (by Barbara Robinson) - You're guaranteed to laugh out loud. As a parent, it becomes even more of a treasure because at times we all think our children are acting like the Herdmans.
The Elves and the Shoemaker (by Eric Suben) - Teach children the importance of giving back and giving to those in need. A heartwarming story.
The Giant Jam Sandwich (by John Vernon Lord) - Your children will ask to hear this one over and over. It's a great story on how a town can come together to overcome problems.
The Little Engine that Could (by Watty Piper) - The ultimate story on thinking positive and the value of hard work.
The Store-Bought Doll (by Lois Meyer) - You will treasure this book because it teaches children that new and shiny isn't always better.
The Sword and the Stone (by T.H. White) - This book truly has it all: fantasy, myth, legend, imagination and magic. It teaches us to believe in ourselves above all else.
The Velveteen Rabbit (by Margery Williams) - A classic for any home library. This treasure teaches us all about the importance of love.
The Very Hungry Caterpillar (by Eric Carle) - A book that literally brings the caterpillar to life. The colors and illustrations are amazing, and this is such a fun book to read to your children.
Tikki Tikki Tembo (by Arlene Mosel) - A good origin myth story that is a great selection to read to your little ones at least once.
Watership Down (by Richard Adams) - A book has so many great themes, including leadership and political responsibility. It is a great read for any middle-schooler.
Where the Wild Things Are (by Maurice Sendak) - Bring any child's imagination to life with this classic. It's such a fun way to get your child's creativity flowing.
---
Organize a book-themed birthday bash with an online sign up. SAMPLE
---
Must-Read Series
Diary of a Whimpy Kid (by Jeff Kinney) - A great series for middle-schoolers going through that awkward stage of life.
The Mouse and the Motorcycle (by Beverly Cleary) - Great for elementary school kids. It reminds us of the love and trust between pets and their humans.
Tales of a Fourth Grade Nothing (by Judy Blume) - This book portrays sibling rivalry at its finest. It teaches us the bond between family and takes us on an adventure through family life. It's the first in the Fudge series.
Harry Potter (by J.K. Rowling) - The blockbuster series about a young boy who discovers his wizarding powers and magical destiny is so much fun to read as a child and again as an adult. Rowling takes us to another world that we can actually see ourselves living in. She leaves us hoping for more after every book.
The Chronicles of Narnia (by C.S. Lewis) - Faith, fantasy, love and adventures: This series truly has it all. C.S. Lewis is a brilliant writer, and these books touch on so many themes of life.
Amelia Bedelia (by Peggy Parish) - A funny series that teaches us the importance of not taking ourselves too seriously and about laughing at ourselves and being patient with others.
The Berenstain Bears (by Stan and Jan Berenstain) - Another great series about family, siblings, love, laughter and life lessons. Great for little readers.
The Boxcar Children (by Gertrude Warner) - Elementary school children will devour this series. The collection takes you on the adventures of four orphaned children and their life lessons along the way.
Pippi Longstocking (by Astrid Lindgren) - Pippi is a girl we all relate to in some way or another. Plus, she's always up to fun adventures.
---
Organize a school book drive with an online sign up. SAMPLE
---
Nancy Drew series (various authors) - These are the best detective books around. Read them to your younger children, then reintroduce them as they start to become stronger readers in elementary school.
The Tales of Peter Rabbit (by Beatrix Potter) - A must-read series. Peter Rabbit teaches us so much about being young and mischievous, as well as learning from our mistakes.
Ramona Quimby (by Beverly Cleary) - Another good one for elementary school students. An entertaining series about growing up and family ties.
The Babysitters Club (by Ann M. Martin) - This diverse group of girls will teach your child about navigating through friendship and family, as well as how to be a go-getter and start a business. You'll reminisce about the days of landline phones.
Winnie the Pooh (by A.A. Milne) - Your children will get attached to these fun loving, silly characters. A great pre-school series for little readers.
Sweet Valley High (by Francine Pascal) - This series teaches us about high school, and, more importantly, the importance of siblings. Your child will probably wish they were a twin after reading this.
Junie B. Jones (by Barbara Park) - Junie B. Jones is such a great series for young readers — especially kindergartners. Her funny misadventures are so great for little readers.
Time Quintet (by Madeleine L'Engle) - A remarkable fantasy/science-fiction series for young adult readers. A story for those who have big imaginations and ideas about how to save the world from evil.
Browse this list, and start checking out your favorites from the local library. Story time is bound to get more exciting.
Christina Kaemmerlen is a journalist, burrito lover, Tar Heels sports addict, manic mom and loving wife living in southern suburbia.
Additional Resources
50 Classic Books to Read this Summer
50 Ways to Make Reading Fun to Your Child
Summer Reading Program Tips and Themes