40 Fall Festival Ideas and Themes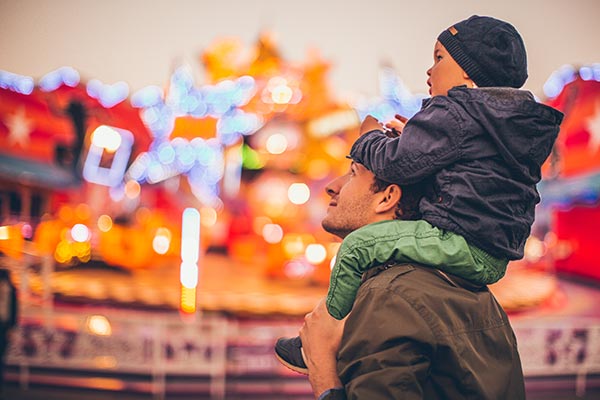 The weather is getting cooler, the holidays are just around the corner and everyone is feeling festive. A fall festival is a great way to celebrate the crisp new season with lots of favorite traditions and ideas to get everyone involved.
Festival Themes
Traditional Fall Festival - If you live in a place where the leaves change colors, you have a scenic opportunity to gather people to enjoy nature's beauty. Include an arts and crafts station for kids (you can use leaves as part of the craft), good music and of course some good apple cider.
Neighborhood Halloween Party - Create a hay bale maze, encourage costumes, and if you really want to wow the neighbors, have someone turn their garage into a haunted house.
Trunk or Treat - This is a great alternative for anyone who doesn't feel comfortable sending their kids door to door for Halloween. The event often occurs in church or school parking lots where cars line up, adults dress up and kids visit trunks to trick or treat. Make sure it's just as much fun by awarding prizes to the best decorated car trunks.
Movie Night on the Lawn - The first nights of fall are perfect for grabbing a blanket and cozying up in the grass to watch a movie on the big screen. Don't forget the popcorn!
Chili Cook Off - This is every chef's chance to shine — and the rest of us get to enjoy the fruits of their labor. Invite local celebrities to judge the contest and make sure to include categories like spiciest and best overall. Offer saltine crackers, oyster crackers or a toppings bar with options like cheese, bacon, sour cream and guacamole.
Food Truck Rally - There's just something fun about grabbing your meal from a kitchen on wheels. Invite a handful of the most popular trucks in town to come together in a central location. Make sure to include a dessert truck!
Pie-Palooza - From sweet potato pie to pecan and chess, pretty much everyone likes a creative piece of pie. Invite local chefs and home bakers to enter the contest.
Oktoberfest - You don't have to serve beer to have a good Oktoberfest! Cook up German sausages on grills outside and serve soft pretzels, potato salad, root beer and apple strudel on the side. Decorate with the traditional Oktoberfest colors (red and blue) or the colors of the German flag (black, red and yellow). Hire a DJ and teach kids how to dance the polka.
Around the World - Set up stations where guests can visit different countries. Each station should have the flag of the country and favorite food. You can even create a festival passport for people to get stamped at each stop.
Pet-palooza - Man's best friend takes center stage at this gathering celebrating all things Fido. Invite area shelters to bring pups that are up for adoption, local dog bakeries to bring treats, and of course encourage costumes for the pet parade.
Blues and BBQ - Combine two favorites with a BBQ festival and live blues music. Invite home cooks to compete with their best BBQ dishes and have local restaurants set up shop. Don't forget the napkins!
---
Sell tickets and coordinate fall festival volunteers with a sign up. View an Example
---
Activities
S'mores - Gather around a fire, grab a bag of marshmallows, some graham crackers and chocolate bars and you have everyone's favorite fall treat — s'mores! If you can't get to a fire, you can cook up a s'mores pizza: bake crust, top with lots of chocolate and marshmallows.
Scarecrow Making Contest - Practically considered the mascot for fall, a scarecrow will keep the birds away and the kids entertained when they build one. Make sure to have hay and some old clothes on hand.
Face Painting - This is pretty much a requirement for any festival the kids will be attending. Up the ante by bringing in a professional artist to paint faces. (And encourage people to pop in the photo booth to show off their artful faces.)
Music - Make sure to set the vibe for the party by creating a playlist full of music perfect for the season. Consider including bluegrass, folk and Americana tunes. You may even want to splurge on a live band.
Apples on a Stick - Put a spin on the classic caramel apple by placing apple slices on sticks so guests can sample all their favorite flavors. Get creative with topping combinations by including sprinkles, chocolate chips, cookie crumbs and dipping sauces.
Chili Bar - Set up a chili bar! Give guests different options such as mix-ins or use chili as toppings for hot dogs, potatoes and more.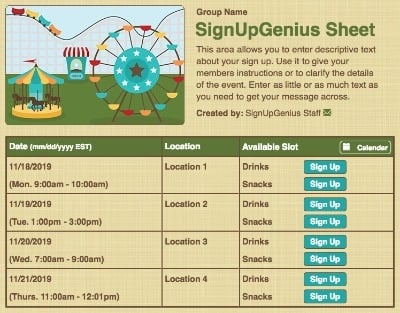 Fall Candy Grab - Set up a candy bar featuring only candy containing fall colors. Start with candy corn then grab Reese's peanut butter cups, Reese's pieces, Twix bars, Kit Kats, M&M's and more. (Anything yellow, brown, orange or red will work.) Don't forget small baggies for people to fill and a serving utensil.
Say Cheese! - A photo booth is a fun way to document the day. You can splurge on a professional one or create your own using fun fall props. Genius Tip: Get inspired with these 100 photo booth prop ideas.
Cookie Exchange - We usually wait until Christmastime to do a cookie exchange, but help bakers get ready by having a cookie swap booth where home chefs sign up to compete for making the best cookie. Festival attendees can judge by eating their way through the event.
Costume Carnival - One more chance for the kiddos (and parents!) to dress up. Offer prizes for the best costumes (include fun categories like best homemade, most original and most outlandish).
Art - Invite local artisans to set up shop and sell their wares. It's a good way to add some culture to your festival while providing up and coming artists with a chance to shine.
Pumpkin Carving Contest - Have teams (or individuals) enter to see who can come up with the best design.
Pumpkin Patch - Every family loves a good fall photo opp. Make sure to have lots of pumpkins for posing and even some plaid shirts on hand to really dress for the occasion.
---
Collect raffle basket donations with a sign up. View an Example
---
Games
Scavenger Hunt - Design a hunt that makes sense for your event. It can include things relevant to your company or organization or could focus on fall items (think pumpkins, parts of a Halloween costume and even changing leaves). Genius Tip: Check out our 100 scavenger hunt ideas and tips.
Obstacle Course - An obstacle course always gets your heart racing — whether you're competing or cheering friends or family members on. Get creative using everything from pool noodles to buckets, cones and more. Turn household items into challenges to make for a fun obstacle course.
Tug of War - This is a good way to get a lot of people involved in a good old-fashioned game. All you need is a long enough rope and enough willing participants.
Pumpkin Ring Toss - Put a fall twist on the old classic by using pumpkins and hula hoops to make this ring toss fun for everyone.
Mummy Wrap - Each team has a designated mummy and the rest are the wrappers. Make sure to have lots of toilet paper on hand. Give people a minute to wrap as much as they can and the team with the most wrapped mummy wins.
Spooky Substances - Put different textured foods in non-see-through containers and ask kids to guess what they're touching. (You can use peeled grapes as eyeballs, chopped liver as brains, etc.) Don't forget the hand sanitizer!
Sack Races - Make sure to have giant potato sacks on hand (you can use pillowcases too) and encourage teams of at least four to compete. The first to hop across the finish line wins.
On the Hunt! - Much like an Easter egg hunt, hide tiny pumpkins and have the kids search for them. To make things interesting for the adults, decorate the pumpkins with different dollar amounts and offer that cash as a prize.
Pumpkin Bowling - Set up pins at the end of an alley made of hay bales and use a pumpkin as a bowling ball. Let the laughter ensue.
Pumpkin Rolling - It sounds easier than it really is. Divide kids into teams and each contestant on the team has to roll a pumpkin down a lane and back. The first one with the entire team across the line wins. (The fun comes from the fact that pumpkins are not perfectly round and not easy to roll!)
Over Under - Most of us played this as kids, but probably with a ball instead of a pumpkin. Line teams up and the first person has to pass the pumpkin over their head, the next under their legs until the pumpkin gets to the end. It's much harder using a pumpkin!
Games People Play - Go old school and set up all the classics for families to enjoy. Find a giant Jenga set, an oversized connect four and so on. Include all the fun board games — from Battleship to Bingo, Monopoly and more.
Music - Make sure to set the vibe for the party by creating a playlist full of music perfect for the season. Consider including bluegrass, folk and Americana tunes.
Bobbing for Apples - It's not a fall festival if you don't have this fun activity that can work for kids and adults. All you need is a bucket of clean water and a bag of apples.
Office Trick or Treating - This is a fun way to give co-workers a quick break and a chance to mingle. Ask employees to bring in candy that will be at their desk the week of Halloween. You'd be surprised how a favorite candy will encourage people to visit each other's desks for something other than work. Great for morale!
Office or Cubicle Decorating Contest - This is another easy and fun way to liven things up at the office and get everyone in a good mood. Encourage staffers to decorate for Halloween and then reward the best cubicle owner with a fun prize.
Fall festivals can be a great way to get outside and bring people together — make sure to grab some hot chocolate and a sweater to enjoy!
Michelle Boudin is an investigative reporter for WCNC TV and a freelance writer.