College Application Checklist
Applying to college can be a very stressful time for students and their parents. Ease your stress by keeping your notes organized and deadlines in order with this checklist!
Before Applying
Even before applications are open, there are a few things students can start doing to help them get on track and set themselves up for success.
Get Involved - Start looking into school clubs and extracurricular activities like theatre or sports to follow your passions and catch the eye of college admissions.
Enroll in AP Classes - While the workload may be more than you're is used to, Advanced Placement courses can excel learning and help students place out of courses after they are admitted to college.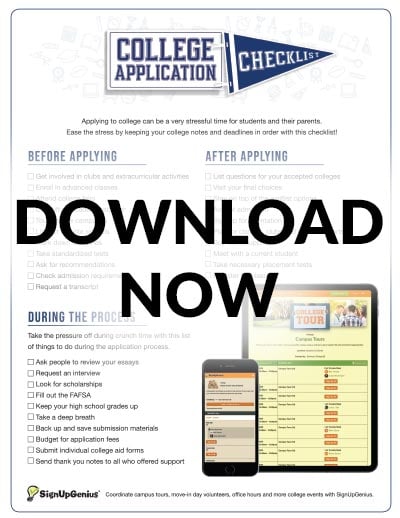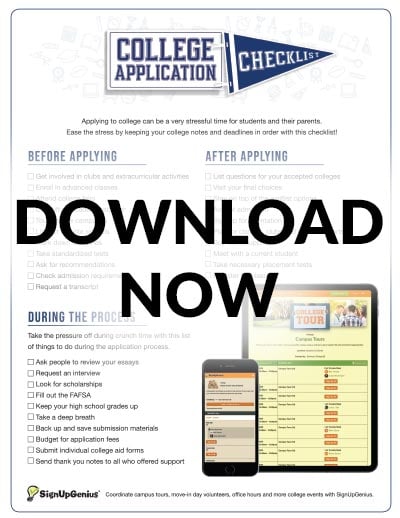 Go to College Fairs - Get a feel for the college world and what type of school might be the best fit for you by talking to college reps. These people can be valuable contacts for any college-related questions. Genius Tip: Take a look at these 25 questions for college reps to get some ideas about what questions you could be asking.
Consult your Advisor - Find a friend in one of the advisors at your high school. They are there to help you through the college application process and their wealth of knowledge on this topic can serve as a great resource to help you decide which college suits you.
Visit Colleges - After you choose which colleges you might be interested in, take a trip to see the schools and learn firsthand about the campus culture.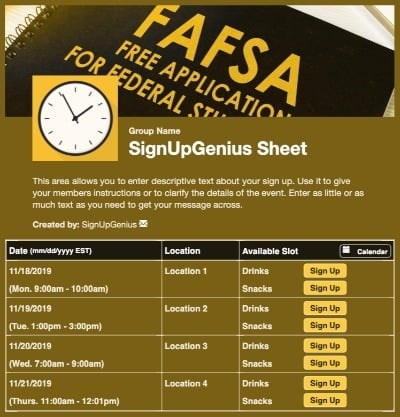 Make a List of Your Favorites - As you learn about colleges, it's good to keep a spreadsheet with pros and cons for each, along with any other important information like tuition and top major departments.
Mark Down Deadlines - Create a calendar and write down all the important application deadlines that your colleges of choice have on their websites. Use different colors and include some doodles or drawings to help lessen your stress.
Take Standardized Tests - Pencil in the ACT and SAT to get a head start on getting your best score on these tests. Both are not required for all colleges, but you might want to try out both to see which one is the best test for you. Don't forget to submit your scores during the application process!
Ask for Recommendations - It's never too early to ask a couple of your teachers to start writing your college recommendations. Pick teachers that you have formed an academic relationship with and ask early so they can get ahead of their workload.
Check Admission Requirements - Take note of all the required documents and submissions that are necessary for the common app and supplemental material. When it gets down to crunch time, you'll be glad you already had all your documents ready to submit. Genius Tip: A lot of colleges have their own essay topics as a part of their application. Practice writing essays and get ahead with these 35 college essay prompts and topics.
Request a Transcript - Send in a request for your transcript early so your school has enough time to send you a copy before application deadlines. Then you can send off your academic record to colleges to make sure they have all your materials.
---
Get a study group together with a sign up. View an Example
---
During the Process
Take the pressure off during crunch time with this list of things to do during the application process.
Revise, Revise, Revise - Once you draft your college essays, give them to anyone and everyone to proofread and give honest feedback. Your essays can help you stand out from the large pool of applicants, and your teachers and friends can give you their thoughts to help you improve your essays.
Ask for an Interview - Contact the admissions office and request an interview even if they do not normally hold them. This can set you apart from the average applicant and show your willingness to take the extra step to show your interest! Genius Tip: Practice and prepare to nail your interview with these 40 college interview questions students should expect.
Look for Scholarships - Look at all types of organizations to see if you can find a little extra help for financial aid. Check out foundations, community organizations, local businesses and civic groups to find opportunities to help you pay for college.
FAFSA - Fill out this application to apply for federal student aid. This easy process is a large resource to pay for college.
Keep up the Grades - While applying to college can be hectic, be sure to keep spending time on classwork and doing well in your last high school classes. This can be a make-or-break point to get off a waitlist!
Take a Breath - Take a much-needed break from applications and deadlines to spend some time enjoying your current environment. Go on a walk around your neighborhood or get food with friends to take a mental breather. Genius Tip: For more ideas about how to minimize stress, check out these 22 stress management tips for college students.
Back Up and Save Submissions - It's always beneficial to have evidence of all your applications in case technology snafus occur. With good paper records (or backing documents up on an external hard drive), you'll be able to keep track of all your submissions and have a backup plan.
Application Fee - After you pay the application fee, you officially submit your application! If costs are keeping you from submitting applications, speak to your college guidance counselor or reach out to the financial aid office to receive a fee waiver.
Submit Aid Form - The colleges you've applied to are great resources to receive financial aid from. Simply fill out the forms they provide and submit them before the deadline to apply for aid.
Thank You Notes - Write thank you notes to all the people who helped you through the application process. Whether it was your guidance counselor, teacher or interviewer, these people will appreciate you taking the time to thank them for the part they played.
---
Coordinate campus tours with a sign up. View an Example
---
After Applying
You've done the hard part, and now it's time to finish strong and make decisions. Take a look at these ideas to help you finish the application process and begin taking steps towards life as a college student!
Think of Questions - Make a list of questions that you have about aspects of the universities you have been accepted to. The answers may help you make a final decision and find the best school for you.
Visit Final Choices - Once you are accepted, visit your top choices once again to get another take on the different atmospheres at each college. This experience can ultimately help you decide where you feel yourself fitting in and finding success.
Waitlist Options - Visit, call and write the admission office to make sure your interest is clear. Ask how you can strengthen your application so you can show that you are ready and willing to show improvement.
Accept Admission - Choose the institution that is the best fit for you and where you feel you will enjoy the next stage in your life. Hit the accept button and send in the deposit to secure your spot for the upcoming year.
Sign Up for Orientation - Once you've chosen your final destination, sign up for orientation so you can get a proper introduction to your new adventure as a college student!
Start Planning - Begin the fun and start planning out what you want to do at your new college. Look up classes, clubs and favorite spots around campus to be prepared to enjoy some of the best years of your life.
Buy Dorm Supplies - Purchase new items to spruce up your future living area on campus. Don't forget to leave some space for some things from home to have a reminder of loved ones. Genius Tip: We've got you covered with these 50 college dorm room ideas and tips. Start planning now!
Meet with a Student - Reach out to students who are attending your future college to get some tips and tricks on student life. Ask for food, academic and social recommendations to get a head start on exploring campus.
Placement Tests - Before the fun can begin, make sure to take any required placement tests by the required date so you can know which classes to enroll in.
Register for Classes - In the last step before move-in, register for your classes as this will kick off your time as a student. Test the waters by taking classes on topics you might be interested majoring in and remember to have fun!
While this process can be a little stressful, it's important to take time to enjoy the ride. With these tips, you'll be on your way to attend your dream college!
Celine Ives is a college student who enjoys playing field hockey, cuddling with her dog and cheering on her Carolina Tar Heels.