Tips for Scheduling Client Appointments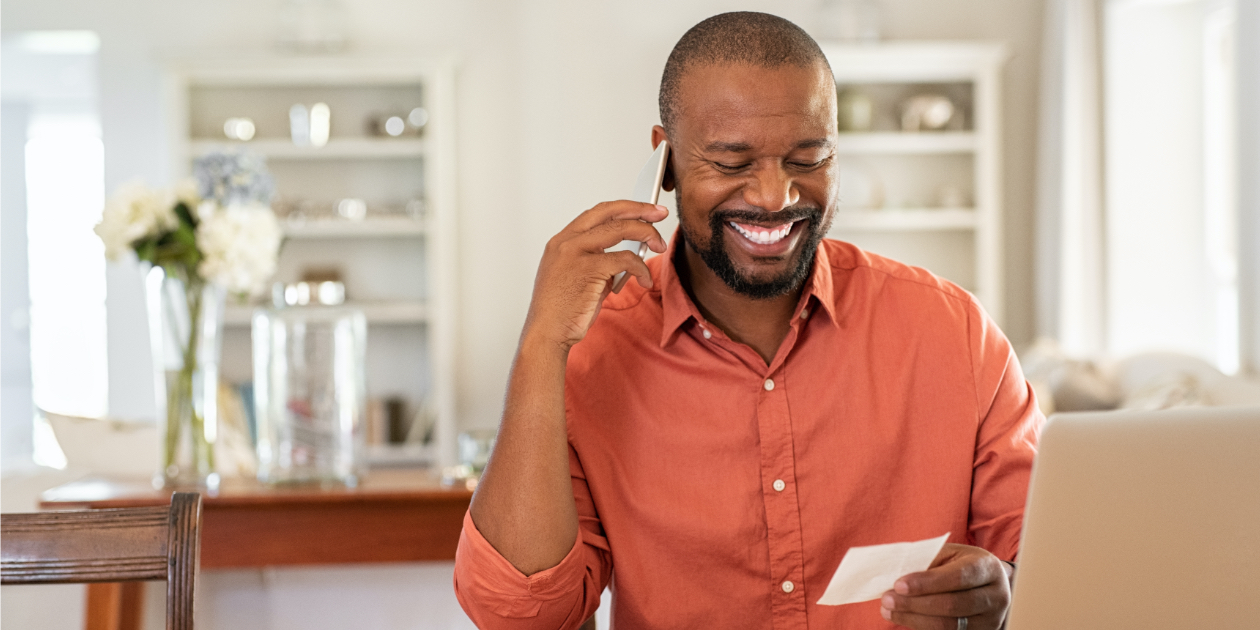 Coordinating appointments requires a high level of organization, so setting up an effective scheduling system for clients is essential. Check out these ideas to help prevent common scheduling challenges with SignUpGenius.
Common Problems & Solutions
Paper calendars get messy and are hard to keep organized. An online service takes the stress out of appointment scheduling for both you and your clients. See how Olympic Silver medalist Paul Wylie coordinates appointments for skating lessons.
Phone tag is time-consuming. Online scheduling eliminates the awkward phone tag with clients during business hours. If your customers have the option to schedule with you 24 hours a day, seven days a week, they're likely to use your service more often. Genius Tip: Tools such as SignUpGenius are perfect for easy appointment booking? Need a more robust Enterprise scheduling tool? Check out TimeTap - a solution trusted by major corporations.
Scheduling with multiple people is even more time-consuming. When proposing appointment times, offer 2-3 options your potential customers are likely to be happy with, especially if the meeting involves more than one participant.
Clients cancel at the last minute. Consider including your cancellation and no-show policy in the descriptive text of your sign up, so your clients will know your policies prior to scheduling an appointment. With our sign up locking feature, you can lock slots based upon dates to prevent last minute cancellations.
You have too much information in too many places. A reliable calendar system will make your schedule accessible whether you are at a desk or on the move. Consider using a calendar that links with your computer and smartphone.
Clients worry about security and privacy when scheduling. When creating your sign up, you can customize privacy settings to choose the right level of security. For instance, you can hide the names of clients when they sign up for appointments. Check out this genius hack to learn more about hiding names on sign ups.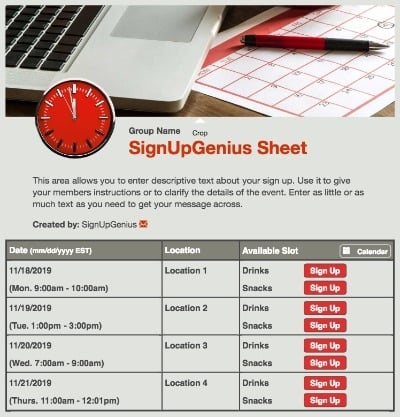 You need a better system to keep track of payments. You can collect payments for appointments at the same time that people sign up using SignUpGenius. This helps to simplify record-keeping and ensure timely payment for services.
The details get lost in communication. Make sure clients know what to expect and are prepared for the appointment by using our custom notification feature to generate an automated email with a custom message from you, after clients reserve a spot on your sign up. These notifications are a great place to share essential details such as items to bring and parking information.
No shows happen. No shows are frustrating and result in lost time and revenue for small business owners, so ensure you have a consistent reminder system in place. Genius Tip: SignUpGenius helps to keep people accountable by sending automatic reminders for appointments and meetings, and you can customize reminders via text and email.
Rescheduling is a chore. Say you sent a text or email reminder and an individual still didn't show. Make it easy for them to reschedule by posting open appointments slots that they can choose from.
Set up photo sessions for clients with an online sign up. View an Example
Take Your Scheduling to the Next Level
Get the most out of your sign ups with SignUpGenius' must-have tools and advanced Premium features.
Make it easy to schedule and check appointments on the go. An online schedule means your clients can sign up from any device user-friendly technology. Individuals can also check the sign up at any time to see their responsibilities. Encourage clients to install SignUpGenius mobile on their device for an even easier experience.
Choose a strategic time for your sign up schedule to go live. Consider when your clients are more likely to be available, such as early evening, so they are more likely to check their schedules and book an appointment. Genius Tip: SignUpGenius Premium offers a start/stop feature that allows you to set when a sign will open and close.
Share your calendar in several places. Once your online sign up has gone live, you can post your sign up link on your own website, social media accounts and client newsletter. Place in a prominent spot for easy accessibility.
Have clients fill out paperwork ahead of time. If your clients need to fill out forms or sign a waiver, sending them ahead of time makes the check-in process quicker at appointment time. Genius Tip: You can add an attachment to your sign ups with SignUpGenius Premium.
Sync up. Streamline your scheduling process so your calendar is updated automatically. SignUpGenius Premium offers a calendar syncing feature so all appointments booked on your sign ups are added to your personal digital calendar.
Simplify your sign ups. Help clients easily see available slots on your sign ups so they can reserve their appointment quickly. Genius Tip: You have the option to hide past dates with SignUpGenius Premium, enabling a user-friendly view for appointment makers.
Crunch the numbers. Easily check how many appointments are filled and available on the reports and stats page of your sign up. You can also track how many people visit your sign up.
Explore your options. Know what opportunities are best for your scheduling needs. SignUpGenius Premium has several convenient levels featuring advanced features such as assigning multiple administrators, designing custom sign ups and organizing multiple sign ups with a tabbed layout.
Want to know how to choose the best scheduling software for your needs? View This Guide
Don't Forget to Follow Up
Get the word out. After appointments, consider sending clients home with a coupon to share with friends or family and offer incentives for referrals.
Show your gratitude. Send a follow-up email from your sign up account to thank clients after their appointments. This thoughtful gesture will build a connection with your clients and help you develop meaningful relationships with them.
Online scheduling can save valuable time each day that you can spend on the things that matter most to you. No matter what appointment scheduling tool you choose, be sure that it has enough features to meet your needs.
Sara Kendall is a freelance writer and mom of two daughters.
Check out this helpful guide: How to Choose the Best Scheduling Software for your Business.