25 Company Event Ideas to Boost Morale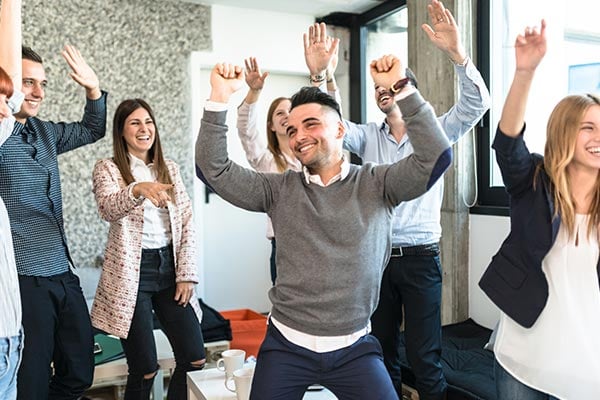 Happy employees will work harder. You don't need a study — though there are many — to know that. So how do you make your workers happy? From offering company learning days to bringing in a marching band (yes, tubas and all), try these 25 ideas to boost morale.
Ongoing Events
Host a Weekly "Best of" Contest - Pick a different theme each week for "company spirit" competitions. Co-workers can vote for colleagues in fun categories like most creative pitch, best dressed or best-looking desk. You can also throw in seasonal ideas like most ready for fall or most holiday spirit. Feature photos and fun captions in the company newsletter or weekly update.
Send out a Monday Motivation - Include highlights from people's recent successes on and off the job. Who just had a baby? Who just got back from the trip of a lifetime? Who just beat the company's sales goal for the quarter? Include a fun mix of personal and company milestones.
Give Employees a Day Off for a Passion Project - Think about instituting this on a quarterly basis. Maybe someone has always wanted to be a rock star and they use the time to take drum lessons or someone takes the painting class they've never had time to schedule. Being creative with personal passions can help energize and give purpose to daily work.
Plan a Bakeoff - Nobody likes Mondays — unless there are treats waiting for them. Host a bakeoff on the first Monday of the month. The weekend gives people extra time to whip up their best concoction, and then the whole office gets a break from the Monday blues when they sample every last chocolate chip cookie.
Host Weekly Lotteries - Change up the prize on a regular basis. Offer tickets to a concert, a show at the local theater, restaurant gift cards or movie tickets. Make it different so people stay interested in participating.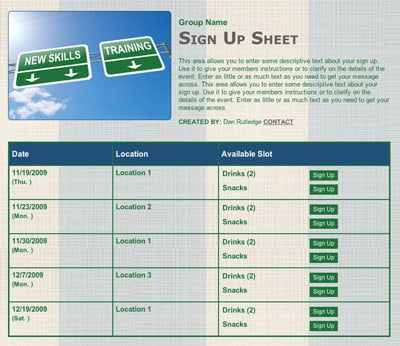 Leave Anonymous Notes - Plan a monthly "kindness day" where you leave notes in random places with motivational quotes, encouraging sayings and fun pictures. Place them so they pop up in very unexpected places.
Host a "Cheesy Friday" Party - Everybody loves cheese! Create a sign up sheet and ask people to volunteer to bring in some sort of cheese dish. It can be pizza, cheesecake, a cheese tray — even Cheez-its. Just know that every Friday, the cheese is served.
Offer Continuous Learning - Encourage staffers to sign up for classes in their field, and make it easier by setting aside regular hours each month where they can sign up for webinars or attend in-person "lunch and learns" in the office. Giving your people a chance to learn more about their own jobs — or become more knowledgeable about other departments — can go a long way to boosting morale.
---
Plan an office potluck with an online sign up. SAMPLE
---
Holidays and Special Occasions
Adopt a Charity - As Thanksgiving and Christmas approach, put your company's weight behind a charity that everyone can support. You may adopt several families with an Angel Tree initiative or visit a nursing home — see if any talented employees can sing Christmas carols! Have each staffer sign up to participate in a meaningful way.
Be Thankful Day - Before a Thanksgiving celebration, ask employees to submit notes about things they're thankful for this year — related to the company or something personal. Use those notes to decorate around the office. It will be a powerful reminder of all the good from the past year.
Plan a Family Christmas Party - Adult-only affairs are fun, but it's also nice to encourage a family-friendly environment where staffers can bring their kids to meet Santa. (Someone has to dress up!) If you have the resources, have Santa bring a small gift for all the children. Include employees who may not have kids by allowing them to bring beloved pets or another member of their family.
Have an Elf on the Shelf Contest - Ask people to sign up to be responsible for the elf's hiding place each day in the office leading up to the holiday, then vote on the most creative. Genius Tip: Use these 100 fun Elf on the Shelf ideas.
Get Spooky - Plan a Halloween Party complete with a costume contest and a pumpkin carving station. Keep in mind that the better the prizes, the more people will feel compelled to compete. You can also have everyone go trick or treating at different cubicles. Genius Tip: Try these 50 pumpkin carving tips and ideas.
Hold a March Madness Contest - Chances are your employees will be peeking in on games during March Madness, so encourage some friendly competition with a companywide celebration and contest. Offer prizes for the most busted bracket, the first busted bracket and more. Include a "special" trophy for the winner to keep at their desk — until next March.
Host an All-American Potluck - Celebrate the Fourth of July with a company potluck that asks employees to bring in their best side dishes and desserts. You can supply burgers and hotdogs for a true cookout feel. Genius Tip: Browse these 30 potluck themes for work events.
---
Organize a company community service day with an online sign up. SAMPLE
---
One-time Events
Volunteer Together - Plan a community service trip during office hours to do some good together. Have people submit places they would like to volunteer and then pick a few. Make it a quarterly trip for a few hours away from the office each time. Genius Tip: Use these 65 volunteer opportunities and ideas as inspiration.
Plan a Classic Game Day - Go old school in the office with playing cards, charades, Monopoly and more. Designate an hour in the day that everyone can drop in to play a game.
Bring in a Motivational Speaker - Many communities now have local versions of TEDx where local leaders give inspirational speeches. Ask someone you think employees would find inspirational — whether it's a nonprofit leader or retired athlete — to give a speech on a topic relevant to life skills or your business in particular.
Create Your Own "Viral Video" - What's the latest video craze? Is it a flash mob, a "frozen" mob or some weird food eating contest? Whatever the trend, get everyone together to produce your own version. Post to company social media accounts to give customers a glimpse of work personalities.
Hire a Food Truck for Lunch - Hire one — or several — food trucks to serve the office lunch in the parking lot. Most communities have trucks with a fleet of flavors and they are usually available for catering.
Bring in a Marching Band - If you land a great new client or close a big deal, celebrate in a big (and unexpected!) way by hiring one of the local high school marching bands to come parade through your office. Bonus: hire the cheerleaders too! The money can go toward the group's fundraising needs for the year.
Get Cooking - Whip up some fun by hiring a chef to teach everyone to make something — and then enjoy what you've made. Keep demonstrations simple, unless you're taking a trip offsite to the chef's kitchen where you can get more hands-on training.
Sponsor a Team for a 5K - Encourage employees to train for the race together by walking at lunch or before/after work. Stock the work fridge with water bottles and print out couch to 5K training plans to give workers inspiration who might be hesitant to tackle their first big race.
Head to Trivia Night - Plan this as an in-office affair or as a more informal happy hour out after work. Create a few teams that can enjoy a good competition and allow the winning team to enjoy something fun back at the office — maybe they all get to leave early on Friday.
Company Field Day - Pick a day in the spring or fall to let everyone out of the office and get their blood pumping. Use these 50 field day games and activities as a starting place. Your event can be as competitive — or relaxed — as you want.
Office team-building events are a great way to improve employee morale and help people get to know each other in a less formal setting. Those connections are sure to improve team communication and execution.
Michelle Boudin is a reporter at NBC Charlotte and a freelance writer.