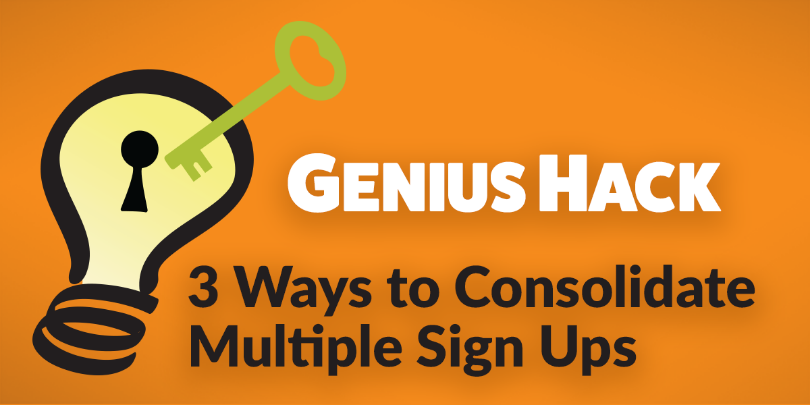 You love SignUpGenius so much that you've created multiple sign ups for managing a variety of events and activities. Yet, how do you send all those sign ups to your group? After all, you don't want to flood your audience with sign up-related emails. Fortunately, there are several ways to consolidate all the active sign ups in your account.
We offer several options to share one link that directs your audience to either all or a combined collection of your active sign ups. Consolidating your sign ups helps prevent your group from fruitlessly searching for the correct sign up or being able to access only one, but not all, of your current events. Below are some great ways to make your sign ups available in a single location.
Create an Index Page for your Sign Ups 
The index page displays all the active sign ups in your account. Active sign ups have current dates within the past 30 days. This feature is perfect if you don't need a lot of customization to present all your active sign ups.
Get started creating an index page link from the Web Button Builder in the Tools tab of your account.
You'll have the option to create a link that sorts your sign ups by title, group, start date, or end date. This gives you some limited customization of the page. 
At the end of the page, you'll see this option: Here's a link to a page showing all of your sign ups. Copy the URL (which is a unique link) to the index page you created. Post this link to social media, link on your website, email to participants, or share it however you prefer. 
When your sign ups expire, become archived, or new sign ups are published, the index page link will automatically update!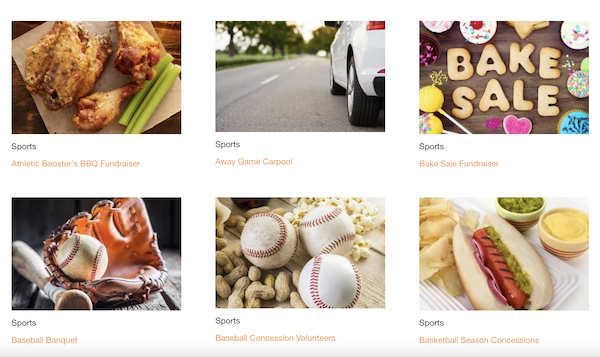 Genius Tip: You can also create a web button for your website that participants can click to access your index page link. From the Web Button Builder tool, choose a button design and customize the button text. Then, copy the code to the right of the button to add it to your website. Now your audience can easily access all of your published sign ups with the click of a button.
Tab Select Sign Ups Together 
Sometimes you only want participants to access a particular set of sign ups. For these instances, use our
Sign Up Tabbing
feature to connect multiple sign ups together into selectable tabs.
To get started, log into your account, click the Tools icon on the left side of your account page, and access the Sign Up Tabbing tool. Choose Add New Tab Group and give your new group a name. From there, select which sign ups you want to link together. Make sure the sign ups you want to tab are published and have future dates. Learn more about creating a tabbed sign up layout using our helpful FAQ, or watch this video. 
Just like index page links, sign up tabbing solves the issue of having to send invites for multiple sign ups because your selected sign ups are tabbed and accessible via one link. This means you can send only one invite for all of your tabbed sign ups, saving you the work of sending an invite for each and every sign up you create. Sign up tabbing makes it simple to invite and share multiple sign ups with participants.
Sign up tabbing is available with our advanced tools. Learn more on our pricing page.

Create a Customized Portal Page 
If you need something more customized than an index page link, our
Portal Pages feature
may be what you're looking for! Portal pages are customized landing pages designed to house the sign ups you select. You can add additional sections to the page so that it serves as the main page for communicating all your sign up information.   
To create your Portal Page click the Tools tab on the left side of your account page. Click the Add a Portal Page tool, and enter a title, URL, and choose whether to remove SignUpGenius branding from the page. Once you click Create to publish the portal page link, you can customize the organization, color scheme, and banner image of the page.  
In addition to providing your group access to selected sign ups, portal pages can include downloadable documents, embedded links to other websites, and an area for participants to subscribe to your group for emails and/or text messages. You can also customize the link to each portal page, remove SignUpGenius branding, and even embed the portal page into your own website. To see portal pages in action, check out this video! 
Portal pages are offered with our Enterprise subscription.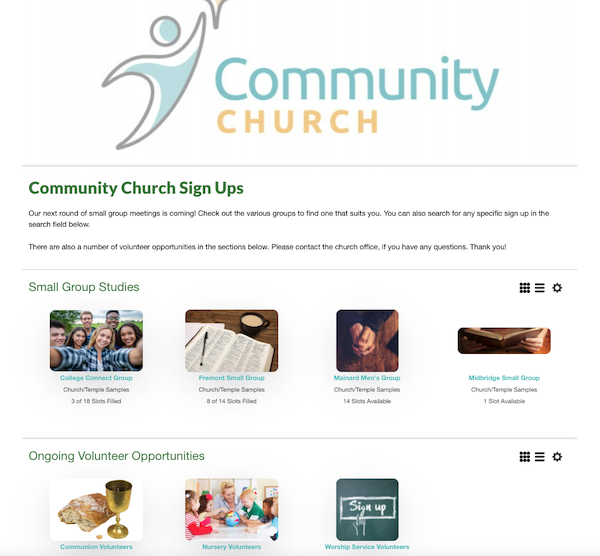 With three options to share multiple sign ups with your group, you can make it easy to see all of your opportunities in a single location. These features will save you time so you can focus on planning successful events!